Ever thought you might like to try a season out in the middle with the white coat? Mike Linwood shares his journey in umpiring Yorkshire's Premier Leagues and how he became an ECB Tutor supporting umpire education.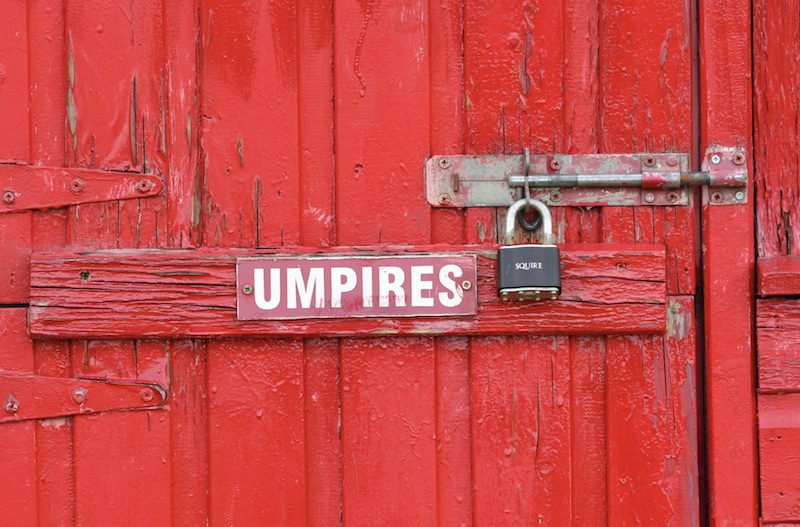 How did you get into umpiring and how have you progressed since?

Like many, I started umpiring while playing. Being a pretty awful batter, I was usually number 11 so I would go out and umpire at the start of our innings. If it was a nice day and an enjoyable game, I would stay out for the full 40 overs. I then had a couple of years away from cricket, playing for the Hull Scorpions baseball team.

In 2013, I decided to retire from playing sport but wanted to stay involved somewhere so I returned to cricket and took the umpiring course in Hull and umpired my first season in what turned out to be the final year of the East Yorkshire Alliance.

With the demise of the Alliance, I joined the York League Umpires panel and officiated there for two seasons, learning and improving from my more experienced colleagues.

At the end of 2015, the changes to the Yorkshire Premier League structure were announced and umpires were invited to apply to join an increased panel. I thought I was probably too inexperienced to get on full-time but maybe I'd make it in for a few games as a reserve, so I was surprised and delighted to be asked to join the full panel for 2016.
---
I still remember my first game, it was Castleford v Sheriff Hutton Bridge and I had David Wainwright and Karl Carver both bowling at my end, giving me a much sterner test than I'd previously had.
I can honestly say it was about half a season before I felt comfortable at that level, and I've been there ever since.
---


Personally, I have no ambition to go further, but many of my talented colleagues do, and part of my role as Secretary of the Yorkshire Premier League Umpires Association is to assist them in being able to make that step forward and ensuring our standards are as high as we can make them.
League cricket in Yorkshire has always seemed to struggle for umpire numbers (as with everywhere else no doubt), what could we do differently?

There is a tendency to look for umpires from people who've played the game at a high level as it is viewed that they make better umpires as they know the game, and in general, this is probably true. I think they are certainly likely to pick things up quicker.

But I also think there is a group to be targeted of those, like myself, who love the game, but aren't any good at playing. Umpiring, in my opinion, is a great way of still being involved.

I also think there needs to be more done to stop umpires leaving the game, or at least to find out why, and to find ways of retaining them.

I have heard several reports of umpires quitting due to player behaviour. I'm lucky that the leagues I stand in do not tolerate ill-discipline and the clubs know this and generally do a very good job controlling their behaviour but this needs to be the standard across the country.
Where do you currently umpire?

I umpire on the Yorkshire Premier League Umpires Association Panel which covers the Premier Leagues of Yorkshire League North and Yorkshire Cricket Southern Premier League.

This means I cover from Scarborough to Sheffield, Cleethorpes to Sessay. Basically, I'll go wherever our appointment officer sends me.

I see you are now an umpire tutor – what does that involve and how did it happen?

I was previously a training officer in my day job for two different local authorities and I really enjoyed doing it. At the beginning of this year, the ECB announced a new entry-level umpires Training Course and they were looking to recruit tutors around the country to deliver the course, so I thought I would put myself forward.
After a lengthy process and interview, I was one of about 70 successful candidates nationwide and we are appointed by ECB to run these new courses.

Myself and Andy Exton, from Scarborough, delivered the first proper course in the country at the end of October at S20 The Boundary in Sheffield and there are lots of other dates and locations planned.
What's new in umpire education for 2023/24?

The ECB have devised the new course and it's part classroom, part practical. It's much more learner-led than the previous Level 1 / Stage 2 courses and involves more discussions and participation. The main idea is this course will allow people to umpire at the lower end of the umpire pathway in men's or women's cricket or junior games.

Once this initial course has been completed, they are encouraged to join the Association of Cricket Officials, and it is the ACO that will be responsible for further training and continuous personal development of umpires to allow them to progress along the pathway to higher standards of cricket.

Away from cricket, I see you're a comedian and also organise gigs in East Yorkshire.
How long have you been doing that? Is cricket and comedy something you blend or keep separate? Any quips out in the middle?

I started doing comedy in 2020 and did my first gig a couple of weeks before the first lockdown. Myself and a few other comics ran some shows when we were able to at various points during the pandemic. It wasn't really until March 2022 that things opened up fully and I could gig at least semi-regularly.

I started running a night at the request of my best friend of 30 years as a way of getting people into his favourite pub. Off the back of that, I was asked by a new cocktail bar if I could run something there and following that, another bar asked if I could do something.

So I run three different comedy nights in and around Hull now. Thankfully, I have great people to work with for each night, as its not something I'd take on on my own.

I generally keep things separate. Cricket from April to September with a few mid-week or Sunday night gigs thrown in. Then in the winter I forget about cricket, apart from end-of-season meetings or requests for interviews and can get myself out on the comedy circuit a bit more.

Like most umpires (and cricketers to be fair), I like to keep things light and friendly on the field but it's probably not the best place to try out a few minutes of stand-up.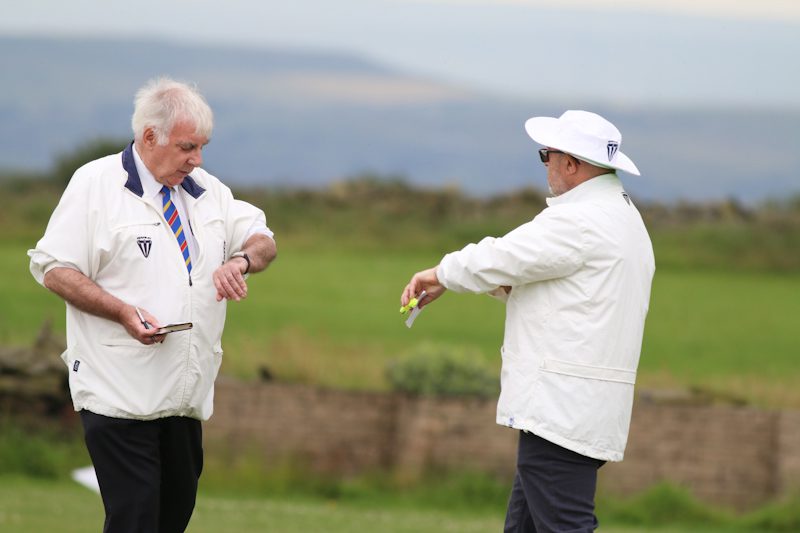 What's the best (cricket) joke you've got?

When I started, I followed the old saying "write about what you know," so I wrote some cricket jokes, but they were mostly terrible and it also turns out that a comedy audience doesn't always know about cricket.

I have done one gig at a cricket club where I stopped my set because I thought I was too far to the right-hand side of the stage…so I got an audience member to give me a guard for the middle. (Honestly, this was funnier than it reads, but I don't think I'd do it on a Thursday night in the middle of Sheffield).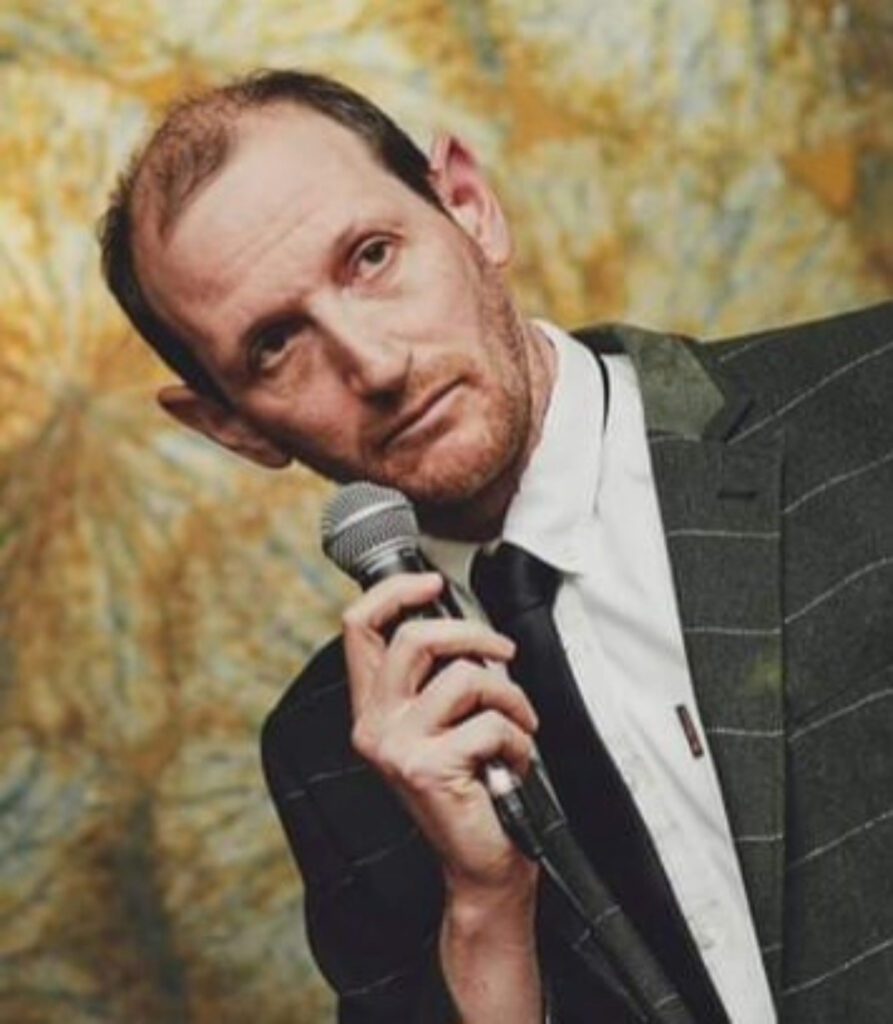 What's the tougher gig – umpiring or comedy?

Depends on the gig/game.

Sometimes things will go wrong and occasionally you'll get some idiot shouting out and trying to ruin things, and that can happen at a gig as well.

The key to both is to be properly prepared, stay calm under pressure, quickly forget any mistakes and move on.
***
Thanks to Mike for sharing his path into umpiring in club cricket and to learn more about umpire courses, check out the Yorkshire Cricket Board's website or the ECB's guide to umpiring courses.
Latest posts by John Fuller
(see all)