This is where it gets exciting. Imagine a bold fusion of your creativity with cutting-edge design to conjure up cricket teamwear of the future.
Once upon a time, sourcing cricket kit was frankly a bit dull and fraught with limitations. The concept of designing something smart that looks and performs how you want it? Forget it.
Well, sports teams, clubs and leagues can now fit themselves out to look every inch the professional in clothing that can be truly customised exactly how they want it.
The Winchester-based company, whose cricket helmets are widely used across the world, have been developing a teamwear website over the last year.
The ambitious project, which launched in March, is aimed at ensuring there's an ultimate online solution for anyone who's looking for cricket clothing.
The cricket teamwear market is a tough nut to crack. Writing as that guy who has had to source cricket kit for various clubs down the years, we demand competitive pricing, quality clothing and a speedy turnaround.
Add in the desire to tweak, customise and create a bespoke look for our shirts, hoodies, caps or trousers and there are multiple hurdles to overcome for a relative newcomer like Masuri.
The Masuri Teamwear website they have built is a success story on twin fronts. Building an accessible, engaging platform that encompasses much of what the end-user (that's you) wants in terms of form and function is no mean feat.
Clean, crisp design helps make those cricket shirts positively leap out from the screen.
The challenge is to keep things as simple as possible so that anyone associated with a cricket team, club or league can go online and can feel comfortable enough ordering.
Whilst – at the same time – offering exhaustive design control and flexibility to those who really want to push the boat in the art of the possible.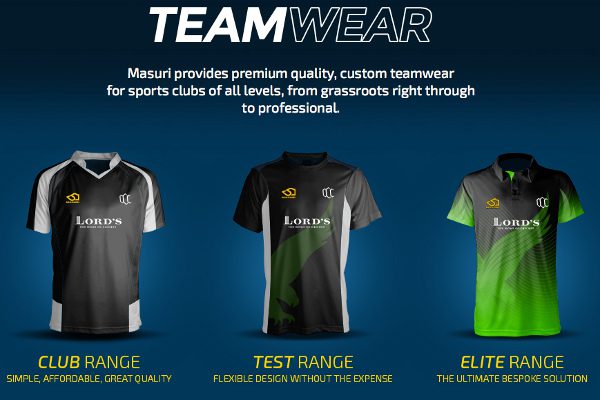 TEAMWEAR HAT-TRICK: CLUB, TEST & ELITE RANGES
First off, register with the website. This makes it so much easier when you're putting together your cricket kit and you can view existing orders along with saved designs.
Masuri offer three choices of cricket kit (for teamwear and training), based on your budget.

CLUB – Pick from a fixed selection of their dyed colours, then customise with your selected colours and logos.
TEST – Comes with the option to choose any colour and have any design on selected panels of the garment.
ELITE – Top-of-range quality combined with any colour, any area of clothing and any design.
For the Test and Elite ranges, you can add flair and pizzazz aplenty from lightning bolts to colour gradients.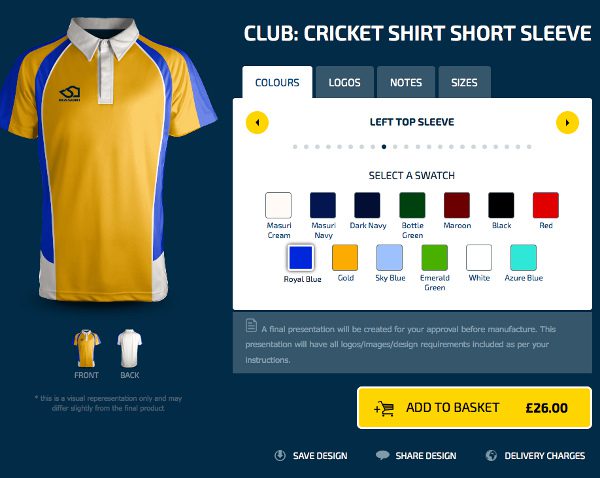 TIME TO START DESIGNING…
Prices start at £26 for a shirt  (for the Club option) and even at this least expensive version, the ability to choose thirteen colours from masuri navy to maroon, gold or emerald green ensures you don't feel limited.
When you select a swatch (a colour palette not the Swiss watch brand, incidentally), visualising your finished shirt, on-screen, instantly is very neat.
For the Test and Elite clothing, you can add new bespoke colours to ensure your club blue, for example, is reflected down to each individual coloured thread.
'Adding a swatch' just means adding a custom colour to the design of your cricket shirt. It's based on the CMYK colour model which refers to a 0-100 digit value for each of cyan, magenta, yellow and key (black).
For many in club cricket, the finer points of colour configuration will be a lesson they will gladly bypass but if a club desperately wants the exact shade of Roman purple then it's all feasible.
UNDERSTANDING ARTWORK
Designing a top-notch cricket kit takes a bit of time, patience and to understand the basics for a range of technical processes.
First up, logos. Use the best quality image you can lay your hands on.
If you want to use a company logo on your kit, talk to your club sponsor and ask for a .jpg or .png file with the dots per inch ratio up at 300 and a nice, large file size (up to 1MB).
Did any of that make sense or was it like listening to ancient Egyptian underwater?
Don't worry, the aim is to make things as easy as possible so upload the best graphic you can find and Masuri can always advise or help if there's a problem (which there rarely is).
The point is to make your cricket shirts pop.
I mean visually, of course, not literally…unless you've helped yourself to thirds at the cricket tea.
To do that, you need the raw ingredients and in the world of computer files and graphics, that means getting the right file format and saving it at a quality for print rather than web.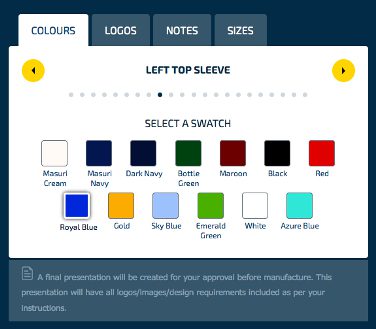 COLOURS
There are four tabs to pick from for each product – COLOURS, LOGOS, NOTES, SIZES.
Sticking with the colours, click the yellow left and right arrows, you can navigate your way through the body, right side, left side, lower right side, lower left side, right under sleeve, left under
sleeve, right top sleeve and left top sleeve, inner and outer collar, front right piping and front left piping.
And that's just the front of your wonder garment. The back of the clothing is another whole canvas to play with.
Sounds a bit overwhelming? It really isn't.
You pick your colours for each area and they show up as a preview so you know exactly what you're getting and where.
You can go simple with a few colours and a logo and be done and dusted in no time.
But if you want to include a barrage of sponsors and really go to town with your imagination then there is now an online tool to make that a reality.
What struck me clicking round and investigating the website was how easy it was to use.
Not everyone understands the intricacies of design so making the online journey through a potential maze as straightforward as Masuri have deserves plaudits.
LOGOS
Number of positions depend on the garment but all you do is upload a logo or choose from an existing logo you've already and saved.
You can see the logos you upload on the preview.
In the logos tab, you 'upload new' then choose your file and click the yellow upload button then the logo appears on on the left-hand side preview in whatever area of garment you are putting it on.
You can save (recommended) and share your designs on social media.
A note on saved designs – it saves a version each time (rather than overwriting) so work to one version (and label it something so you can clearly identify it).
PRICE
Let's tackle this thorny subject. It would be fair to say that the Masuri Teamwear offering is not at the budget end of the spectrum.
Having worked in cricket for donkey's years, I know quite a few of the brands operating in cricket teamwear land.
The truth is that clubs in the UK often spend a lot kitting themselves out and looking the part for the new season.
Within that, there will be those who will quiver at anything that breaches £20 a shirt and others who perhaps see the benefit of paying more once for quality that will last year after year.
I find the notion of pricing fascinating. Yes, it's a laugh-a-minute here at Cricket Yorkshire in the office…
An IPL replica shirt will set you back around £45. People think nothing of splashing out lavishly on one thing but there's this invisible reluctance elsewhere.
We all do this, myself included….
I stand entrenched in the local Co-Op, refusing to budge an inch until I get my 50p off because that's what it said at the aisle, but will splurge on all kinds other treats without any hesitation.
Usually cake or biscuit-related, it has to be said…such a wicked sweet tooth.
With this teamwear, I like that you only have to order a minimum of four garments rather than the conventional set of 15 initially.
There is a £15 charge for digitization to create an embroidery file. This is standard and will be wrapped up in every kit order you've ever done, somewhere along the line.
There is a delivery charge of £3 per garment (up to order value of £299.99 before it begins to lower – see their delivery and returns).
GO FOR SUBLIMATION
We have to mention sublimation, you should all be sublimating by now. Are you sublimating?
The printing process of sublimation is the future as far as I'm concerned and if cricket teams, clubs and leagues take advantage of it, it can even be a money-spinner.
Once upon a time, you would print a logo on a shirt or embroider it. Now it can be engrained in the shirt itself. That, in a nutshell, is sublimation.
It's actually a computer printer that uses heat to transfer dye onto materials.
Why, I hear you ask, is this the best thing since sliced bread?
Well, for a start….you don't see the corner of logos peeling off, post-energetic dive over the boundary to cut off a four.
It's a personal preference but I also think it looks better for logos to be part of the shirt rather than applied to it.
But the major advantage is that it opens up the whole of the shirt as sponsorship real estate.
With sublimation, you can go logo-happy and walk around like human advertising boards, if the mood takes you. Don't be shy, think of the revenue…
WRAPPING UP…
Masuri already work with sports clubs, professional teams, schools and universities for cricket and training kit.
Together with that expertise and their reputation in cricket equipment (helmets), you know you're going to be in safe hands.
Masuri commit to a three-week, lead time that is from when you approve your garments proofing document (which is supplied to you after purchase).
This new Masuri Teamwear website – appears to have slotted in effortlessly as a genuine competitor because it's easy-to-use, offers dynamic range of choice and the kit itself looks the real deal.
So, go and check it out, click round, explore and have fun.
Meanwhile, as part of testing for this sponsored article, Cricket Yorkshire has designed its own T20 shirt via the Masuri website (see above).
It was a chance to roadtest the site and create something unique in the process.
Using our Cricket Yorkshire stand-out green, this T20 shirt promises to be viewable from other solar systems…
Masuri also offer a bespoke custom design service if you want their in-house team to work their magic and conjure up a shirt concept for you.
Here's what they came up with for Cricket Yorkshire. Over to you, be creative with your cricket kit and look forward to seeing future designs!
**This is a sponsored article – if the mood takes you, click to read Cricket Yorkshire's policy on sponsored content**
Latest posts by John Fuller
(see all)