The drive from Cricket Yorkshire HQ to Long Lee Cricket Club took us around the edge of the St Ives Estate up a road that felt like we were abseiling.
Eventually, you zigzag up and reach the summit with wilderness and farmland for company, along with rolling, verdant valleys. Keighley Road, back at Harden, becomes Harden Road as you head towards Keighley. Work that one out if you can.
We park up at the Dickie Bird pub and I decamp, a singer belting out some soulful numbers from the beer garden. A minute downhill off Thwaites Brow Road is a right-hand path that delivers a mammoth vista across to Riddlesden, East Morton and Micklethwaite.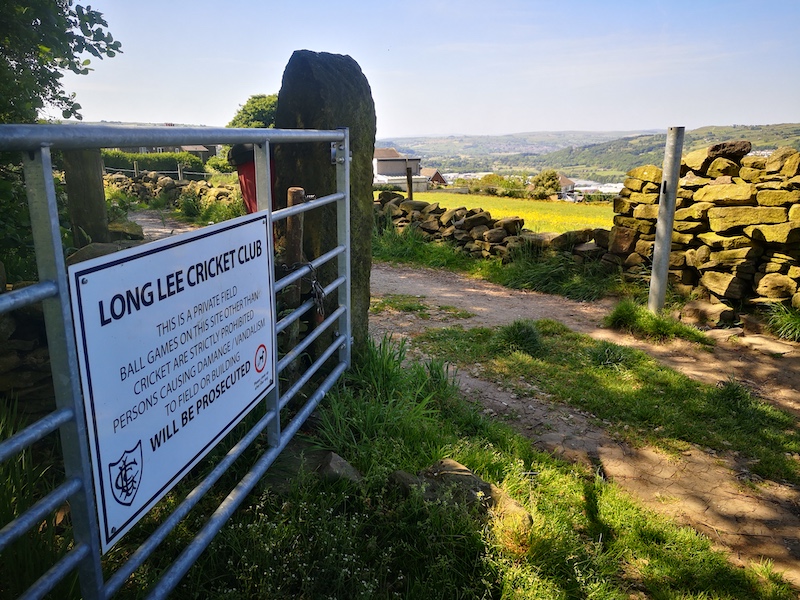 At the end of the short path is a cricket ground; one of so many in Yorkshire where you wouldn't know it was there, unless you know. I'd been invited to Long Lee a few times by Neil Kennedy who exalted his club as pretty special.
The ground is known as Golden View which is pretty apt, all things considered. At least on a day like today when the sun beat down and it was pleasant without wilting.
Once upon a time, I used to be a number eleven batter. I had lousy timing then too. I arrive as the game is wrapping up. It is 3.10pm. Yikes. Someone got thrashed.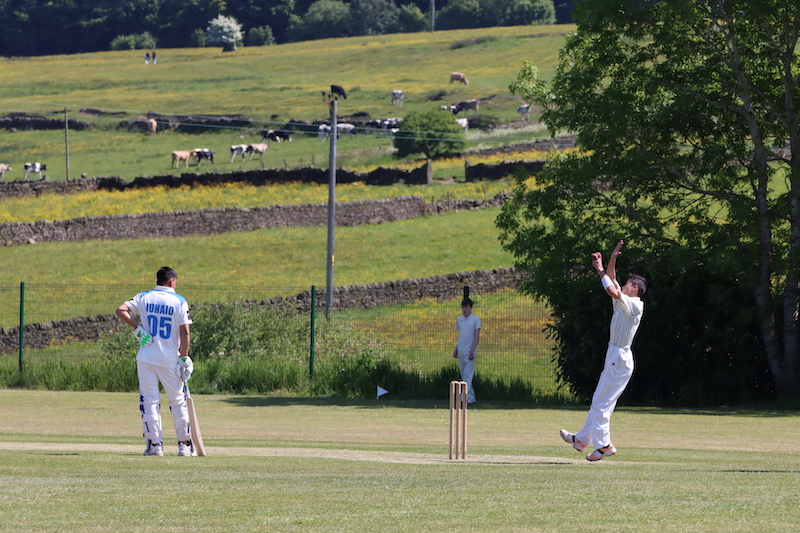 As it happens, it was a T20 and there was another one due at 4pm. Result.
Long Lee Firsts had just lost to Hepworth Idle in the Wynn Cup while their Seconds were due to take on Keighley in the Cowling Cup.
Keighley Cricket Club's third team play at their Lawkholme Lane HQ on Sundays but this being a Saturday, they were making the steep ascent from town.
There is no space for parking here; it's just a cricket ground in a field, next to other fields. So, the opposition arrived over the next half an hour on foot in dribs and drabs.
It allowed time to soak up the location. I tend to go weak at the knees for quiet, rural locations up high where you can see forever and this was ticking plenty of boxes.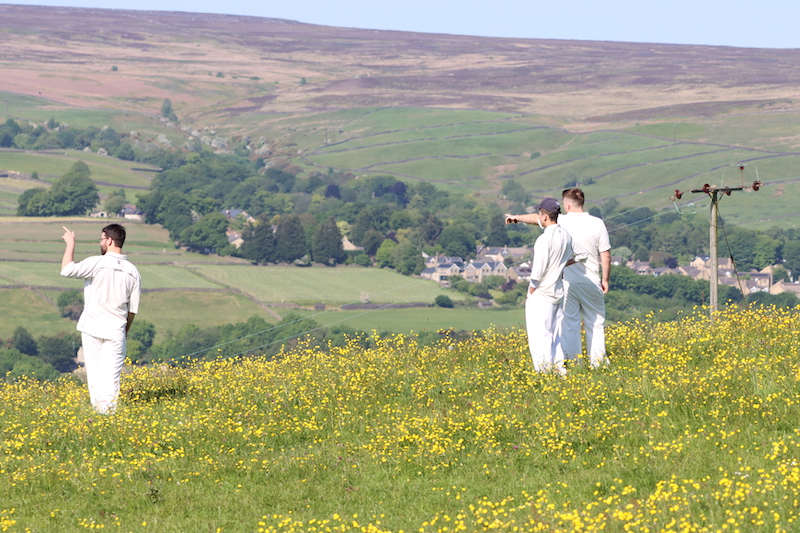 There is a bank where you can sit and watch the game, behind which a field of yellow flowers drops off suddenly. Sorry I can't get more technical than that. Anyone else want to hazard a guess?
Don't think it was rapeseed or buttercups or daffodils but that's pretty much where my yellow flower know-how runs dry. I did, however, learn that it is in frequent use by cricketers searching for sixes that have been comfortably pumped there from this small but perfectly formed oasis.
At the top end, there is a craggy wall, the like of which you see all over Yorkshire and this one was whitewashed up to a point. Simple wooden benches were dotted around the circumference.
Long Lee's clubhouse was well equipped with a tea for 50p, topped up with a Mars Bars (last of the big spenders) and Manchester City's Premier League triumph on the big screen. It was well looked after and everyone seemed friendly to the random bloke who had rocked up with a camera and a massive lens.
Though Neil was at a wedding, through the magic of Facebook, I learnt that Long Lee Cricket Club have been busy with upgrades.
---

He described the new fence that runs by the clubhouse as a Godsend, presumably because it lessens the chance of having to retrieve balls from the boggy swamp that awaits fielders with glutinous arms.

---
While waiting to bat, Long Lee's team joked about the crocodiles that live there. Now there's a story. Yorkshire crocs. I doubt they could leave if they wanted to.
Inside (the clubhouse, not the boggy bullrushes), there are now showers and new flooring as well as seating and the all-important bar license.
The stony path I trod from the main road was also paid for by the cricket club. I learnt that it's a hive of activity even when the cricket's not on. Zumba on a Tuesday night and Saturday morning apparently.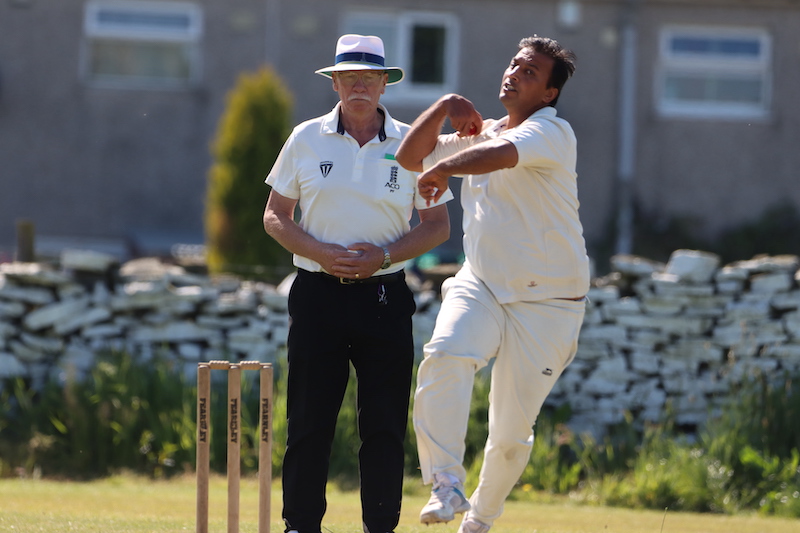 A proper scoreboard is next on the list. There are no electronics up here. Just numbers hanging from hooks with bits of rope dangling down. Low tech but it works.
It was a triumvirate for the T20. Mum and two sons, the older teen who usually scores showing his younger brother the ropes in every sense. The game was being live scored via the Play-Cricket app by a nine-year-old who had wisely negotiated half of the fee.
The game itself was fun to watch but completely one-sided. Keighley 3rd XI cruised to a 10-wicket win after Long Lee had scored 142-6.

Home captain Ben Pennington (38) and Yasser Chatta (29) shared a 50-run partnership, later backed up by Frazer Atkinson's 28 in the middle order.
---

There were dropped catches, half chances, some gigantic sixes and plenty of skill on show. Keighley opted for six bowlers with Harry Atkinson's 4-30 a particular highlight.

---
In reply, Zahid Bashir (65) and Abid Hussain (68) were brutal on anything short and anything in their half of the pitch, to be fair. It can be a cruel game, particularly so when younger cricketers are smashed all over the place. It happened to me when I was younger (and older) but every day's a school day.
At the time of my visit, Keighley were fourth in Division Three of the Craven League while Long Lee were eighth in Division Four so the form book won out – but the home side took it all in their stride. Both squads were easy to talk to and I wish them well for the rest of their 2023 campaigns.
The Craven Cricket League had delivered again – as it so often does – and I'll be back to Long Lee.
Match Photos
Click around and enjoy the photos – if you want to donate a cuppa for my next club visit, there's the option to do that below via my Ko-fi page. Let me know if you'd like photos for your club or if you're featured here.
Latest posts by John Fuller
(see all)