Having dangerously waved goodbye to Mrs Cricket Yorkshire outside Magnet Kitchens, I walked down to Crossflatts Cricket Club where their Ladies 1st XI were at home to Bradford Park Avenue Ladies.

A drab, cool forecast proved to be some way off the mark as the sun came out and a decent crowd enjoyed this Divison 1 hardball encounter from the new West Yorkshire Womens & Girls League.

Talking to Phil Sharples, who has been key in this new regionalised league, demand is growing all of the time as more clubs want to come on board. The six-team Division 1 also includes Pudsey St Lawrence, Menston, Lightcliffe and St Chads Broomfield.
It makes sense on various levels, both offering opportunities to play for all ages and abilities but also seeking to combat the problem of geography which has been more of an issue due to a lack of women's teams.

There are also now softball leagues covering Leeds, Bradford, Huddersfield, Calderdale/Pennine and the Aire Valley.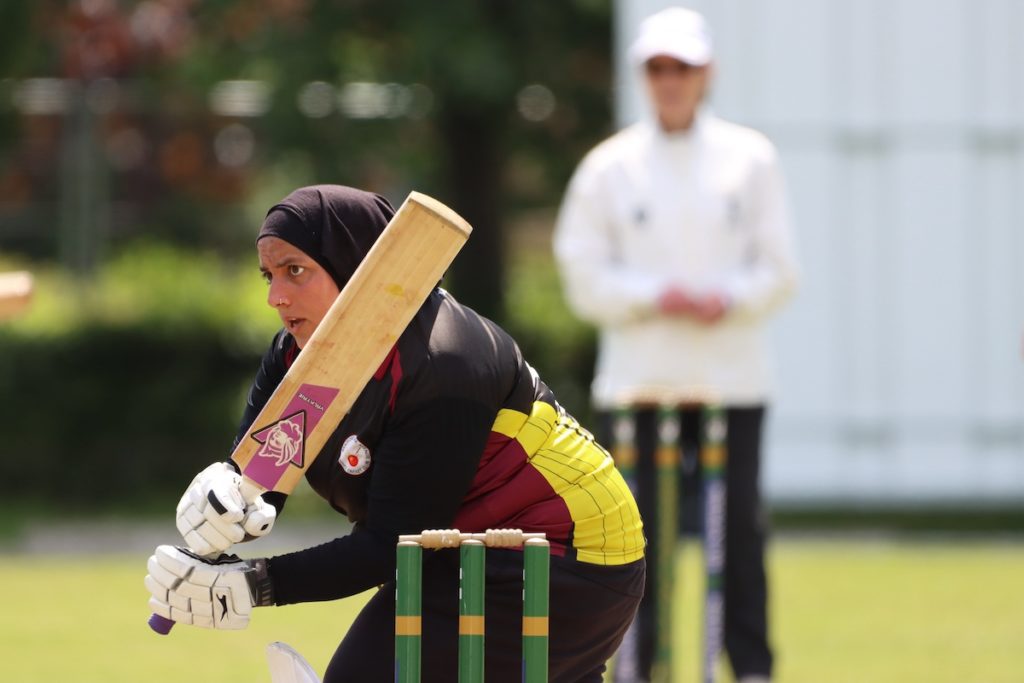 Bradford Park Avenue's eventual total of 109-8 was underpinned by opener Nabila Qayum (above) whose knock of 40 included shots all around the wicket.

Crossflatts had Qanita Inayat (3-4) to thank for a spell that halted the visitors' progress just when it had started to gather momentum. Freya Craddock chipped in with 2-3 at the death to keep things tight.

This is the first women's club cricket match I've been to this season and there were some decent performances with bat and ball on both sides in this 30-over-a-side match.
---

Where accuracy erred and a few wides came, team-mates and a supportive crowd cheered on. It was played in the right spirit from start to finish and host club Crossflatts clearly take their women and girls cricket seriously.

---

It wasn't relegated to a strip on the edge of the square. There were flags fluttering and a sense that this fixture mattered just as much as the 1st XI in the Bradford Premier League.

The bar was open, cricket teas were sold, Crossflatts' 3rd XI game at Blackley was being streamed via FrogBox on one TV while England took on the Netherlands on the other.
Lee Bailey, a Crossflatts stalwart, told me that they have 20 or so down at ladies training on Wednesday nights at Ryshworth Park. Equally, girls make up many of the All Stars attendees – so there is a real sense of something exciting building.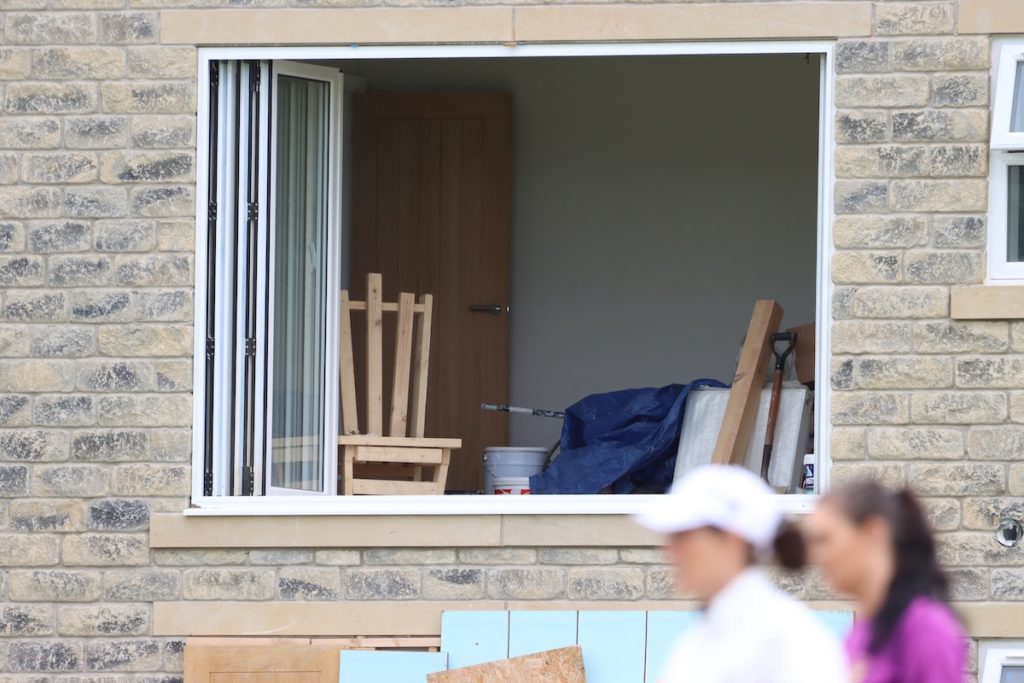 One of their current dramas, bubbling away behind the scenes, is the houses that have been built too close to the cricket pitch.

By too close, I mean you would walk out of the front door and be on the pitch in six paces.

Planning permission was quashed in December 2021 but the housing development has continued regardless.

It's a shadow over the club and likely to rumble on for some time because there are obvious safety concerns due to the proximity to the cricket.
As a progressive cricket club who are key to their community, I hope Crossflatts can get a problem not of their making sorted in the end.
---

A safety fence the height of the Jinping-I Dam will need to be put up to stop errant sixes whistling into your lasagne while watching Gogglebox.

---


Over the course of the afternoon, I chat to parents, players, supporters and even a huddle of pint-sized lads who gather round to ask how much my camera cost.

When I reveal it was A MILLION POUNDS, eyes go wide as saucers for a moment, before a voice pipes up: 'I bet it was really a hundred pounds!'

Bradford Park Avenue Ladies have a debutant in their ranks, a 12-year-old girl who has played for Shepley Cricket Club U13s in the Huddersfield League and whose Dad is on taxi duty to a second game of the day.

The city-based side have made her feel welcome and she was engulfed on getting her first wicket.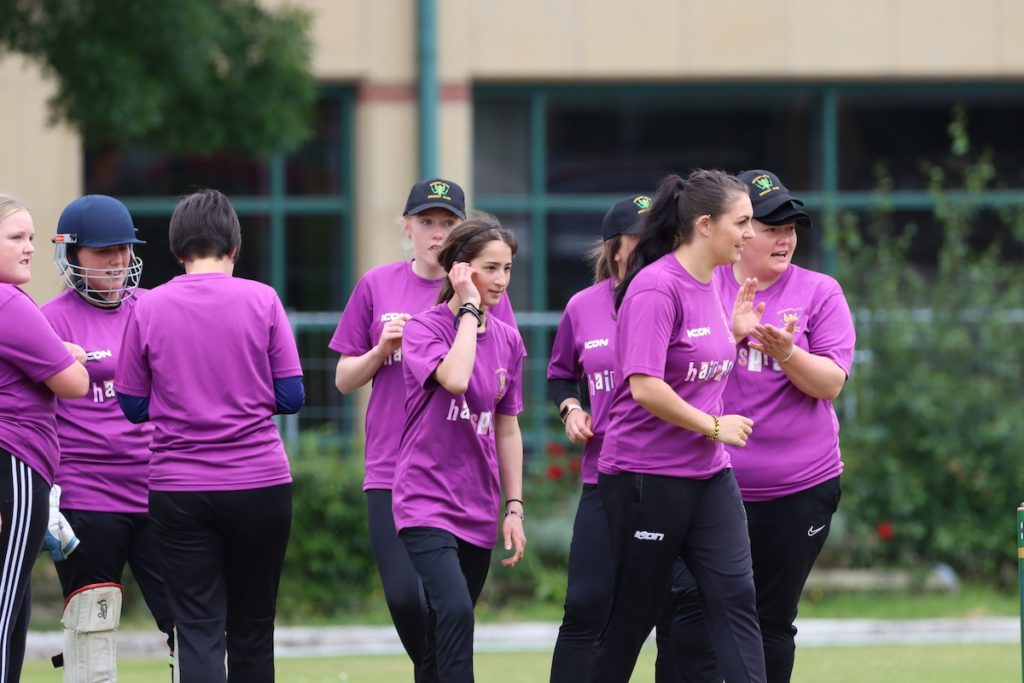 The end result was a narrow two-wicket win for Crossflatts (110-8), courtesy of an unbeaten 30 from Charlotte Boulton. Earlier, the home side had been 37-6 before Kara Price (27) lent some much-needed resistance.

---

BPAL's Moskan Akbar, aided by some smart catching in the deep, ended with the best bowling figures of the league this season (5-14) but it wasn't quite enough.

---

When I left, a pug in a pink harness was ignoring her owner and making a beeline for a spilled hotdog on the ground nearby. Apart from a noticeable number of kids playing cricket on the sidelines, excitable dogs had been a feature.

There was laughter, benches were filled with spectators and the cricket had delivered.

Scorecard: https://bpaladies.play-cricket.com/website/results/5435923
Latest posts by John Fuller
(see all)