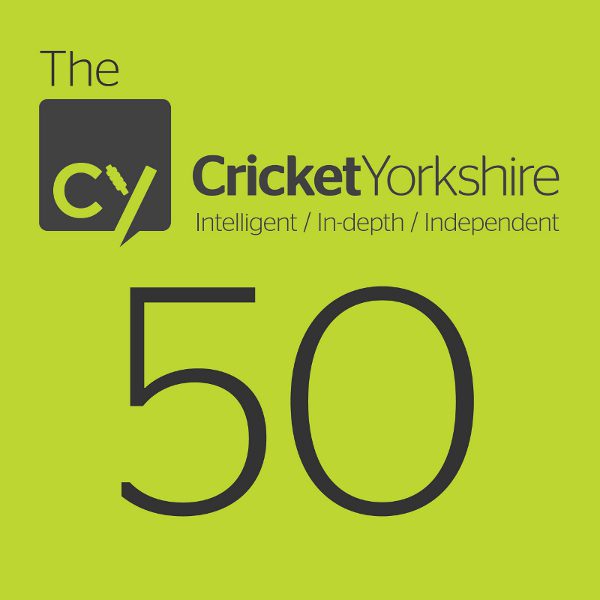 Cricket revels in its stats and likes a list almost as much as Mrs Cricket Yorkshire.
Fastest T20 innings of the season when batting with shoelaces undone, percentage of reverse sweeps when on nought, slowest delivery of all time….
For a couple of years, I've meant to put together a bit of a Who's Who's of Yorkshire cricket and never got round to it. Until now.
Inspired by The Cricketer magazine's recent Power List of 50 most influencial people in English cricket (no, I didn't make the cut but they gave All Wickets a generous book review), it was time to unleash my own White Rose version.
There will be omissions, perhaps even a controversy or two but hey, that's the joy of creating your own curated talking point.
Those included have a role across Yorkshire cricket and encompass players, coaches, administrators and media.
In truth, the rankings are entirely interchangeable but hey, where's the fun in that?
—
50. Andy Fogarty – Yorkshire County Cricket Club's long-serving groundsman. A crucial cog at Headingley and award-winning grass scientist.
49. Janet Bairstow – Cricket Administrator for the county club is really shorthand for the glue that keeps everything together behind the scenes at HQ.
48. Steve Denison – Yorkshire's Chairman took on both Boycott off the field and padded up against Liam Plunkett on it (the latter raised £5,510 for charity).
47. Mark Wilkie – Sessay's captain who lifted the 2016 National Village Cup and has over 500 York Senior League runs in the bank this season.
46. Steve Ward – Secretary of ECB Yorkshire South Premier League, Chairman at Doncaster Town and trains cricket scorers for good measure.
45. Alex Roberts – Owner and moderator of White Rose Forum, the popular hub for discussion on all things Yorkshire cricket.
44. Mick Pope – Author and cricket historian, Mick is heavily involved with Wombwell Cricket Lovers' Society.
43. Terry Bentham – CEO of the South Yorkshire Cricket League and integral in the new South Yorkshire Premier League, Terry also trains umpires.
42. Adrian Mirfakhrai – Yorkshire CCC's graphic designer is the brain behind much of the eye-catching visual content we take for granted online.
41. Graham Purdy – Operations Manager at the Yorkshire Cricket Board, he is plugged into the recreational game.
40. Ruan Louw – Yorkshire Women's 1st XI Head Coach and with his ECB Level 4 badge, one of the most qualified and experienced in the country.
39. John Flintoff – Batting stalwart of Yorkshire Over 50s with 764 runs and an average of 84 this year.
38. John Potter – As Yorkshire County Cricket Club scorer, John is the master number cruncher.
37. Ian Dews – Now in charge of cricket development and coaching the seconds at Headingley, another popular and influencial figure on the county staff.
36. Will Saville – Development Manager at the Yorkshire Cricket Foundation and overseeing an exciting era at the charity.
35. Sue Haley – County Squad Manager for womens cricket and heavily involved in encouraging the stars of tomorrow.
34. Graham Hardcastle – Freelance journalist with his ear to the ground on all things Yorkshire CCC throughout the season.
33. John Garbett – Captain of Yorkshire's visually impaired squad and an international cricketer.
32. Charlie Roebuck – Ex-Yorkshire and Leeds Bradford MCCU player, now Manager of Yorkshire Terriers and the YCB's Disability Development Officer.
31. Taj Butt – Development Officer for Yorkshire Cricket Foundation, Taj works on the South Asian Communities Project in Leeds and Bradford.
Lots of young at @YCCC_YCF Enjoy Cricket session at Park Avenue supported by @KCBBakery pic.twitter.com/4ALJN8BeXT

— Taj Butt (@ButtTaj) August 10, 2016
30. Rob Richtering – Plugged into cricket in North Yorkshire. League secretary of the York & District Senior Cricket League and ECB Yorkshire League North and probably a few titles I've missed.
29. Chris Brice – Business & Education Manager at Procoach and demon spin bowler in the Bradford Premier League for Woodlands.
28. Richard Damms – Yorkshire's Academy & Development Coach oversaw the Academy's top four finish in the ECB Yorkshire League North & won the JP Plant Cup.
27. Mark Sugden – Coach and player at Rodley CC, Mark walked from Headingley to Scarborough for charity and recently won an OSCA for Services to Coaching.
26. Harry Gration – BBC Look North's anchorman, Yorkshire CCC fan and ever-present at Scarborough CC for the Festival.
25. Jane Hildreth – General Manager of Yorkshire Diamonds and oversees Yorkshire Girls U13s.
24. Katherine Brunt – Yorkshire and England's fast bowler who rustled up a hat-trick for Yorkshire Diamonds against Lancashire Thunder in August.
23. Treve Whitford – Yorkshire CCC's Head of Marketing & Communications, still relatively new in post and the man in charge of my 2017 ECB press pass!
22. Chris Waters – Yorkshire Post's esteemed Cricket Correspondent and author of books on Trueman and Verity. Likes to tweet about birdlife.
21. Lauren Winfield – A profitable summer for the England opener who hit her maiden ODI hundred and also captained Yorkshire Diamonds in the inaugural Kia Super League.
20. James Logan – Yorkshire Academy's opening bowler has racked up the wickets in ECB Yorkshire League North.
19. David Foster – Harrogate's left-arm spinner was a key cog in finishing top of ECB Yorkshire League North and is Head Coach at Procoach Yorkshire.
19. Joe Ashdown – Joe is in York's first team, coached the Yorkshire Girls U17s to become national champions and is the YCB's Development Manager for East Yorkshire & Selby.
17. Chris West – Journalist, Chairman of the Yorkshire Cricket Board and President of the North Yorkshire South Durham Cricket League.
16. David Toft – The run machine behind Wakefield Thornes' drive to the ECB Yorkshire South Premier League title.
15. Andy Dawson – Yorkshire County Cricket Club's Commercial Manager is in charge of snapping up those sponsorships and boosting the club's commercial profile and revenue.
14. Gary Fellows – A prolific league batsman who has struck four centuries and over eight hundred runs this season in the Bradford Premier League.
13. David Wainwright – The left-armed twirler has been in the thick of things for Suffolk and Castleford and was snapped up by Hampshire as cover in late August.
12. James Finch – Captain of Barnard Castle who won the North Yorkshire & South Durham Cricket League and is the league's highest wicket taker.
11. Muhammed Rameez – Hanging Heaton's strike bowler has claimed over 50 wickets in the Bradford Premier League and will finish top of the pile.
10. Martyn Moxon – Yorkshire CCC's Director of Cricket has quietly forged the county's current title-grabbing dominance.
9. Tim Bresnan – The Yorkshire allrounder has been awesome this season and with his TBTV success, a career in front of the camera awaits.
8. Dave Callaghan – The soothing voice of BBC radio, Cally's cricket commentary is the ultimate soundtrack to the summer.
7. Andrew Watson – Director of the Yorkshire Cricket Board, Andrew is well known and liked throughout the county for his work promoting recreational cricket in Yorkshire.
6. Jonny Bairstow – This has been Jonny's year where the wicketkeeper-batsman has replicated his county form on the world stage. Two hundreds and 500+ County Championship runs in four first-class appearances for Yorkshire, averaged 129 in the Sri Lanka Test series and has racked up 39 games so far this year.
5. Mark Arthur – Yorkshire CCC's Chief Executive has cut ticket booking fees, brought wifi to the stadium, retained two Championship games at Scarborough and forged close ties with the county's 700+ clubs. Listening to fans and overseeing a strong and stable period for the club are notable successes.
If I'm appointed as head coach at Yorkshire all net session will be a minimum of four hours and will take place on uncovered pitches.

— Fred Boycott (@FredBoycott) August 30, 2016
4. Fred Boycott – When not at nets, Fred has become a Twitter celebrity, outspoken on all things YCCC and creator of the hashtags #digin and #plodon. He or she is a welcome tonic in the churn of social media.
3. Andrew Gale – His own batting hasn't fired this season but Gale has captained Yorkshire with aplomb in the job where everyone thinks they know better.
2. Joe Root – Consistently one of the word's best batsmen and the engine room for England across all formats. Immensely popular, absurdly talented and always delivers on rare games back at Yorkshire.
1. Jason Gillespie – Whether or not that tantalising third successive County Championship is secured, Gillespie has unquestionably delivered during his spell at Yorkshire County Cricket Club.
His record in first-class cricket as coach is superlative, masterminding Yorkshire's name back onto the most sought after trophy of all after a nagging drought.
Approachable, media-friendly and happy to visit clubs to support them, he will be missed but leaves the county in fine nick.
—
WHAT DID YOU THINK?
So..there you go! If you thought the Cricket Yorkshire 50 was worth the read, do share it on Twitter or Facebook via the buttons at the top and tag anyone mentioned.
If you want to get in touch with me directly, I'm @cricketyorks on Twitter, there's a Cricket Yorkshire Facebook Page or by all means, drop me an email.
As always, thanks for reading and enjoy the website.
Latest posts by John Fuller
(see all)