This is the story of a group of cricket club volunteers who began delivering food parcels during the first lockdown in April – and are now building a food bank.
I caught up with Calder Grove CC's Holly Buxton to learn how a two-week social enterprise mushroomed into helping hundreds of people for months.

Enjoy the read – but if you are already feeling generous, you can Donate to the Calder Grove Food Bank on Justgiving.
The Buxton dynasty
I'm curious how it all started for Holly (above) and as is the case at so many clubs in the country, a family connection drew her into the game.

Holly's dad, Mick, has played for Calder Grove since he was a child and is Chairman while her brother, Josh, is first-team captain. Brother number two, Tom, is the opening bowler for good measure.
It is fair to say Team Buxton are integral at this Yorkshire village club who play in the Pontefract and District Cricket League.
As a child, Holly grew up playing down at the Denby Dale Road ground. Her direct involvement started about nine years ago with 'oh, can you just do the teas?'

She took on the Secretary and Treasurer roles soon after and has been helping to steer the cub's future ever since. It comes from a passion for community projects that saw her become Youth MP for Wakefield at the age of 15.
'It started from those family roots in cricket…it's a big part of my life and probably always will be.'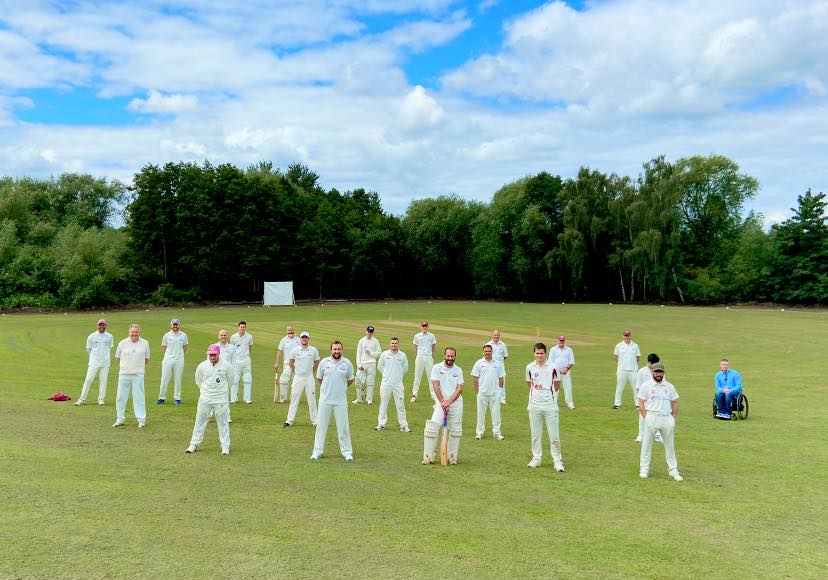 A cricket club transformed
Calder Grove is a club rejuvenated from eight years back where it was a struggle to find players and help to its latest charitable endeavours (more of that in a second):
'Captains were captains because no-one else would do it. People were just making up numbers and didn't always want to be there. There were trees growing through the roof, the kitchen wasn't suitable…it was in a sorry state.'
Cricket clubs do go through these tricky patches and much of the evolution is down to the people and an injection of new ideas.
It can be especially hard if it's all left to one or just a few. Calder Grove seem to have managed to spread responsibilities and Holly is quick to praise those who've all put their hand up to help grow the club:
'Yes, we've developed the facilities and turned things around in playing strength but there's a really good group of people from the local community who have got a real passion for making it the best it can be.'
On the field, their firsts have secured back-to-back titles and will be in Division 3 of the Pontefract and District Cricket League in 2021.
The beginnings of a food bank

When the first lockdown in March confined everyone, it was especially worrying for those who were elderly and vulnerable.

With no prospect of cricket at that stage, Calder Grove Cricket Club pondered how they could contribute.
'We thought: We've got all these people who have their Saturdays free so why can't we do something with that and what can we do to give something back to the community who's helped us over the last few years?'

It began as a Covid-19 workforce to help those who were elderly and unable to go out and do their shopping. Members of Calder Grove Cricket Club ran a shopping service and dropped it off on the doorstep.
This year, the cricket club has done shopping requests, dog walking, grass cutting, collecting prescriptions, you name it.

The food bank development began as a partnership with Kingsland Primary School who offer education for pupils with severe or profound learning disabilities.
The impact of coronavirus is being felt across society and there are very real and serious consequences being played out, as Holly outlined:
'Families couldn't go anywhere, perhaps one of the parents is a full-time carer, reliant on one income and if that income is lost then it's a major thing.'
Calder Grove CC agreed to do 20 food parcels for two weeks for 20 families from that school in difficult situations.

Cue a massive response and a flood of donations. This led to their food bank being opened for the wider community and not just one school.
From pop-up to permanent

The pop-up food bank grew and grew. 'It spiralled from there. We kept saying every two weeks, we'll review it but numbers went up and never went down.'
As Holly says: 'You don't know what's within a few miles of your own doorstep and the way some people are still forced to live.'

Such is the ongoing demand, the cricket club are in the process of building a permanent food bank on the side of their clubhouse.

They welcome donations so they can continue to serve those who urgently need food – here's how to Donate to the Calder Grove CC Community Food Bank Justgiving Page.
You can also email [email protected] if you're interested in donating food.

There are 2,000+ food banks in the UK and according to the Trussell Trust, a record 1.9m food bank parcels were given out in the past year.
Holly is clear that the cricket club are deliberately positioning themselves as a step removed from agencies who require a level of admin.

Anyone who turns up at their food bank is given a food parcel without questions or judgement.
As Robert said, who featured earlier in the BBC clip: "They're angels, they're literally angels in disguise. Without them, it'd be a lot [more] difficult. Kindness comes from the most unexpected places."
Please share this article – use the buttons below!
If you think others would like to have a read, please share this with friends, family and those interested in cricket.
Latest posts by John Fuller
(see all)