Just a Few Lines is the remarkable story of the unseen letters and memorabilia of Yorkshire & England batsman Dennis Brian Close CBE.
It is a cricket book that will grab the interest of anyone who wants to be introduced to a treasure trove directly from the pen of this famous son of Rawdon.
You'll know about the bravery, success and longevity of Brian Close. A tally of 536 first-class matches for Yorkshire between 1949-70 saw him score 22,650 runs (33 centuries), 967 wickets and 564 catches.
With Brian Close as captain from 1963-70, Yorkshire claimed four County Championship titles and lifted the Gillette Cup twice. But, that really only reveals half the picture.
It's funny to think that the exhaustive source material for Just a Few Lines, now acquired from Brian's family by the Yorkshire Cricket Foundation, may have never seen the light of day.
Author David Warner discovered a dusty old suitcase was packed with autograph books and letters Brian Close had written overs years to his lifelong friend, John Anderson.
From his early career with Yorkshire County Cricket Club to football with Leeds United, Arsenal and Bradford City as well as international cricket tours to Australia and Pakistan, the reader is rewarded with Brian's perspective first-hand.
The renowned author and cricket journalist, David Warner, has spent years meticulously curating, transcribing and writing this completely new aspect to one of Yorkshire's most revered cricketers.
Skilfully edited by Ron Deaton, Just a Few Lines will broaden your understanding of Brian Close and take you on his personal journey from decades past.
I've had the good fortune to hear about the evolution of David's book and can't recommend it highly enough, now my own hardback copy has thudded on the doormat.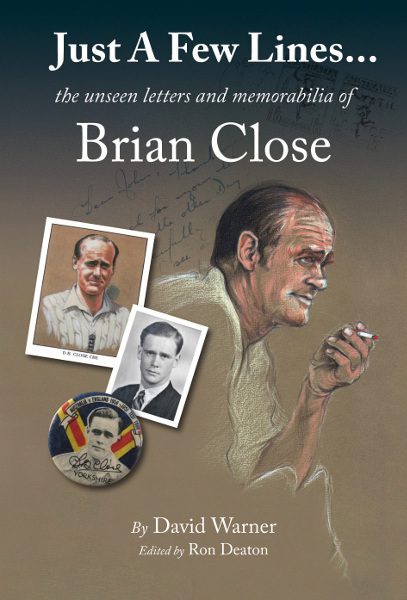 BRIAN CLOSE: JUST A FEW LINES – PLACE YOUR ORDER

If you want to treat yourself or someone who likes the game, now's the time.
Free delivery and if you buy two books, save £5.
** £1 of every book sale goes to The Yorkshire Cricket Foundation. **

To order, visit: https://www.gnbooks.co.uk/product/just-a-few-lines or call 01274 735056.
Latest posts by John Fuller
(see all)