A cricket match that can be traced as far back as 1880 has once more been contested as part of the Ilkley Carnival on May Bank Holiday Monday.
The history of this annual game between shopkeepers and tradesmen, whose teams wore black or white hats, came to light when I was researching a chapter of my book, All Wickets Great and Small, and I went along to the spa town last summer.
I have written about the match for the June 2016 issue of The Cricketer magazine and it was a well timed afternoon visit, having missed the torrential morning rain that doused the carnival floats who swept through the town.
A walk along The Grove was to dip into The Grove Bookshop for a browse, an independent bookshop of note, fellow book lovers.
Mike Sansbury wasn't there as he was captaining the White Hats team but I discovered he also turns out for the social side, Ilkley Over Optimists.
Next up, the allure of macaroons prompted a pitstop at Betty's.
Mrs Cricket Yorkshire and I were only just the other day discussing the difference between macaroons and macarons – now there's an insight into the snap and crackle of office life at CYHQ for you all.
Fortunately, Bettys sell both so it felt only pertinent to cover all the bases…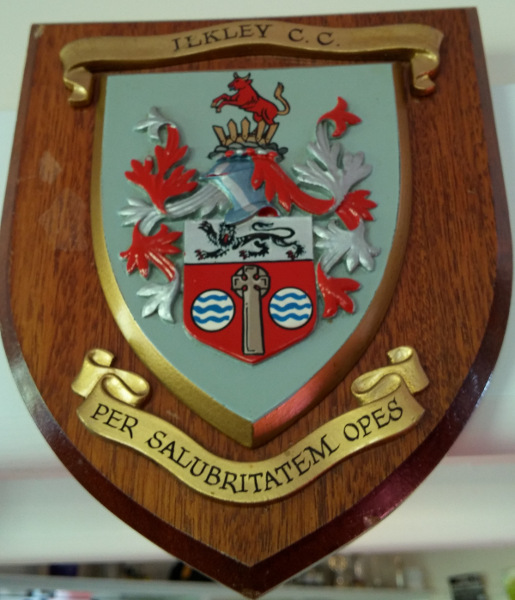 The Black Hats versus White Hats match was at Ilkley Cricket Club who were one of the beneficiaries from the Carnival's fundraising this year.
The cricket club found themselves badly flooded at the end of 2015 and a conversation with their Chairman, Nic Fearnley, revealed the desperation at having got themselves back on their feet only for the ferocity of the Boxing Day floods to undo all their hard work.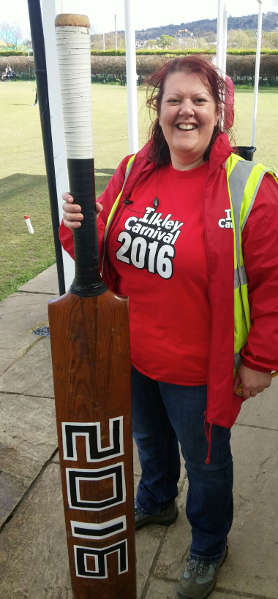 A fair crowd gathered, tucking into the barbeque, cooing at the classic cars and waiting for the sporting finale to the festivities.
At some point, the most gigantic cricket bat I've ever seen made an appearance.
It wasn't entirely clear if this was an award or players were expected to use it but I was just quietly chuffed that someone had gone to the trouble of making it.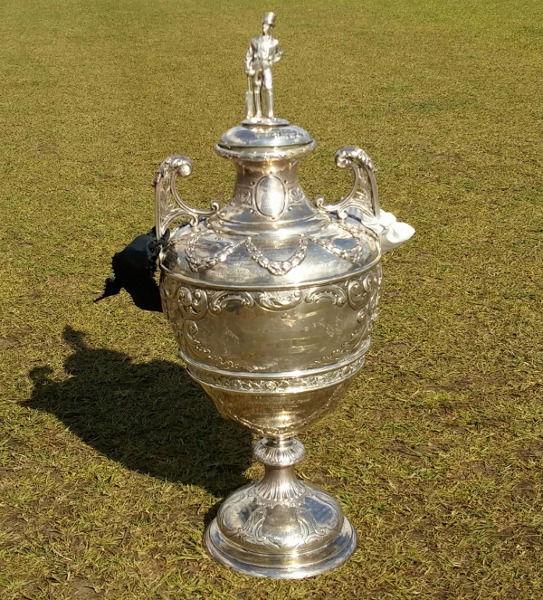 The trophy that this extremely serious and utterly professional cricket match was being contested for was a beauty and for history buffs, it's the original silverware from the inaugural 1880 contest.
So, there was comedy, sure, but blended with a nod to Ilkley's proud past…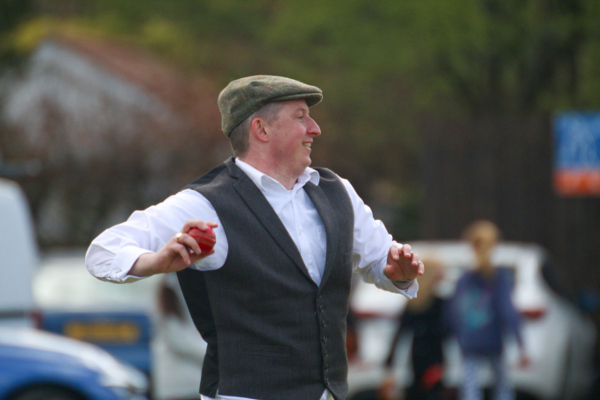 With a pink windball the weapon of choice, sixes and fours were tonked to all quarters but the Black Hats displayed prowess in the field like this chap (above), a genial cross between a snooker player and a sheep farmer but with a decent throwing arm on him.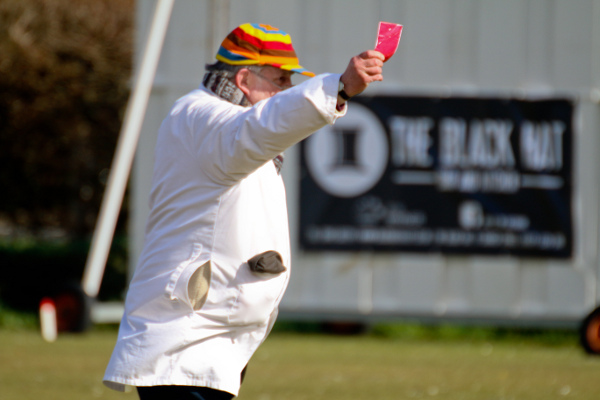 The umpire's interpretation of the laws was a thing to behold and when the mood took him, the red card came out.
In fairness to him, he had to contend with more than his fair share of interruptions.
An aubergine-coloured Volkswagen camper van pootled in front of the fielder at long on at one point while a Yorkshire Air Ambulance helicopter drowned out any LBW appeals when it took off nearby.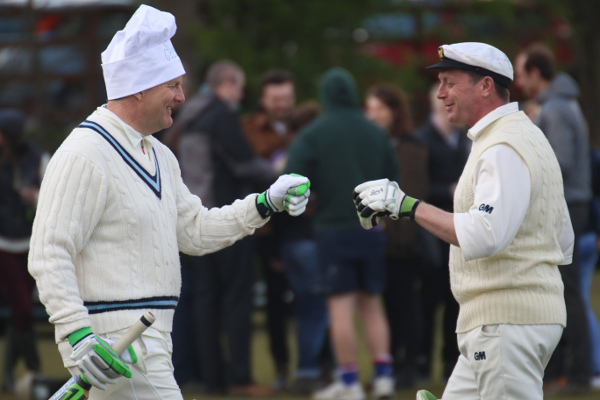 The White Hats batsmen looked as if they were having a blast (while not skippering boats or cooking banquets). They even had what might have been the first ever Yorkshire Viking in their ranks…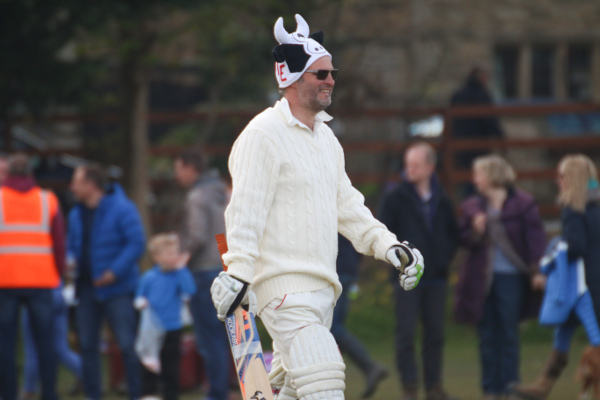 I believe the Black Hats triumphed in the end, though I heard that later as I was already off home to introduce warmth and macaroons into my system by then.
However, it was a wonderful end to Ilkley Carnival and congratulations to all those who made it happen.
Stewart Taylor, Owner of The Black Hat pub, deserves a particular mention for his outstanding Black Hat with gold trim and false sideburns that adorned his face like a couple of ash-coloured spiky caterpillars.
As you all know, Yorkshire lives and breathes for its cricket.
Yet, it's not confined to Test matches or Saturday league fixtures and our county is all the richer for these quirky contests that Ilkley delivered in spades over the bank holiday.
Latest posts by John Fuller
(see all)