Looking out of the Cricket Yorkshire office window during Monday was to have that sinking suspicion that another cricketing extravaganza was to be ruined by the weather.
Thankfully, the weather gods were smiling after all. The T20 fixture between the National Club T20 Champions Hanging Heaton and the Yorkshire Vikings at Bradford & Bingley's Wagon Lane HQ escaped any evening deluge.
I've written a full report for The Cricket Paper that includes interviews with Adam Swallow (Chairman of Bradford & Bingley), Ian Dews (Yorkshire CCC 2nd XI Coach) and Gary Fellows (Hanging Heaton captain).
It goes in next week's issue and I hope you consider picking up a copy to read all about another club cricket upset against the county limited overs side.
I had the unique challenge of trying to interview Ian Dews, who was balancing a plate of melon on a bandaged leg, while the Spice Girls belted out of the sound system between overs.
But, if you want a flavour of the accomplished performance that Hanging Heaton delivered in a comfortable five-wicket win, allied with match photos exclusive to Cricket Yorkshire, then read on!
Bradford & Bingley put on a right show as host club for the Dyson Energy Services T20 Challenge that saw Yorkshire Vikings XI, almost half of whom are associated with a Bradford League side, come to town.
This was not the full-strength Yorkshire Vikings cast, with many resting ahead of the County Championship game at Scarborough.
However, there were a number of fringe first-teamers and those currently in the Yorkshire CCC 2nd XI hoping to impress Martyn Moxon and Ian Dews watching from the sidelines.
On a muggy evening, the crowd built steadily once it became apparent that a washout had miraculously been avoided.
Yorkshire Vikings batted first and after some early fireworks from Harry Brook (23), they struggled to find second gear, perhaps unsure how to adapt their strokeplay on a slower track.
Callum Geldart took five outfield catches with batsmen top-edging and mistiming shots meant for the nearby Bradford & Bingley rugby pitches.
I enjoyed catching glimpses of Bilal Anjum's batting with deft flicks and reverse sweeps though wickets tumbled regularly as Hanging Heaton bowled with guile and kept things tight.
James Byrne (3-31) was rewarded as the Vikings were pegged back and the spin of both Callums (Geldart and Bethel) only conceded 32 off their combined 8 overs.
A score of 135 never seemed remotely enough but with Poysden, Pillans, Carver and Fisher roaring in, you wondered how tight this could yet?
As the swallows swooped into the scorebox where Richard Kosmala and John Virr were stationed, Hanging Heaton looked unflustered, tipping along at a run-a-ball.
A little like at Headingley, a couple of pied wagtails dipped and bobbed their way across the outfield during play.
This was Hanging Heaton's third game in three days and it looked like they were sharp, well drilled and knew their roles.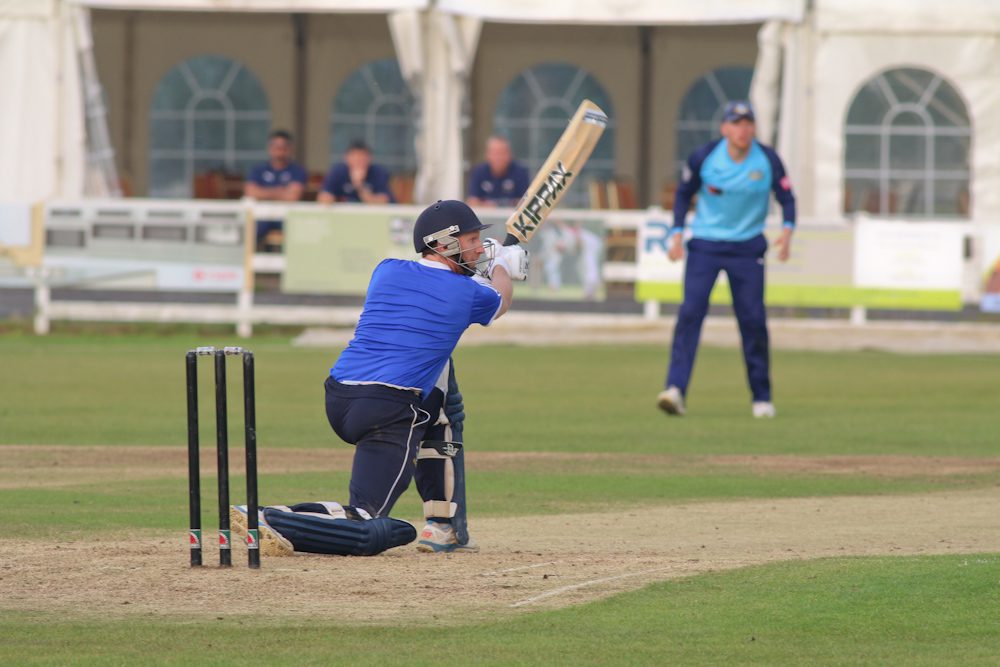 Gary Fellows (21) hit some sumptuous shots, piercing the ring of fielders to show those who don't follow Bradford League cricket that he still has the magic.
Geldart's 33 together with an unbeaten 37 from Nick Connolly meant Hanging Heaton raced to victory with several overs to spare.
Left-arm twirler Karl Carver (3-20) was efficient as opening bowler but the signing of South African Test spinner Keshav Maharaj for the next three Championship games illustrates the coaches are yet to be convinced that the existing spin reserves are the way forward in the short-term.
The game ended in slightly bizarre fashion with the sound system immediately hijacked. A jarring version of Ronan Keating's 'Say Nothing at All' boomed out as Yorkshire Vikings stayed indoors to discuss their defeat.
Life as a professional cricketer means the matches tend to come thick and fast so there's little time or inclination to dwell on this loss. But learn from it, I'm sure they will.
Yorkshire Vikings have repeatedly lost to league and club opposition in the past 5 years; a testament to the strength of Yorkshire club cricket.
Hats off to Bradford & Bingley and all the volunteers who contributed to a well organised and enjoyable evening of Twenty20. Match photos are below…
Hanging Heaton: Gary Fellows (capt), Ben Kohler-Cadmore, Joe Fraser, Callum Geldart, Nick Connolly, Callum Bethel, James Keen, David Stiff, Craig Russell (wkt), Tom Chippendale, James Byrne.
Yorkshire Vikings: Tom Kohler-Cadmore (Capt), Harry Brook, Jordan Thompson, Bilal Anjum, Ben Birkhead (wkt), Matthew Fisher, Jared Warner, Ed Barnes, Mathew Pillans, Karl Carver, Josh Poysden.
Match Photos: Yorkshire Vikings vs Hanging Heaton (T20)
Latest posts by John Fuller
(see all)