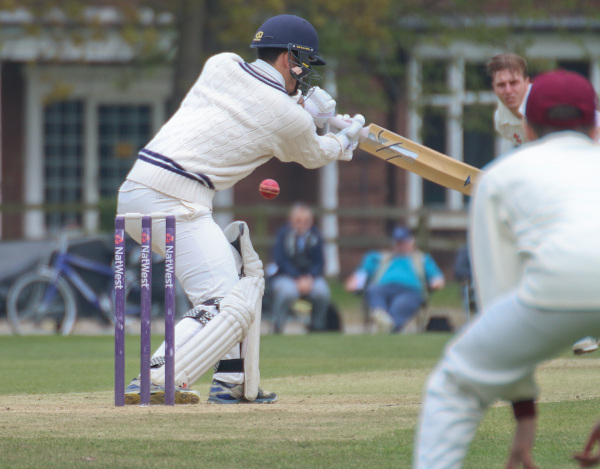 York Cricket Club's Clifton Park HQ would not be out of place on a nature reserve, its wooden panel frontage and shimmering glass aesthetic augmented by the expanse of balcony.
There were no curlews or lapwings in attendance for this ECB Yorkshire Premier League North fixture on parade from the viewing platform but pockets of cricketers stretching, jogging, catching and fielding.
These days, Premier League club sides warm up every bit as rigorously as their county colleagues over at Headingley.
A recent assignment for The Cricket Paper (article should be out next week, if you're interested) took me to get the lay of the land at one of Yorkshire's most successful cricket clubs.
Before the restructure into four ECB Premier Leagues in time for 2016, York Cricket Club had dominated the old Yorkshire League – winning it a whopping fourteen times as well scooping Yorkshire's Black Sheep Trophy last September by getting the better of Pudsey St Lawrence.
Today's visitors were Sheriff Hutton Bridge; one of a brace of sides who can expect to be pushing York every step of the way for the league title this summer.
While Wakefield Thornes walked the ECB Yorkshire League South and the Bradford Premier League was a shootout between Pudsey St Lawrence and Hanging Heaton, North Yorkshire was wide open and having had a rummage into the tea leaves for divine inspiration, we can assume it will be equally competitive.
Yorkshire Academy and Harrogate are other title contenders alongside today's combatants that saw the likes of York's prolific opener Duncan Snell and captain/leftie twirler Dan Woods up against Yorkshire County Cricket Club's Karl Carver and new overseas signing from Big Bash League's Hobart Hurricanes, Sam Rainbird.
York were having to reshuffle their pack with Matthew Waite and Jack Leaning required for Yorkshire's Royal London One-Day Cup squad and with opener/keeper Joe Ashdown unavailable, youth was having its day.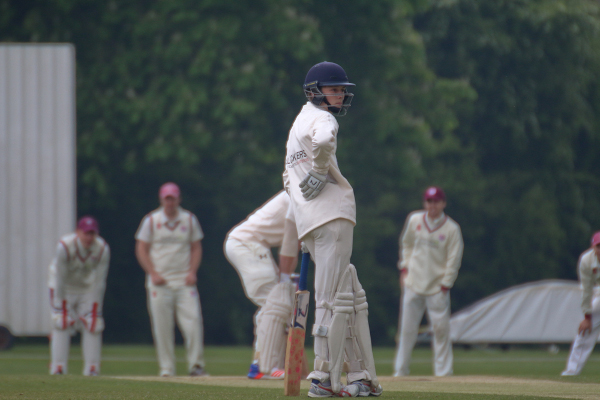 Finlay Bean, a promising prospect (above) who has featured in Yorkshire age-group cricket, made his first-team league debut at the age of fifteen and was given a torrid introduction with Rainbird shaking off the rust and clicking through the revs.
While it might have been a promotion enforced upon them, York deserve credit for not playing it safe but rewarding a young cricketer who departed early but had time for a flourish of defiance when width from Rainbird was breezily flayed to the rope with aplomb. A name we'll be hearing more of I have no doubt.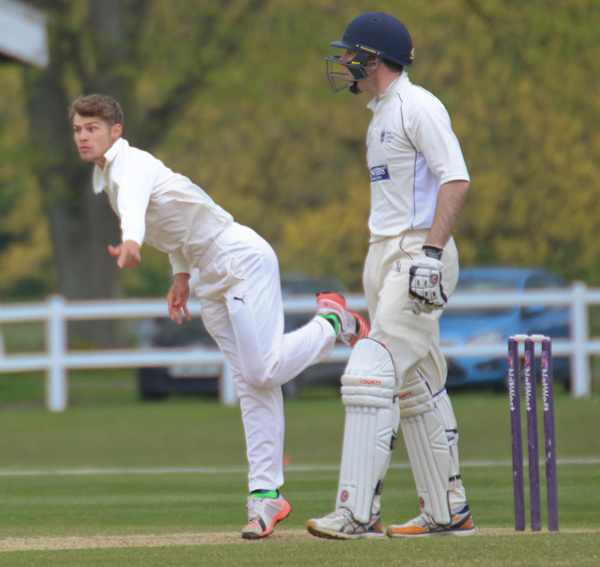 As if to further emphasise the calibre in this league, Karl Carver (3-44) illustrated his left-arm spin is in working order, snapping up three wickets with guile and flight; the trademark shades being ditched but the balletic follow through still in evidence.
York's score of 236 was anchored by Duncan Snell who was consistency personified and unlocked boundaries at will, combining opportunity with patience defence before cutting loose late on and having his bails disturbed by Rainbird in the final frenetic push.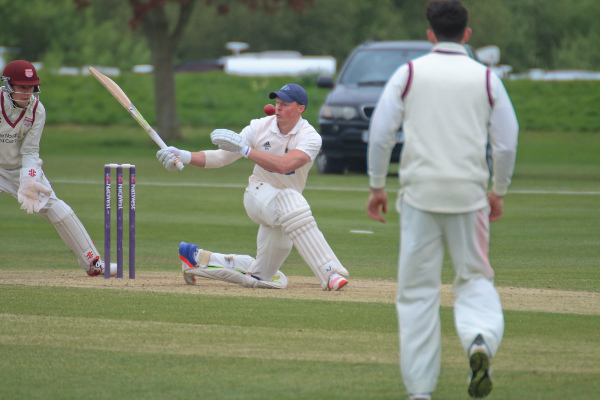 Tom Pringle's cameo of 24 off 20 balls won't grab any headlines but in the context of the drama that unfurled and eventual 31-run margin of victory for York, it was telling.
Sheriff Hutton Bridge may feel they had York where they wanted them but lost their composure in the final few overs of that innings – though hindsight is a wonderful thing.
Freddie Collins (2-39) and Russell Robinson (1-26) were a duo who kept things under wraps for periods.
One surprising observation based around all that York can offer is they didn't appear to sell food.
I believe the cricket tea is shipped in from an outside caterer and so I had to bypass lunch and had a tip that the neighbouring club of Clifton Alliance did a mean cricket tea.
As it was, York's culinary blip was a saving grace as Clifton Alliance's food was flawless but unless I'd got my wires crossed, it felt like an oversight.
Of course, being in York, food is rarely far away but I'd rather support the club on-site and stuff my face to boot – regular readers are all too familiar with how I can happily write thousands of words on the power of cake.
York's endeavours with the ball began about the same time I was loading up another plate of sausage rolls over at Clifton Alliance and watching a forlorn York City goalkeeper run up to compete for a header in the final frantic minutes of their season.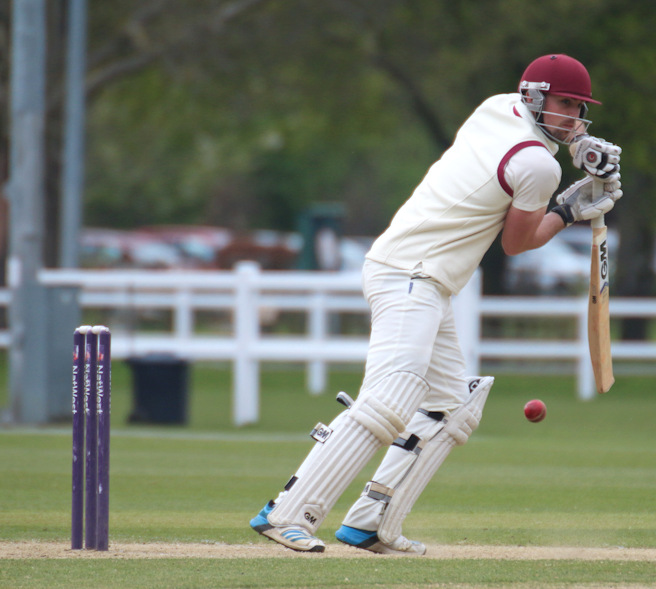 York Cricket Club were scattergun and leaked extras early doors as Robert Pindar's 54 put the cat amongst the pigeons but Sheriff Hutton Bridge were tied down and winkled out.
York captain Dan Woods proceeded to bowl a match-winning contribution – his left-arm spin accounting for 6-36 as the visitors lost their way, allied with three wickets from Tom Pringle.
Schoolteacher Woods is York through and through as well as clocking up the miles by returning to Cheshire to play Minor Counties each summer and it was intriguing to observe his bowling routine.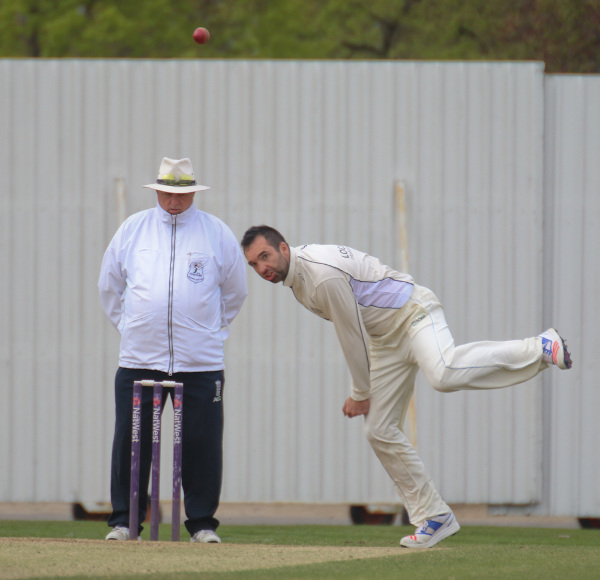 A liberal dusting of the palms and fingers in the crease to dry off first, an action where his leg kicks out to the side at the point of delivery and an audible grunt of effort not unlike a can of coke being opened.
Whatever works…he regularly racks up the wickets and offered thoughtful consideration on York's past and future as his club's innings went through a minor malfunction with a brace of quick wickets.
York were genial hosts; rightly proud of their heritage and facilities but conscious of the need never to stand still.
They and Sheriff Hutton Bridge should be there or thereabouts when the dust settles in September and Premier League cricket in North Yorkshire appears in fine fettle.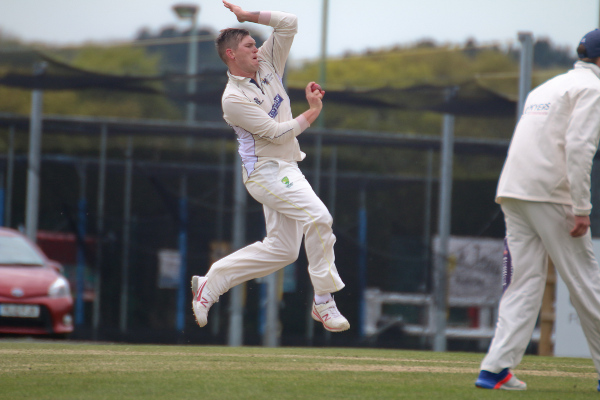 CLICK FOR EXCLUSIVE MATCH PHOTOS
You can check out a selection of match photos by Cricket Yorkshire of York vs Sheriff Hutton Bridge – we ask for your email as way of a payment in kind – some websites hide content behind a paywall and others ask you to do a Google survey…joining the CY newsletter to keep up-to-speed on competitions and the inside track at CYHQ doesn't sound so bad, eh?!
**If think this article and photos added to your day's enjoyment, any and all article shares on Facebook and Twitter by the buttons below are always appreciated. Helps spread the word about Cricket Yorkshire far and wide…
Latest posts by John Fuller
(see all)