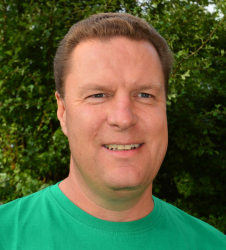 Latest posts by Andrew Gallon
(see all)
After a Saturday drive up to County Durham, to watch a game in the North East Premier Cricket League First Division, at the splendid Philadelphia Cricket Club, overlooked by the Penshaw Monument, I fancied something closer to home the following afternoon.
Forecasters indicating a continuation of the summer's indifferent weather – cloudy and breezy albeit dry – didn't exactly encourage another spreading of the geographical wings.
Whitkirk Cricket Club, a 25-mile run to the eastern suburbs of Leeds, got the nod.
Visitors to Whitkirk Sports Club, shared with bowling, football and tennis, were York & District Senior Cricket League Championship (i.e. top tier) rivals Easingwold.
---
Eight days after the teams met in a low-scoring league fixture, won easily by Easingwold, they faced a rematch in a quarter-final of the Hunters Cup, a 40-over knockout competition.
---
Through its longstanding sponsorships, Hunters, an estate agent, with branches across Yorkshire (including Easingwold), is a very good friend to club cricket.
No shortage of history on the trundle over.
Diverting along back roads, to avoid the A1/M1/A64 junction weekend carnage, I passed the site of the Battle of Towton, a Wars of the Roses showdown during which an estimated 28,000 were killed. Farmers are still ploughing up skulls and bones.
Skimming the drive of Lotherton Hall (a largely Victorian-Edwardian manor house), then skirting the access to Temple Newsam House (a Tudor-Jacobean estate), properties owned by Leeds City Council, I pitched up at Whitkirk Sports Club, a smart multi-sport complex.
Whitkirk Cricket Club, incidentally, were founded in 1892.
Parking my new car – mileage-wise, does it know what it's in for? – next to an umpire's (I figured he'd know the safest spot), I took a moment to survey the site.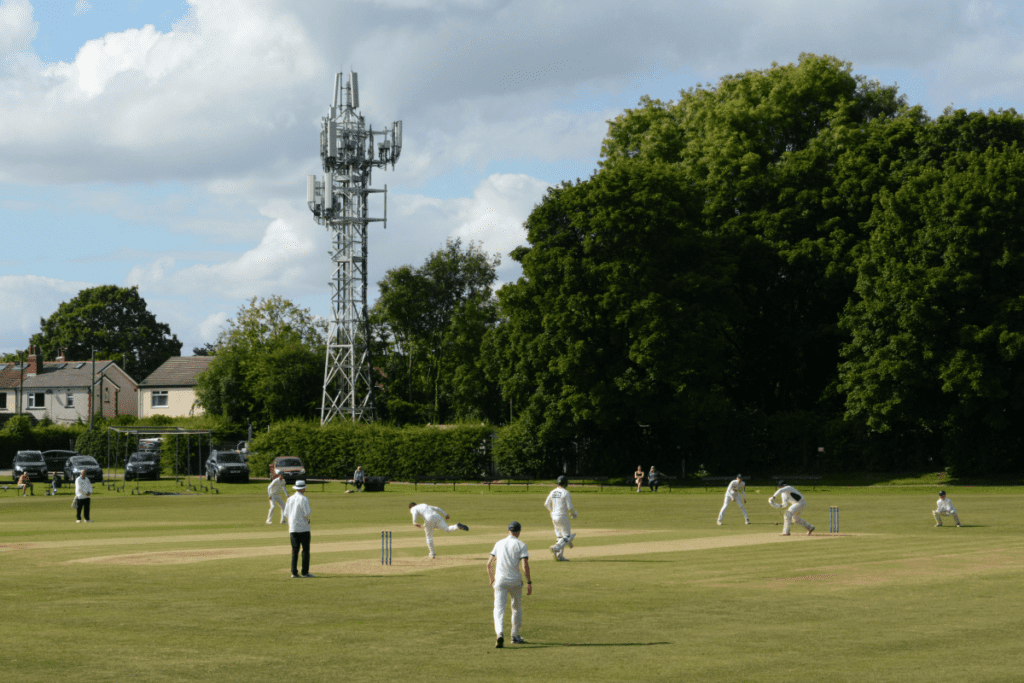 The presence of a telecoms mast, in the northwest corner of the cricket ground, reveals the altitude of Whitkirk Sports Club. Higher than I imagined.
The cricket ground is the first thing one encounters after negotiating a narrow drive.
A good size, it is a shallow bowl, offering in parts a slightly elevated perspective.
---

At the near end, a line of mature trees screens the ground from the graveyard of St Mary's Church, whose tower is visible from the southeast corner, by the scoreboard.

---
Down to the right, past a wedge-shaped car park, is a shared clubhouse, the Whitkirk Club, opened in 1982. In appearance, it is functional.
Four tennis courts, with all-weather surfaces, are over to the left. New-build houses – inevitably! – are immediately behind, protected by a tall catch fence.
It is a Sunday in mid-June, close to the start of Wimbledon (The Championships), when for two weeks most Brits take at least some interest in professional tennis, yet barely anybody was using the courts.
Next to the cricket scoreboard, a section of bank has been cut away to accommodate three covers. Neat.
At the far end of the cricket ground, where the top of the bank offers a fine view to the south, there is a bowling green (nobody bowling, either!) and, beyond that, the rather basic facilities of Whitkirk Wanderers FC, members of the West Yorkshire Football League.
My only other visit to Whitkirk Sports Club, to watch Wanderers play football, was in 2010; a 5-0 rout of Premier Division fellow strugglers Ripon City.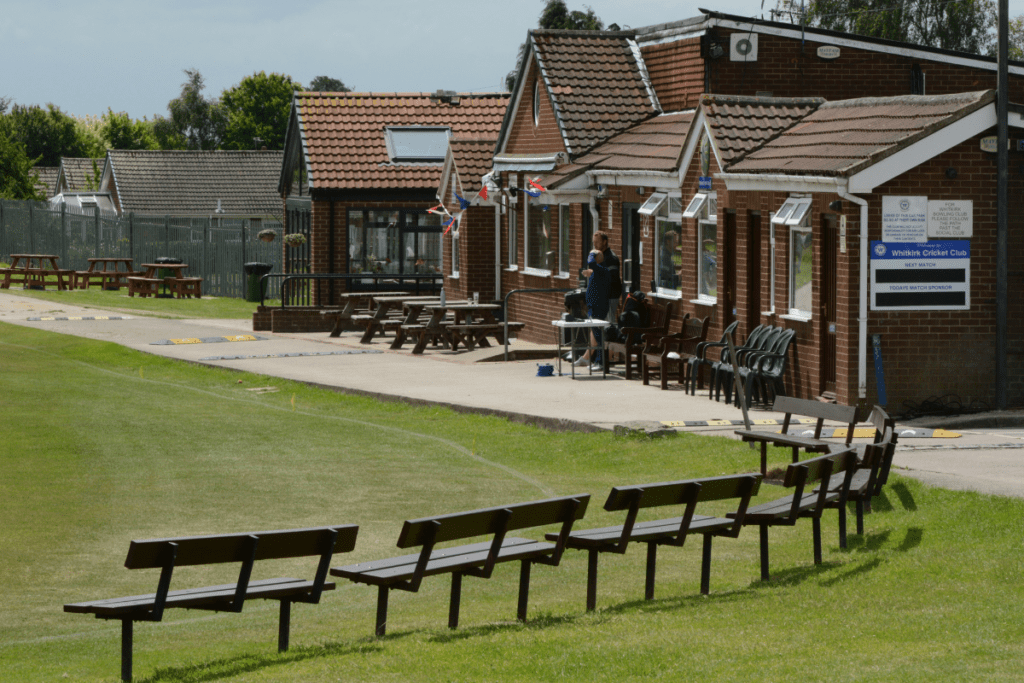 Despite having been before, I still managed to miss the hard-to-spot left turn off Selby Road!
The difficulty many cricket clubs now have in fielding Sunday teams is well documented.
---

Two of the afternoon's four Hunters Cup quarter-final ties do not even take place.

---
York Second XI (the first team are at Newcastle-based South Northumberland Cricket Club in the ECB National Club Championship's Round of 32) concede an away day to Welton.
Similarly, Sheriff Hutton Bridge's Second XI pull out of a trip to Bridlington.
Comparing scorecards, I see Whitkirk show five changes to the XI beaten the previous day by Pickering, whilst Easingwold, who lost a key promotion battle at home to Malton & OId Malton, make three.
It is a shame. But, as I later overhear a Whitkirk fielder telling a spectator, cricketers at this level have other priorities these days.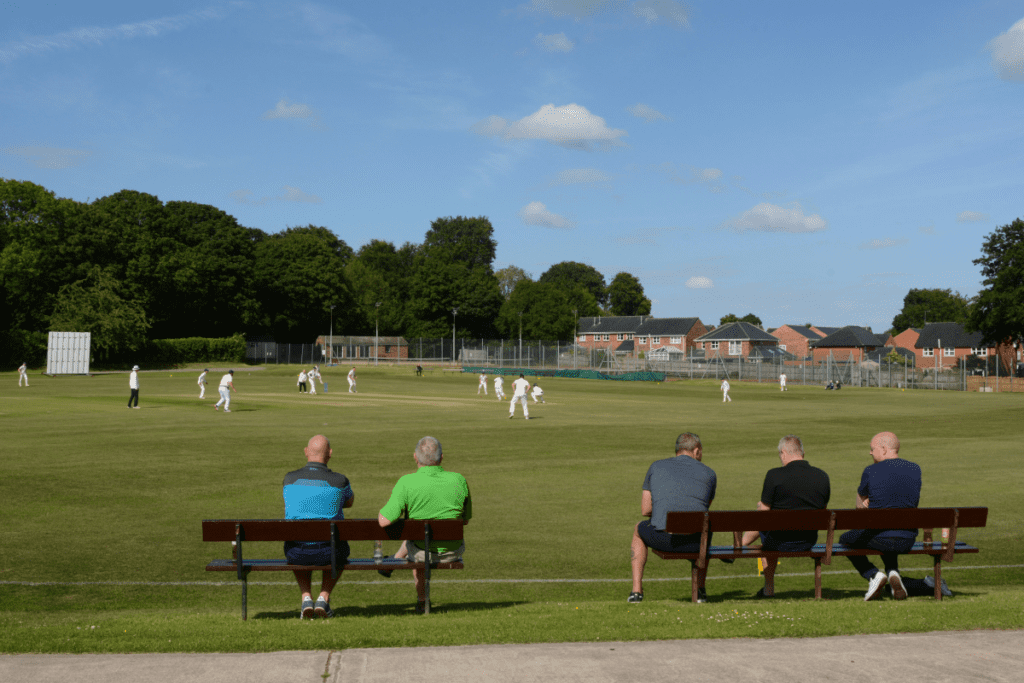 In all honesty, I am expecting Easingwold, third, to beat Whitkirk, 11th.
Put in, Whitkirk labour to 87-5. In the June 11 league fixture, they were dismissed for 86.
Whitkirk are unfortunate to lose, with what appears to be a hamstring injury, No 7 batter Craig Shipton, who retires hurt, with his score on three.
But wicketkeeper Sean Pickles (51 off 100 balls, with four fours) and James Shipton (21 off 26, three fours) prevent capsize by adding 66 for the sixth wicket.
Pickles survives a confident appeal, in the 33rd over, with his score on 41. On the Saturday, against Pickering, he made 45.
---
Easingwold's disbelieving reaction to the rejection prompts a spectator to yell: "Get on with the game!" A brief conflab between a couple of players and the umpires follows.
---
Jack Redshaw, who had removed three of Whitkirk's top four batters, returns to claim another wicket. His figures – 6-2-8-4 – make impressive reading.
Team-mate Tom Quinn, returning 8-1-13-2, is almost as economical (1.63 against 1.33).
Whitkirk are all out (effectively) for 167 off the final ball of the 40th over.
The first innings has been contested beneath thick cloud. The breeze, a westerly, is chilly enough for a fleece.
Well, my fleece, at least. Many of the locals, wearing shorts and T-shirts, seem determined it will be summer, whatever the actual conditions.
As the players troop off for tea, the sun finally comes out. Typical!
Much of the Easingwold knock is played out beneath an intermittently sunny sky.
---

It tempts more spectators into the ground. The crowd peaks close to a hundred.

---
Whitkirk get the early boost they are seeking.
The departure, following smart catches, of openers Harry Warn (1) and Redshaw (8) leave Easingwold 19-2.
Whitkirk, battling to avoid relegation from the division, are cock-a-hoop.
But Kyle Waite (91 off 104 balls, including 14 fours) and Max Cosgrove (43 off 81, six fours) take over. They put on 139 for the third wicket.
With a personal century – and team victory – in sight, Waite seems to mistime a big swipe and is bowled by Alfie Wilkinson.
This merely delays the inevitable, however, and with the field up close Easingwold strike a looping four to secure a seven-wicket win, 170-3, with five overs to spare.
Whitkirk will rue dropped catches at 82-2 and 119-2.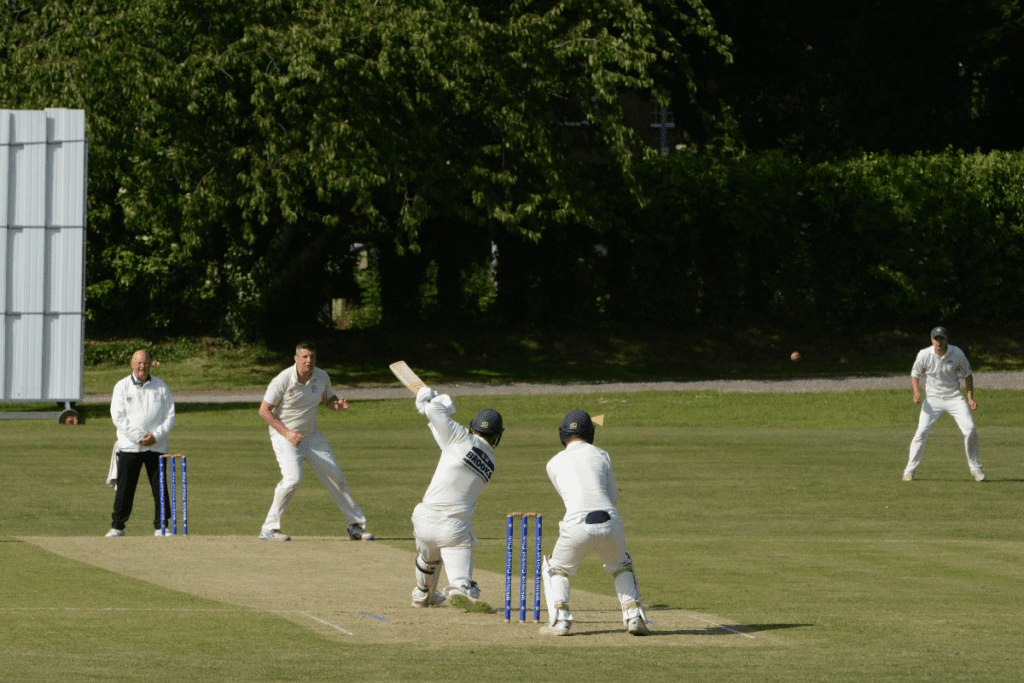 In the Hunters Cup semi-finals, on Sunday, July 19 (1pm), Easingwold will host Welton and Malton & Old Malton (who, in their last eight tie, won by 21 runs at unbeaten Championship leaders Stamford Bridge) entertain Bridlington.
A telling remark, overheard on last midweek's cricket travels.
For the first time, in more than 50 years of watching sport, I cycled to a match: New Earswick versus Heworth Colts, in the Foss Evening League's Fourth Division.
During the game, three kids – none of them could have been older than 10 – walked round the boundary, intent on playing football.
I heard one say to the others, after glancing at the action: "There's nothing cool about cricket." Discuss!

Many thanks to Andrew whose club cricket series, Miles per Gallon, is on cricketyorkshire.com throughout the summer.

Enjoyed this article? Join our community of newsletter subscribers for exclusive news, competitions and partner offers.