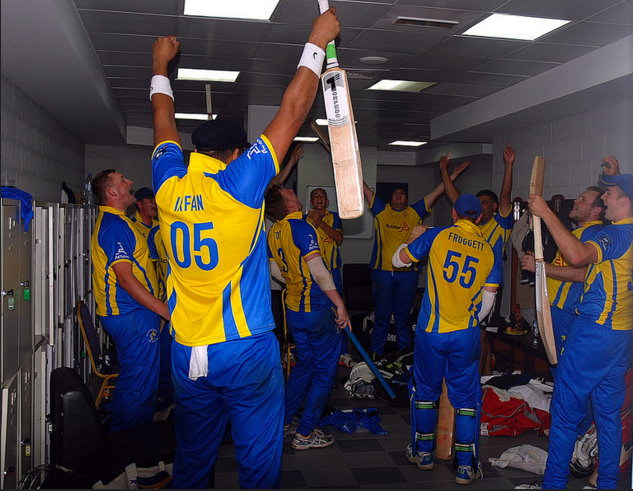 Are Wakefield Thornes Cricket Club currently the best cricket club in Yorkshire? Discuss…
Ok, that's mischevious but the West Yorkshire club, with four senior sides and six junior teams, are understandably upbeat after their first eleven beat Pudsey St Lawrence in the Abu Dhabi final last October to be crowned the inaugural Champion club of Yorkshire.
A recent conversation with Wakefield Thornes Chairman Chris Froggett was cause to reflect on their dominance of ECB Yorkshire League South; getting the better of Harrogate at Scarborough and how Abu Dhabi matches up to their own HQ at Field Lane.
He deftly laughs off my none-too-serious attempt at positioning Wakefield Thornes as the best club in the county (takes a brave and brazen man to stick his neck out on that particular point) but they've legitimately beaten the other ECB Premier League challengers and have a silver goblet for their efforts.
"I would never presume to put 'best club in Yorkshire…' we won one game on one day. I'd be setting ourselves up for a big fall if we did!"
He went on to say: "We're a good cricket club who work hard at what we do. We've got some good players but there's a million and one people who put alot of time into cricket in Yorkshire."
Competing in Abu Dhabi required acclimatisation not least the fact that the men of Pudsey and Wakefield began the final in 36°C – that's 96°F. It's simple enough to type that but trickier to imagine functioning properly while running around in whites.
With the trip funded by Yorkshire County Cricket Club, days had been factored in to get used to the overwhelming, energy-sapping climate and Froggett paid tribute to the dominating batsmen on either side:
"You've only got to look at the way Dave Toft played and Mark Robinshaw….They were involved in the game virtually from the start and played as well as anybody could ever play outside the professional game I think."
For Wakefield Thornes, captained by Chris' son Tom, Dave Toft was a key batsman all-season for them and really came to the party with match-defining innings in both the semi-final run chase against Harrogate at Scarborough and his 138 off 110 balls (and three wickets) in the United Arab Emirates.
ECB Yorkshire South Premier League Chairman Roger Pugh wrote in his blog that Toft's innings was the best he'd seen outside the first-class game in all of his years watching cricket.
Though Froggett in his capacity as Wakefield Thornes Chairman is keen not to focus all the attention on any one player as a squad takes a club to a title, not an individual cricketer, he credited the summit of Toft's stellar season: "It was an innings befitting the stage and befitting a top player."
Frogett mentioned two other first-teamers who had a "massive influence" – including Akila Isanka who won the accolade of ECB Yorkshire South Premier League's most valuable player and Faisal Irfan (pictured above with Mahmood Rasool).
Irfan's wickets as opening bowler with crucial late-order runs were integral cogs in the momentum of Thornes' season but players across the squad chipped in across the expanse of the summer.
One aspect to the 2016 season that raised eyebrows in some quarters (here at CYHQ for starters) was the way Wakefield Thornes dominated the ECB Yorkshire South Premier League winning five more games than anyone else.
The league consisted of seven existing 'southern' Yorkshire League clubs, together with the top four clubs from the South Yorkshire Senior Cricket League and one from the Central Yorkshire League (who were Wakefield Thornes).
Chris makes the point that as well in his league, the strength of what used to be the Central Yorkshire Cricket League (now amalgamated into the Bradford Premier League) was maybe underestimated in some quarters.
How those ex-CYCL sides have since fared is reflected in the way Townville dominated Championship B, losing only once, and will now be in the Bradford Premier League for 2017 alongside Batley.
There's a short, four-minute audio interview below with Chris about playing the Champion Club Final against Pudsey St Lawrence if you want a listen.
Read on, if you'd like to enjoy the interview and discussion with Dave Toft about batting for Wakefield Thornes and his perspective on how the club's fortunes have evolved.
LISTEN: WAKEFIELD THORNES CHAIRMAN CHRIS FROGGETT ON HEAT AND HEROICS IN ABU DHABI
After swapping LinkedIn messages, I catch up with David Toft, Wakefield's run machine (my label, not his) to reflect on his mindset and technique in that final month of an unforgettable season.
Dave's 70 not out in a frenetic run chase at North Marine Road was the lynchpin that carried the South Yorkshire side over the line against a Harrogate side who had emerged victorious in Yorkshire Premier League North.
Toft's contrasting innings here in Yorkshire and overseas showed an ability to adapt to the state of the game, but also the pitch conditions. Wakefield Thornes edged Harrogate by three wickets on the North Yorkshire coast before racking up 296-6 against Pudsey St Lawrence.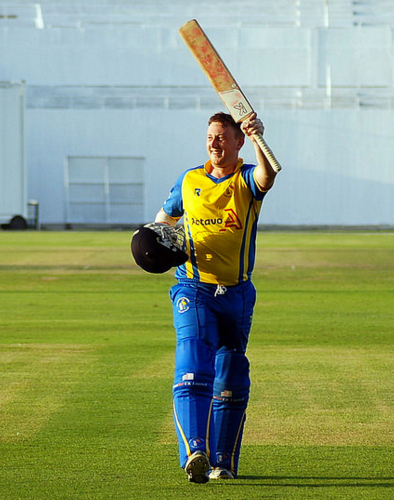 With conditions that few of these cricketers will have had to compete in before, I wonder how you focus and compose an innings and not flake out?
Dave reckoned: "The occasion takes it all away from you really…involvement in such an elite club cricket final, you tend to forget about it and we'd been looking forward to putting our footprint on Yorkshire cricket."
To re-wind back to the beginning of the 2016 season, it was something of a step into the unknown for Thornes having not played other sides before such as Sheffield Collegiate and Whitley Hall.
Toft recalls a frank players meeting where the goal was to compete and stay up; an ambition that rapidly needed reassessment as the victories kept coming.
Apparently, some have liked Wakefield Thornes to Leicester City's 2016 Premier League title with their surprising dominance.
Of course, Wakefield's finest will be wanting the comparison to end there given the reigning Premier League football Champions have since ditched their manager and are having to ponder possible relegation in the follow-up season.
Toft acknowledges the role that Wakefield Thornes' bowling unit starred in keeping opposition batsmen in check – with a telling stat that only three or four batsmen went past fifty against them in the whole year.
We wrap up the interview by discussing where Toft's ambitions lie and he's someone who has been in or around county representative sides before from juniors at Derbyshire to Minor Counties to a 'soft' enquiry from Worcestershire County Cricket Club to play second-eleven cricket for them.
It is something he admits is not high on the priority list though if the chance materialised, he'd be naturally keen to pursue it – but the focus is very much on Wakefield Thornes and looking to kick on and win more trophies in 2017.
For Wakefield Thornes, the new season won't bring with it fevered recruitment though their overseas player, Sri Lankan allrounder Akila Isanka (who contributed 62 wickets across all formats) has scribbled his signature on the dotted line again.
Chairman Chris Froggett had one new signing up his sleeve that he was being coy about as it had yet to be formally ratified by the league but by and large, the West Yorkshire club are going with the philosophy of if it ain't broke….
LISTEN: DAVID TOFT ON MOMENTUM AT WAKEFIELD THORNES
Photo credit: Stuart Marsden on behalf of ECB Yorkshire South Premier League.
Latest posts by John Fuller
(see all)