A little like a Japanese graphic novel, I'm reading a thought-provoking cricket book about English leg-spin backwards in order to review it.
No sniggering at the back…no, that doesn't mean it must be a short book either because of the subject matter. You just wait to be suitably enlightened.
I can't testify as to whether this particular mode of reading has any influence on the book review but a little like bypassing the sandwiches en route to the cakes at a cricket tea, I'm blinkered towards the good stuff.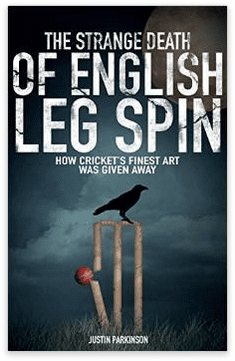 By that I mean, this well-researched look at a subject few have tackled adequately, meticulously delves through the ages but despite, or perhaps because of, a university degree in history, I have little thirst for the history in cricket.
I know, some of you will be curling up your toes in protest and hissing at the screen but that's the way it is.
Fortunately, this wonderful addition to your bookshelf is thoughtfully constructed in such a way that if, for example, you want to bypass the years where Yorkshire seemed to think leg-spin was like an embarrassing relative not to be brought out in public in favour of a discussion on Adil Rashid, then it's a piece of cake.
Ok, enough about cake. Come on, you know me better than that…
With this cricket book, you can choose to devour it in a number of ways and The Strange Death of English Leg Spin by Justin Parkinson is well worth your time and attention.
There is a nod to the finest legspinners who were snubbed by international selectors again and again – a recurring theme if ever there was one – like Kent's Alf Freeman who was picked for just 12 Tests but scooped up 3,776 first-class wickets with his googlies, top-spin and leg-breaks.
A bibliography of English legspinners down the years is included in the back for you to thumb through, with a summary, labelled Dramatis Personae – clearly Justin, who works as a feature writer at the BBC, likes his latin.
There is also something of a cricketing manifesto of six ideas to re-connect with leg-spin in England and nurture it back to health and here's where it gets intriguing.
The author's response to a nation's ambivalence, distrust even, of this beautiful art includes bringing back the table-top game of twisti-twosti from centuries past.
There is plenty in this book to give a sense that there has been an English reticence for a ridiculously long time when it comes to taking advantage of some very talented leg spinners.
A central theme and one that resonates is the safety-first mentality and lack of trust in county leg-spinners to replicate their abilities in an England shirt.
For the Yorkshire fan, there is more than enough on the White Rose although not all of it makes for proud reading with the county positioned as the protagonist in this immoveable stance on leg-spin.
Mike Brearley's quote in his book, The Art of Captaincy: 'It's difficult to imagine Abdul Qadir being allowed to survive and flower in Yorkshire' needs to be taken in its context at the time but still rankles.
For those of a certain vintage who can remember Salisbury or Schofield through to Borthwick and obviously, Adil Rashid, it has not been a happy few decades for English leggies.
They remain the exotic wildcard; a world away from mainstream spin bowling – which, we can safely assume, is anyone who favours a meagre run rate.
Happily, Rashid is in the England squad for the first Investec Test in Cardiff against Australia – but will they actually be brave and pick him?
The suspicion is that when push comes to shove, a more conservative selection will, yet again, prove the order of the day but we're open to being proved happily wrong here at Cricket Yorkshire.
A conversation with the book's author, Justin, once he's negotiated the evening train, is a half an hour well spent on the mindset of selectors, coaches and players.
As a leggie himself since his teens, Parkinson has first-hand experience of the art and was driven to look into who the great leg spin bowlers were down the years – and crucially, why are they so rare?
"I often felt when I was bowling leg-spin, I was a bit of a freak; a bit unusual and I wanted to know where that all dated back from."

Justin Parkinson, author.

The title of the book sounds a tad negative and its author is quick to highlight he remains an advocate – shouting for Rashid's selection in the West Indies on Twitter – but his research showed a downward trend.
The full title includes: 'How Cricket's Finest Art Was Given Away' and therein lies the nub of it. It's not that the talent is not sprouting, more that we as a country are lousy gardeners.
This cricket book by Pitch Publishing is intended as a contrast to the likes of 'Twirlymen: The Unlikely History of Cricket's Greatest Spin Bowlers' by Amol Rajan where titans of spin bowling are celebrated.
It would be easy to pluck spinners from other international teams and marvel at them but here in England when it comes to leg-spin, this is the counter-argument to the notion that things always get better.
Only the avid fan, historian or in this case, researching cricket author, knows that once upon a time, leg spin flourished in England and was embraced as a key component of the game, as Parkinson outlines:
"It used to be quite a viable proposition for a leg-spinner in every Test match and the counties all had them even up until the fifties."
We can all rattle off leggies from county cricket whose careers didn't match expectations: Michael Munday at Somerset being one I always rated, as did Terry Jenner, Shane Warne's mentor.
Their relationship and Munday's own thoughts are included with Jenner discussed at length in relation to the development of Shane Warne whose shadow fell over English leg-spin.
Cricket Yorkshire recently interviewed Tom Craddock who was let go by Essex in favour of Monty Panesar despite a promising start and that infamous game against England where he excelled.
Craddock is about to turn 26 and without wanting to sound like his agent, if he's kept in shape and built up his knowledge, should be entering his best years.
He was bowling at Headingley for Yorkshire seconds against Lancashire and will be hoping to make an impression at his county of birth, despite the spinners jostling for recognition.
It's not that leg spinners expect special treatment but while in some ways, they are a breed unto themselves, in other ways, they just want to be treated like everyone else.
Why is that an opening bowler who concedes a four in his first over is seen to have had a 'loosener' while a similar fate from a leggie is feared to be the start of a load of garbage?
Another talented allrounder, Scott Borthwick at Durham, was jettisoned far too early after a bad couple of games by England, who I've always felt shuffle their favourite 'leggie de jour' like top trumps.
I once put this to Rashid who offered a wry smile and defended his fellow leggie further north but also acknowledged that England mull over leg spinners, rightly or wrongly, on what the wicket is doing, not the man.
Leg spinners thrill; get crowds anticipating further action any second now but here in England, they are incredibly rare towards the county and England end of the spectrum.
It takes my old friend Mr Google to help locate when England last picked a leg spinner for a Test match.
It's more recent than you'd think as Scott Borthwick had a solitary game in Sydney in the fifth Ashes Test at the start of January 2014; the same time Gary Ballance made his debut.
But even then, context is everything. England had already been eviscerated in every department and were losing 4-0 so it was seen as a selection akin to 'well, why not, we're getting stuffed either way…'
England lost by 281 runs and Borthwick picked up four wickets and promptly disappeared off England's Test radar.
Adil Rashid should already have played Test cricket for England – and I'd be saying that whatever county he represented – but there is this invisible handbrake that needs releasing; a shift in mentality that this excellent book addresses in spades.
The Strange Death of English Leg Spin: How Cricket's Finest Art Was Given Away, by Justin Parkinson is published by Pitch Publishing and available for £12.99.
Latest posts by John Fuller
(see all)