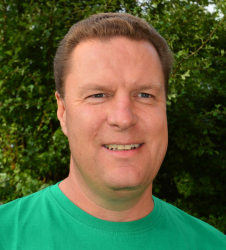 Latest posts by Andrew Gallon
(see all)
Watching a cup tie between buoyant teams with 2022 championship trophies on their CVs seemed like an excellent way to spend a sunny Sunday afternoon.
An opportunity to reacquaint myself with the Huddersfield Cricket League was a bonus.
So, off I went to north Huddersfield and Birkby Rose Hill Cricket Club, whose First XI were hosting Mirfield Parish Cavaliers in the second round of the Sykes Cup.
Last season was memorable for each club.
Birkby, who joined the Huddersfield Cricket League as recently as 2014, topped the comp's Conference division to secure promotion, for the first time, to its second tier.
Parish, meanwhile, were too good for their Championship rivals. A string of impressive results ensured they would be playing Premiership cricket in 2023.
---
Going into the Sykes Cup clash, Birkby, seventh, were unbeaten this season at their home ground, adjacent to Birkby Hall Road, in a desirable district of Huddersfield.
---
In round one, Birkby defeated Conference visitors Marsden by eight wickets. Parish, ninth, also capitalised on home advantage, trouncing Linthwaite, a Conference side, by nine wickets. Each team had made a steady start to their league campaign. Perfect.
As it happens, my mum lives close to Birkby Hall Road. She likes a day at cricket (my late dad played to a decent level), and was happy to join me.
Clearly, Birkby are a club heading in the right direction. Their pavilion, renovated and extended in 2021, contains a wall-displayed timeline revealing a rich history and numerous achievements. But that 2022 Conference championship triumph has yet to be added!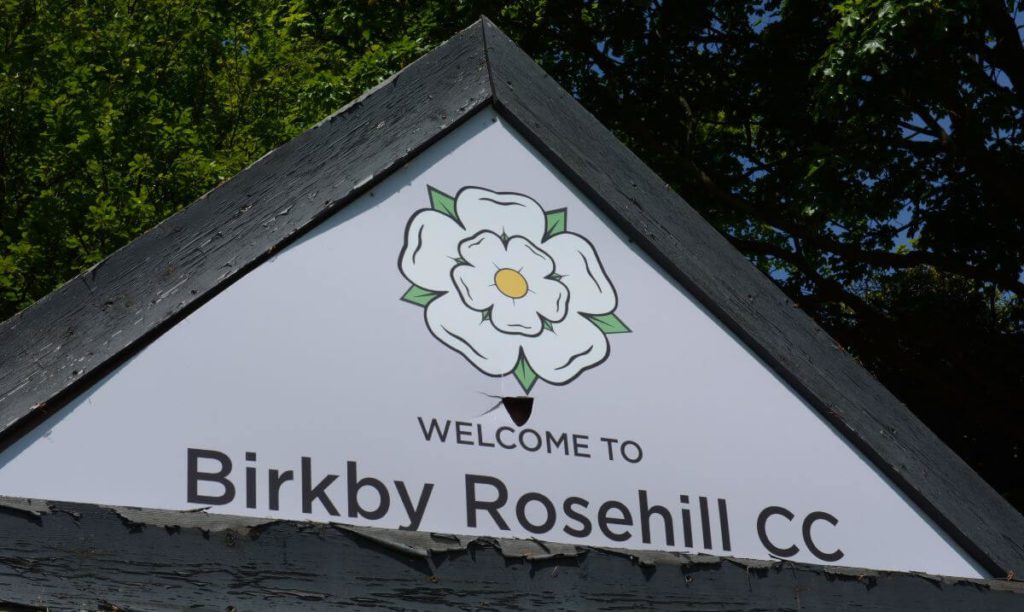 Known initially as YMCA Birkby Cricket Club, they began life, in 1920, as members of the Huddersfield Cricket Association League. They left, four years later, to play friendly matches then rejoined in 1931.
YMCA Birkby won the Lumb Cup in 1956 before enjoying a mid-Seventies purple patch. In 1974 and 1975, they topped Section B. YMCA Birkby went one better in 1976, landing the main Huddersfield Association Cricket League title.
This prompted a switch, in 1978, to the Huddersfield Central Cricket League. Three lower division titles were won before, in 2001, YMCA Birkby outgunned everybody in Section A.
Two years later, the club changed their name, to Birkby Nuffield Cricket Club.
In 2009, the Birkby Rose Hill Cricket Club name was adopted, and a new pavilion built.
---
The following season, Birkby powered to an unprecedented Huddersfield Central Cricket League treble: Section A title and victories in the Allsop Cup and T20 Trophy.
---
In 2012, an electronic scoreboard was installed (still there, in the southeast corner). It was certainly busy during the 2013 season because Birkby were runners-up in the league's Premier Division and Allsop Cup, and they lifted the T20 Trophy.
The following season, the club stepped up to the Huddersfield Cricket League. Ahead of their 2022 Conference division title win, Birkby had found the third tier hard going. They finished ninth in 2018, 10th in 2019 and eighth in 2021.
Continuity was key last season. Captain and wicketkeeper Sarfraz Hussain told me, for the first time, Birkby were able to keep together a group of players for more than one summer. "We really gelled."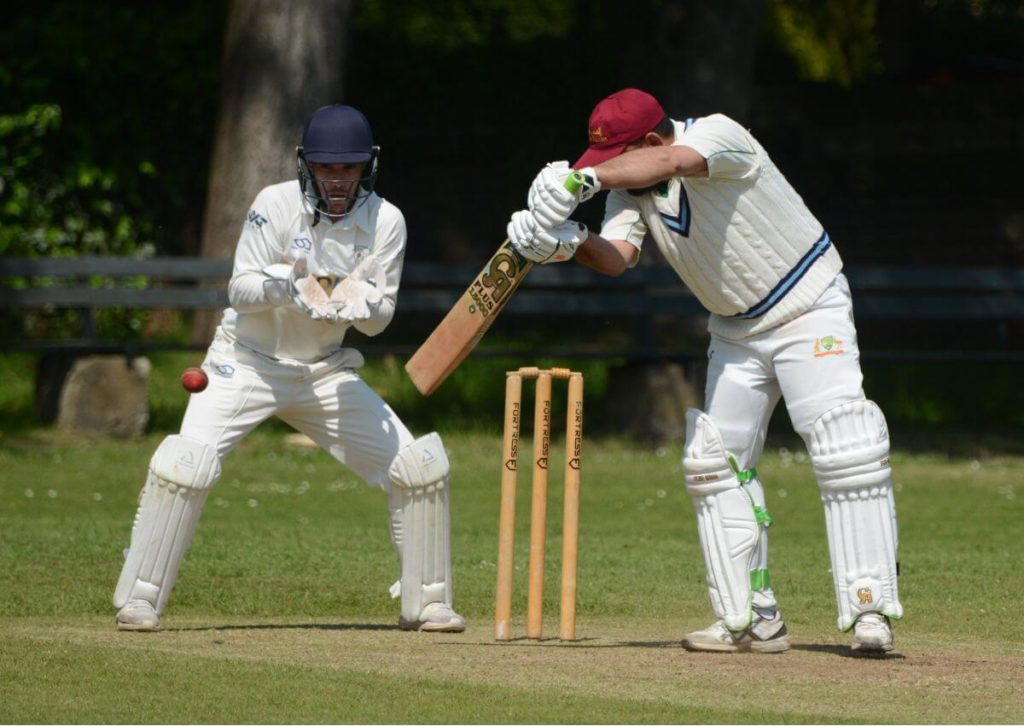 The performance of Pakistani overseas recruit Ali Rafiq, who hit 1,073 runs from 29 innings (including a best score of 120 not out), was the icing on the cake.
Rafiq stuck with the Huddersfield Cricket League's Conference for 2023. He joined Hall Bower after Birkby decided against bringing him back because he could stay only until June.
As a Muslim side, Birkby do not have a bar in their pavilion. It denies them income enjoyed by most rival clubs.
---

Nursing a broken little finger, which against Parish forced him well down the order ("I'm struggling to grip the bat"), Sarfraz spotlighted the previous day's Championship game, at Golcar Cricket Club, where Birkby lost by six wickets. He reckoned there were 200-plus spectators, which would have produced healthy bar takings for the hosts.

---
It means Birkby rely heavily on the generosity of sponsors. Sarfraz's older brother, (Dr) Altaf Hussain, a club trustee and a First XI player, owns a chain of dental surgeries, ASR Dental. He provided financial backing for the 2021 pavilion revamp. A plaque reveals Altaf did so in memory of his father, Hagi Mohammed Hussain. Another brother, Mushtaq, former First XI captain, is Birkby's club secretary.
In addition to ASR Dental, Birkby's other valued sponsors are Accident Claims, BLD Construction, Din Solicitors, Elland Pharmacy, Genix Healthcare, Kabana Huddersfield, Phantom Lounge, Sandal Dental Care, Sim Print, Sky DIY and Walker Timber.
The pavilion occupies the northwest corner of a ground – friendly welcome guaranteed – I liked more and more as the afternoon wore on.
Adjacent to the pavilion are rudimentary practice nets. Birkby hope to build a twin bay practice net and associated facilities. "We are trying to raise funds for this," says Sarfraz. "So far, as you can imagine, it has been quite difficult."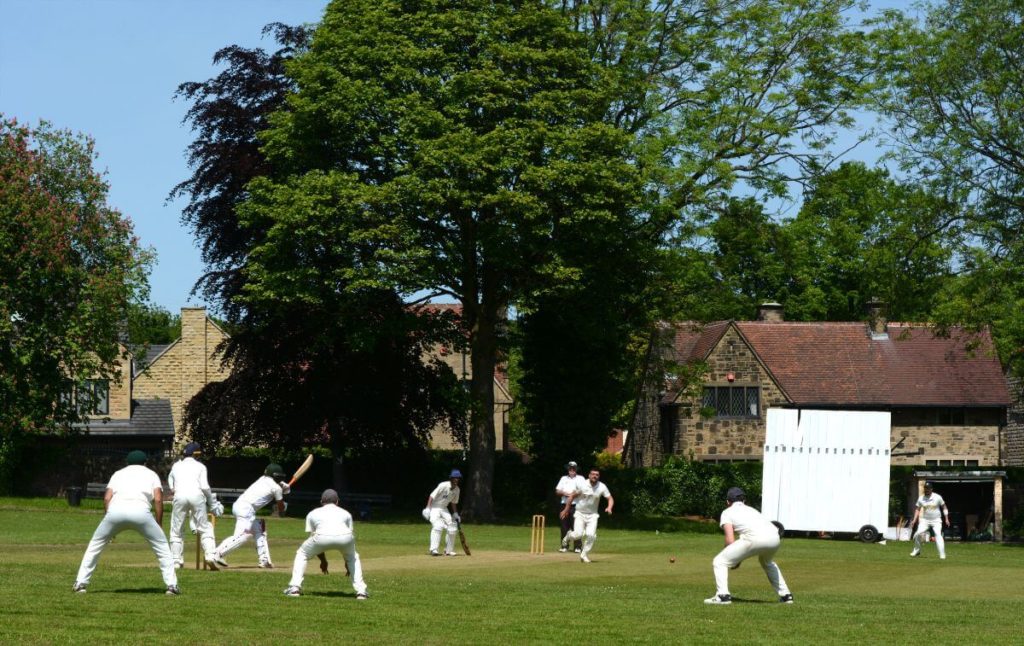 Mature trees (delicious shade!) surround the pitch and lend a pleasing sensation of being in a woodland glade. The feeling is heightened by uncropped grass beyond the boundary. The pitch slopes downhill, noticeably, from west to east.
Beyond trees on the east side is the Huddersfield (formerly Nuffield) Hospital, a private facility that offers some treatment on the NHS. However sorely tempted (Birkby have no on-site parking), visitors to cricket should not use its car park.
A footpath runs along the ground's southern perimeter, with Rose Hill Natural Burial Ground next door. According to its website, this is a "tranquil site for burials and the interment of ashes, in an environmentally sensitive way". The setting is described as an "unspoiled, wooded valley". When my time comes, it's the sort of place I'd be happy to end up.
A theme: the previous afternoon, at Windsor Park, where I'd watched the Northern Premier Cricket League's top two, Chorley and Kendal, the back of my chair had been a couple of yards from Chorley Cemetery's boundary wall. Something of the night about me?
Birkby Hall Road descends (or climbs, depending which way you're facing) along the far side of the ground's northern perimeter. Plenty of street parking here, although I opted for Rossefield Avenue, opposite the entrance. A 'polite notice' requested no parking next to the privacy-affording hedges of large homes on one side. That sort of neighbourhood, I guess.
It wouldn't be Huddersfield, of course, without sight of Victoria Tower-capped Castle Hill. Sure enough, from the ground, it is visible, to the southeast, through a gap in foliage.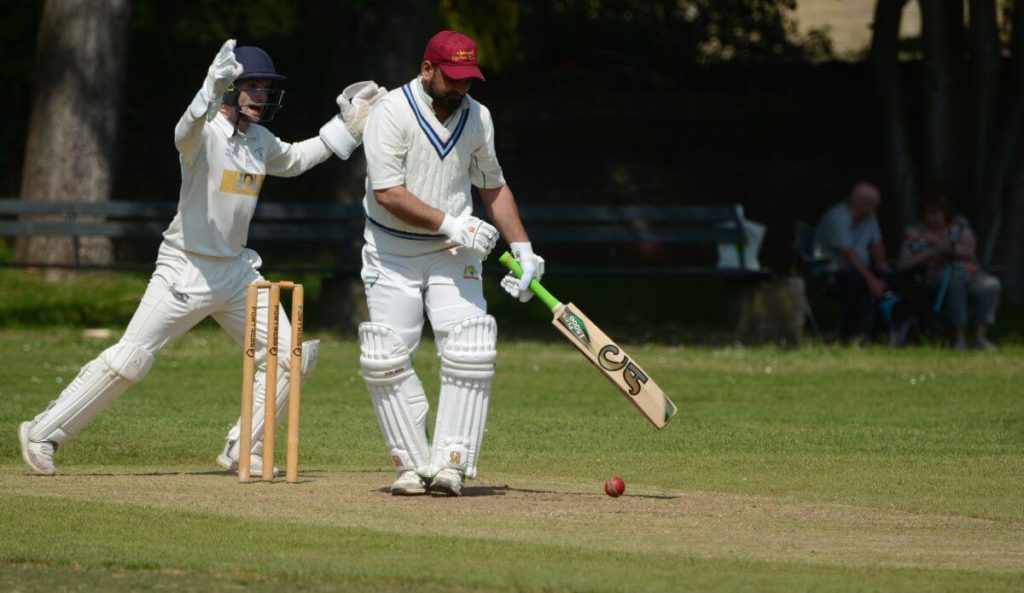 When I arrived, a junior game was taking place. It overran slightly, which meant the umpires delayed the start, by 10 minutes, to 12.40.
For juniors, Birkby run under-13 and under-15 teams, along with women's softball and hardball sides. The club have four senior men's teams: two Saturday, one in the Halifax Sunday Cricket League and one in Bradford's Quaid-e-Azam Sunday Cricket League.
Birkby won the toss and elected to bat. And lost two batters, to the first and fourth balls of pacer Tom Fretwell's opening over. By any standards, a sensational beginning.
Sharp catches removed opener Altaf Hussain (0) and No 3 Chaurdry Anwar Ul Haq (2), who had struck 91 (including 15 fours) at Golcar the previous day.
---
Khalil Khan, from Pakistan, Birkby's 2023 overseas recruit, formerly with the Bradford Premier Cricket League's Wrenthorpe Cricket Club, hit 34 off 51 balls. Partnering Mohammed Hamdaan (21 off 36), he steadied the ship. They put on 50 for the third wicket.
---
Spinner Nazakat Khan's introduction was inspired. Immediately, the Parish sorcerer trapped Hamdaan leg before.
From 52-3, the home team slumped to 81-8. Their tale of woe featured three run outs (one was completely, utterly madcap), two of them off Nazakat Khan's bowling.
Only a determined 28 off 35 balls from No 10 Aftab Ur Rahim advanced Birkby to a getting-on-for-respectable 126 from 39.2 overs.
All six Parish bowlers contributed. Captain Fretwell's 2-23 from seven was supported chiefly by Ben Egginton (2-20 from 10) and Brayden Brehaut (2-26 from 4.2).
Brehaut, from Western Australia, has returned to Mirfield for another spell as Parish's overseas player. After a confidence-sapping start, conceding a few runs, he recovered well and mopped up the last two wickets (including Ur Rahim) in consecutive deliveries.
First grade all-rounder Brehaut, from Western Australia Premier Cricket's Midland-Guildford Cricket Club, played an important role in the Parish reply.
The visitors, beaten the previous day by eight wickets at Championship rivals Barkisland, were slow to get going in the face of accurate pace bowling. Soon, they were 24-2.
But Brehaut (37 not out off 33), Mohammad Suleman (23 off 21) and the patient Nazakat Khan (20 off 38) ensured the visitors prospered after that uncertain launch. Brehaut and Suleman added 47 for the fifth wicket, as Parish reached 127-5 from 22 overs.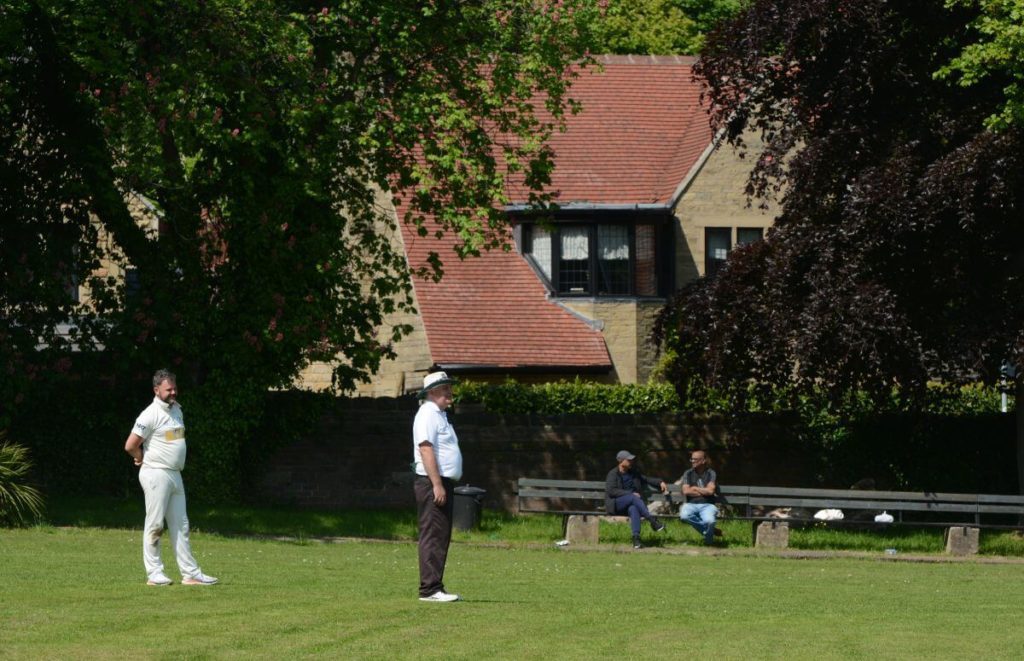 One of Parish's players (with experience, he said, in the Derbyshire County Cricket League) said the team plan, given lack of batting practice during the season's weather-affected opening weeks, was to spend time at the crease. "We'll get out of the game what we can."
Ex-Flockton Cricket Club player Abbas Khan (1-8 from five including a maiden) and Muhammad Munsaf (1-16 from four) returned the best bowling figures.
Towards the end, Munsaf turned to me (my mum had left early to fulfil a ballroom dancing engagement in Brighouse) and remarked: "It's hard, playing two games in two days."
With May's third Bank Holiday weekend coming up, I daresay some club cricketers could face playing three in three!
In their Sykes Cup quarter-final, Mirfield Parish Cavaliers are drawn away to Premiership rivals Skelmanthorpe. The tie will take place on Sunday, June 11 (12.30pm).
From mid-June, for 10 weeks, on Tuesday and Wednesday evenings (6.30-9.30), Birkby Rose Hill Cricket Club will host the third annual Huddersfield Super League, which is white ball, coloured kit cricket using the Hundred format. Eight teams compete in two groups of four.
The winners will go forward to a Yorkshire Cricket Board Finals Day, at Scarborough Cricket Club, where they play off against the leading teams from similar tournaments in Bradford, Dewsbury and Sheffield.