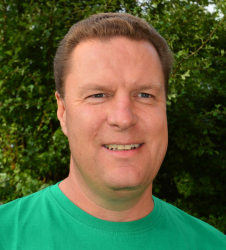 Latest posts by Andrew Gallon
(see all)
June 21: the summer solstice, midsummer's eve, not a hint of rain. What to do?
Stonehenge is a long drive, I cannot count any Druids amongst my circle of acquaintance, blood sacrifices are terribly messy (and likely to be illegal), and I am probably rather too near 60 for stripping naked and making love beneath little else but the stars.
So, then, Allerton Bywater Cricket Club it is.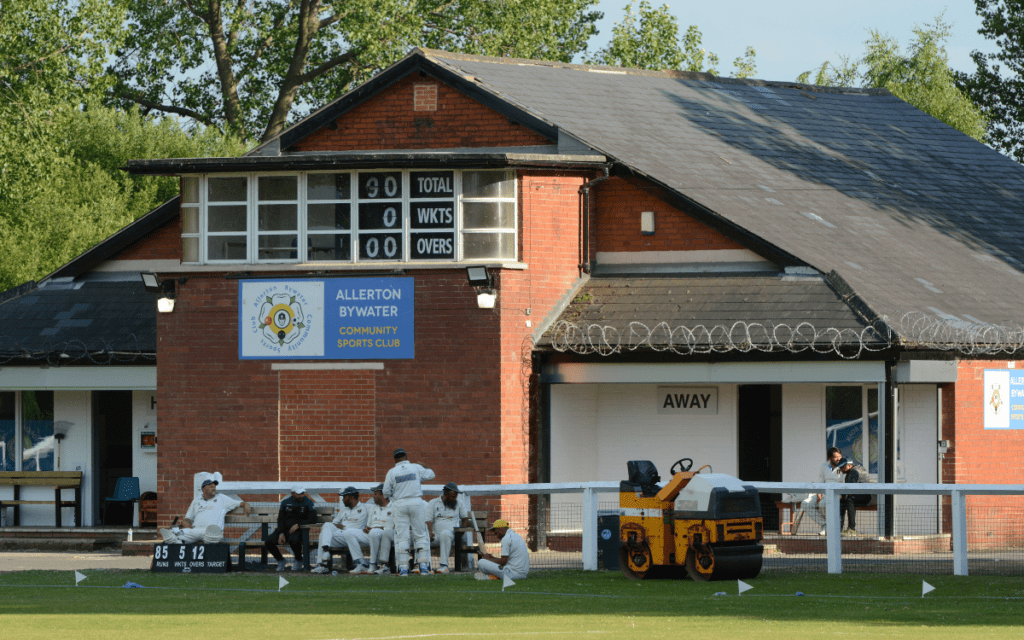 Not my first visit to this former coal mining village, located a couple of miles north of Castleford (a.k.a. Rugby League Central).
I came here, in 2018, to the Ninevah Lane ground, and saw Allerton Bywater's amateur rugby league team lose 22-26 to Yorkshire League rivals Queensbury.
The Pontefract & District Cricket League delivered another exciting contest that went to the last over, so I wasn't in the least bit disappointed with my June 21 activity choice.
Kippax were the visitors for a Group A fixture in the Midweek League.
---
The match-up, third against second (leaders Oulton ahead of both), is the epitome of a local derby.
---
Allerton Bywater and Kippax, also a former pit community, are barely two miles apart.
Coal mining hereabouts started in the 1400s.
Allerton Bywater had three collieries. The last – Allerton Bywater – closed in 1992. Houses now cover the site.
The cricket ground – and its setting – came as a pleasant surprise.
I imagine, at one time, Allerton Bywater Sports Ground was a miners' welfare.
With abundant, mature trees, landscaped grassy areas and pleasant paths, it now has the atmosphere of a park. Quite an asset for the village.
Allerton Bywater Cricket Club date from 1909.
In addition to cricket, which, unusually, is played on a circular pitch, the sports ground site offers crown green bowling and football (next to the square, the sport's markings are clearly visible).
Judging by signage, the umbrella body is Allerton Bywater Community Sports Club.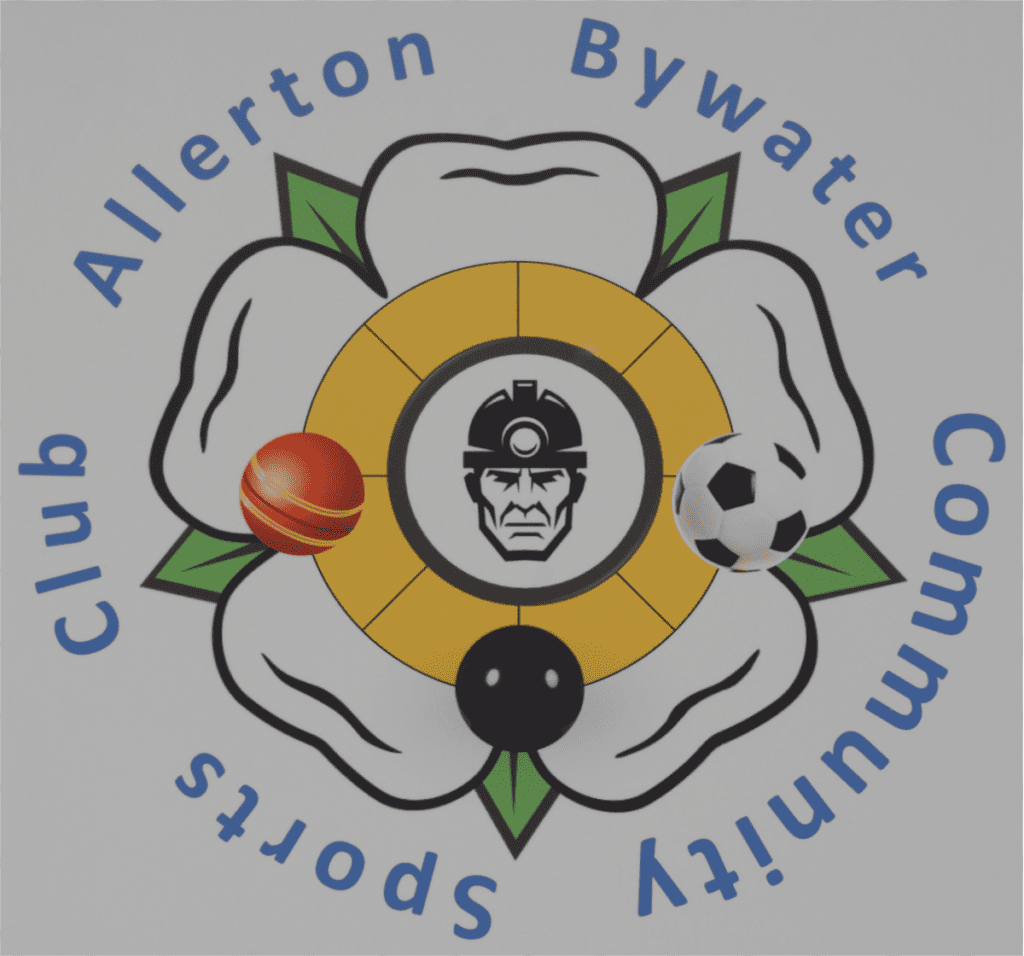 I do like the sports club's logo. At the heart of a white rose, a helmeted coal miner is surrounded by the balls used for crown green bowling, cricket and football.
The cricket ground (indeed, the whole site) is dominated by a two-storey, brick pavilion, of utilitarian design.
Its Art Deco-style detailing is a delight, the presence of anti-climb razor wire less so.
Another striking feature is a wooden fence (too tall to scale in comfort) surrounding the cricket pitch.
The fence's crossbar, at eye height from a folding chair, could have made viewing awkward.
Thankfully, at the south (pavilion) end, the boundary had been moved in, providing a sliver of space for batters, the scorer and spectators to observe from inside the fence.
---
A prompt start on an initially cloudy – latterly gloriously
sunny – evening allowed time for the full 20 overs.
---
Before we got going, I bumped into Chris Townsley, one of the umpires.
Quite by chance, this was to be the third match in 10 days I'd watched with Chris in the middle.
As at Rothwell, the previous Tuesday, he'd cycled over from Garforth.
On such a sultry evening, the ride on this occasion must have been warm work.
I wonder if he came via The Lines Way, an abandoned railway transformed into a permissive bridleway and linking Garforth, Kippax and Allerton Bywater?
Given how close and fluctuating the Allerton Bywater-Kippax game turned out to be, and the tense finish to the first of the three matches, at Garforth Parish Church, perhaps I should get Chris to send me a list of his umpiring appointments!
In line with Pontefract & District Midweek League convention, Kippax, the away team, bat first.
Until the portable, flip-over scoreboard is lugged forward a few paces, I can't see it.
Why not, ad hoc, score the game myself? I have a go, for five overs, in my notebook.
Honestly, hopeless at it. Much relief when the scoreboard is put in a visible location.
Respect to scorers everywhere. Where would cricket be without them?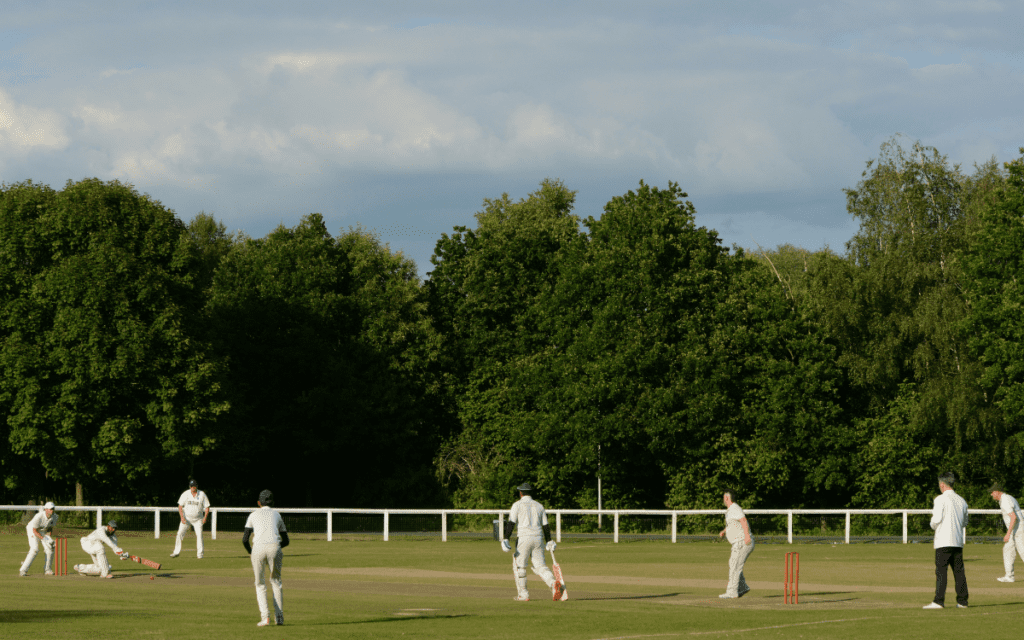 Inside eight overs, Vasimraja Adam Truckwala (27), Yunus Valimulla (21) and Mahmadsoyeb Gheewala (17) push Kippax out to 66-2.
Suddenly, as Michael Sunderland (3-17) makes an impact, the visitors, sporting stylish dark green and black caps, the sort of headgear Robin Hood and his merry men might have worn, find themselves 83-5.
A revival, spearheaded by wicketkeeper Zakaria Valimulla (27 not out), sees Kippax complete their 20 overs with a competitive 132-7 on the board.
---
Allerton Bywater's reply begins tentatively – 20-0 after five overs – then gathers momentum as openers Danny Mcguire (26) and Gareth Portman (23) find their timing and confidence.
---
The pair put on 65 for the first wicket. However, between the 12th and 13th overs, 63-0 becomes 66-3.
Museji Bhoola (2-32) removes the openers in quick succession.
From 97-4, wicketkeeper Antony Muscroft (23) and Dan Moore (16) swing the bat to put Allerton Bywater back in contention.
Both are run out whilst attempting, ambitiously, to turn a single into a two.
Having required 40 off the last five overs, the hosts need 13 from 12 balls.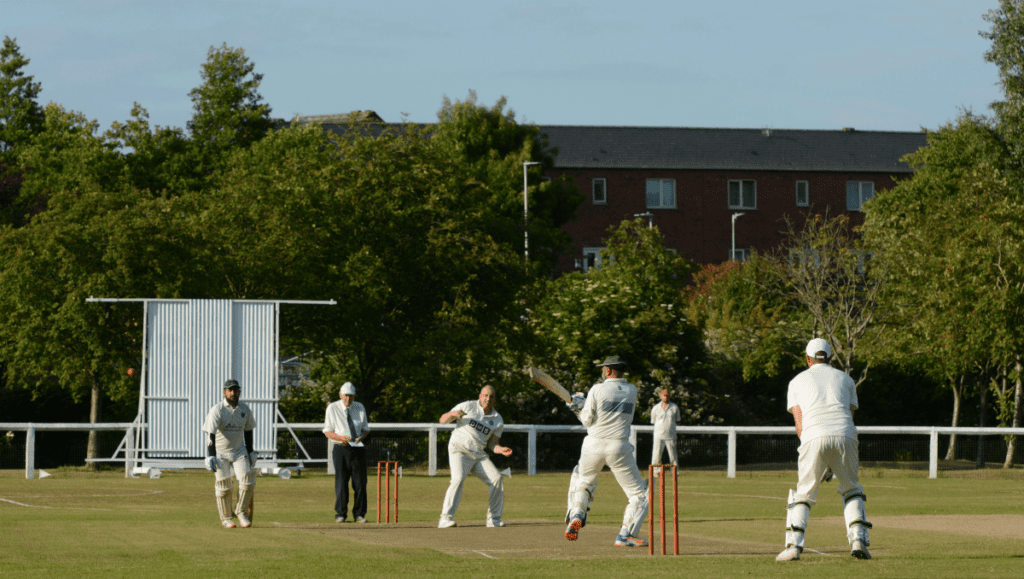 Home win, surely?
Agonisingly, with the shadows lengthening and the light mellowing by the minute, Allerton Bywater lack batting firepower just when they need it most.
Kippax's Imran Pandor (3-16) strikes twice, and there is another run out, as the opposition, returning three ducks, slump from 120-5 to 123-9.
Two more runs are added before the 20 overs elapse. Kippax are victors, by seven runs.
As tables and chairs are stowed away, and boundary markers and rope retrieved, everyone agrees it has been a smashing game.
A mid-summer night's dream, you could say.
Many thanks to Andrew for this latest feature – his club cricket series, Miles per Gallon, is on cricketyorkshire.com throughout the summer.