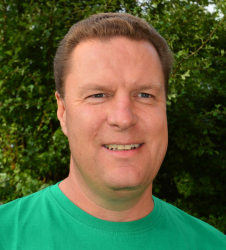 Latest posts by Andrew Gallon
(see all)
Andrew Gallon travels to Whitwell-on-the-Hill Cricket Club who hosted Kirkbymoorside in the Ryedale Beckett Cricket League.
The Ryedale Beckett Cricket League provides a welcome opportunity to watch cricket on a Thursday evening.
With forecaster Sarah Keith-Lucas promising light cloud and sunshine (what, no rain?), I couldn't resist heading along the A64 to Whitwell-on-the-Hill Cricket Club.
It's a small ground of considerable charm. Not the easiest to visit, mind, because Whitwell, solely a midweek team these days, host only eight games a season. Visitors for the second instalment in the club's 2021 schedule were Division Two rivals Kirkbymoorside.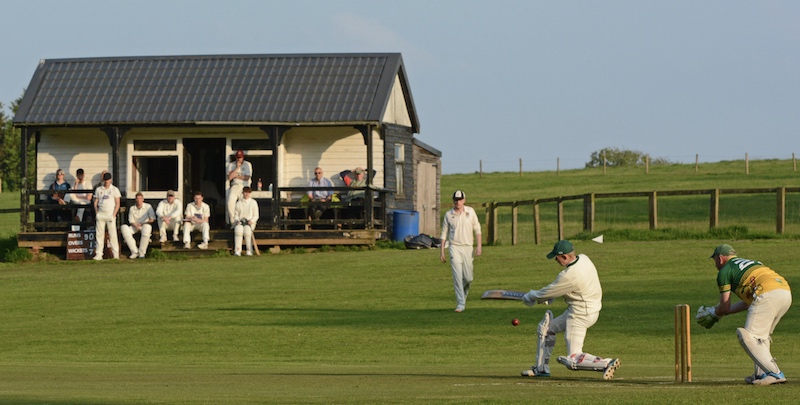 Whitwell, within earshot of a busy, dual carriageway section of the noisy A64, is an attractive, two-street village. Stone cottages abound. The cricket ground, on the community's eastern edge and an irregular shape, is at the far end of narrow Main Street.
Trees fringe three sides. Fielding beneath the overhanging branches on the north side can be challenging. The south side is open, with a fence separating the pitch from a farmer's field. His (or her, maybe) crop is starting to take shape.
A delightful pavilion – small, wooden, ancient – surveys the action from the elevated southeast corner. It can hardly be big enough for 22 blokes to change in!
Despite modest dimensions, the structure has bench seats beneath a verandah. The ideal perch for scoring.
Acquired from a tennis club, the pavilion relocated to the Whitwell ground circa 1950. The cricket pitch, which features several slopes, dips alarmingly towards the west end.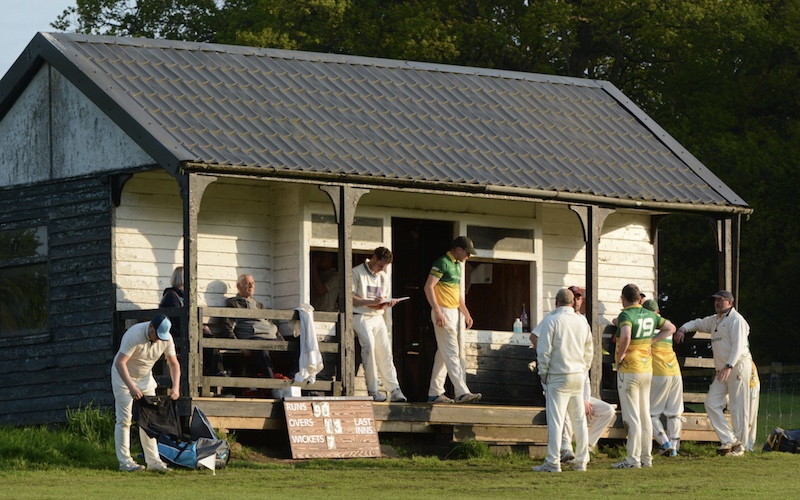 There used to be a tennis court between the boundary and trees. So quirky were the arrangements, sixes have been permitted only recently.
From this end, one can see the elegant (aren't they always) spire of Whitwell's handsome church, dedicated to St John the Evangelist. Its presence crowns a picture postcard scene.
Uniquely (in my experience, at least), there aren't any sight screens. Whitwell cannot afford them. "It's proper village cricket," declared home player James Browne, later bowled for a duck (the symbol on Whitwell's green and gold shirts) but, nonetheless, resolutely cheerful.
As per, I arrived early. York's rush-hour traffic is not yet at pre-COVID level. This allowed me to (a) have a good look at the church and (b) witness James frantically mowing the pitch. A couple of days earlier, he reported, it had been simply too wet to risk heavy machinery.
James reminisced happily about a time when neighbouring Castle Howard and Welburn had teams, and there was such a thing as the Slingsby Cricket League.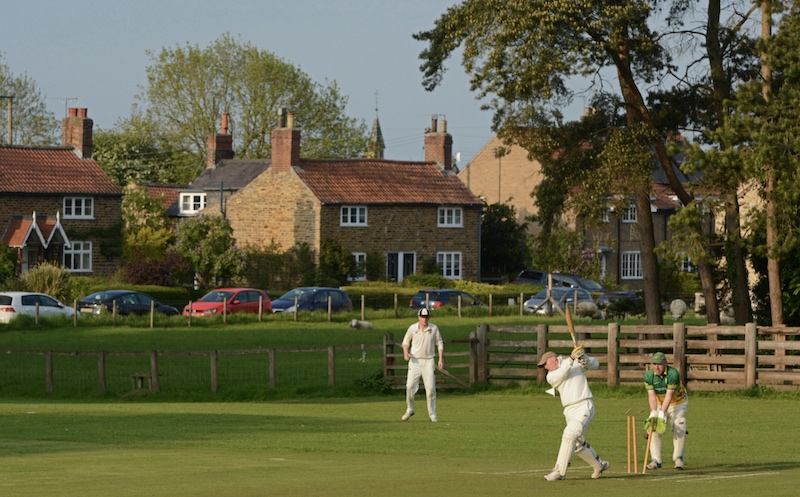 Usual broad range of abilities you find at midweek matches. Kirkbymoorside's openers, Andrew Sharman and Dan Ward, play in the first XI of York & District Senior Cricket League Premier Division club, Pickering.
One of their team-mates, by contrast, told me he was turning out for the second time in 15 years. I was impressed how his whites fitted! Whitwell's line-up featured a German teenager, Louis Behr, who had never played cricket.
He'd come along with a fellow Ampleforth College pupil. I heard Louis, when asked, describe as "quite interesting" the experience of fielding. A team-mate remarked: "How will he explain spending an evening looking in a hedge for a ball?"
Several Whitwell players turn out for other clubs. These include Malton & Old Malton (the town's rugby union club is, I learned, a handy source of players) and Sheriff Hutton Bridge.
Four plumbers, all mates, help swell the Whitwell squad. Some players are Whitwell only.
The fifth-versus-sixth – in a seven-strong division – contest of 13 eight-ball overs ("it saves time changing ends") had hardly got started when a Main Street resident burst in, threatening to ring the landowner. It seemed he'd been blocked in by careless parking.
A Whitwell player accompanied him to examine the scene of the infringement – only to discover the culprit had nothing to do with the cricket. I trust an apology was made!
Unperturbed by the unwarranted break in their concentration, Sharman (33) and Ward (24) put on 55 for the first Kirkbymoorside wicket. It justified a decision to bat.
Once that partnership was broken, however, wickets fell at regular intervals. Nobody else managed double figures. Robert Harrison (3-14) and Tom Barker (2-22) helped restrict the visitors to 94-7.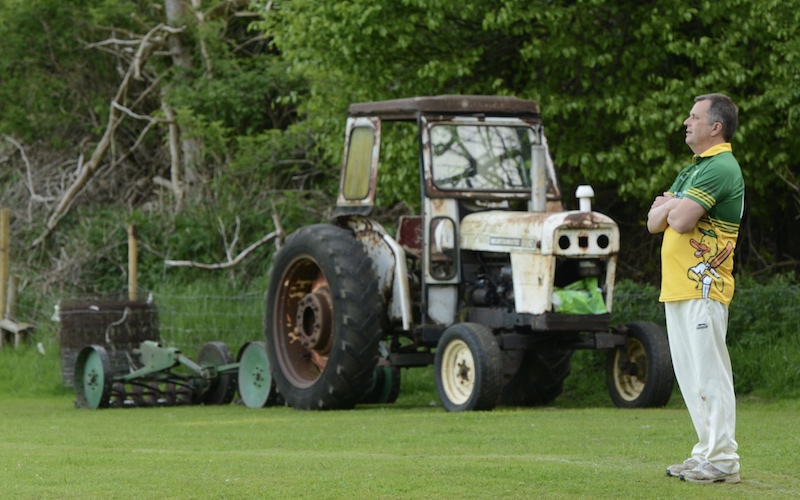 As the sky cleared and the temperature tumbled, Whitwell's reply hit trouble. At 13-5, a heavy defeat looked on the cards.
But opener Charlie Coulson (13), the sixth man dismissed, weathered the storm and struck half the home team's quartet of fours. He was the sole Whitwell batter in double figures.
German Louis was the last man in. After sorting out a bat, his Ampleforth chum gave last-minute advice. "It's baseball, basically."
The nonplussed rookie survived a few deliveries – those pads came in handy – before being caught and bowled by Andrew Bayes, claiming his sole victim of the evening. Whitwell were skittled for 46, four runs shy of the 50 on which voices from the pavilion indicated they had set their hearts.
As you'd expect, Kirkbymoorside's bowling figures looked good. Tom Snowdon finished with 3-9 from four overs, Matt Dawson 2-2 from five deliveries. Louis Jeminson weighed in with 2-10 off three.
In the closing stages, there was even injury drama. Nick Thurlo, a medium pacer in the visitors' attack, pulled up whilst running in during his second over. A problem, only too clearly painful, with the left leg. Cramp? A hamstring? I do hope he managed to drive home.
Not straightforward when the clutch leg is playing up.
If anything, the weather was even sunnier than Ms Keith-Lucas had indicated in her one o'clock BBC news update. A wonderful, mellow light. There'll always be an England.
At the end, once boundary markers had been collected and the digital scorecard submitted to whoever manages the league website, everybody repaired to the Crown & Cushion, at Welburn, for a well-earned, convivial pint.
Now, tell me there's a better way to spend a Thursday evening.
Many thanks to Andrew whose club cricket series, Miles per Gallon, is on cricketyorkshire.com throughout the summer.