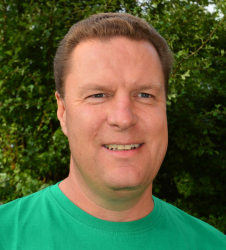 Latest posts by Andrew Gallon
(see all)
Andrew Gallon heads to South Milford Cricket Club to watch their T20 Edward Readman Memorial Trophy first round derby against York & District Senior League rivals, Church Fenton.
Swan Croft, South Milford, is a cricket rarity: a ground at which spectators can – and often do – watch games from outside its perimeter.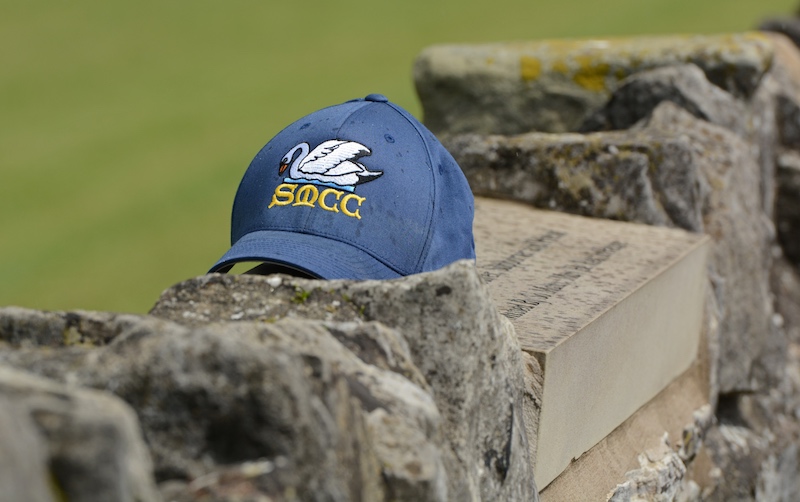 The grassy verge of single-track Mill Lane, from which one can lean against the drystone wall that forms the enclosure's southern boundary, is such a common vantage point, there are even a couple of memorials, inserted amidst the coping, to departed club stalwarts.
One, commemorating Charlie Addison (1931-2002), described as player, captain, groundsman and loyal friend, reveals "from here he watched the play".
I (along with several others) was happy to follow Charlie's splendid example. Of course, on the last day before the easing of cricket's COVID spectating restrictions, I had no other option. The letter and spirit of the guidance dictated against setting foot inside the ground.
As chance had it, one of the more southerly wickets on Swan Croft's square was used for a first-round tie in the Edward Readman Memorial Trophy, a T20 knockout competition for York & District Senior Cricket League teams.
South Milford's visitors were neighbours Church Fenton. Both clubs are members of an enormous league's third tier, albeit in different divisions.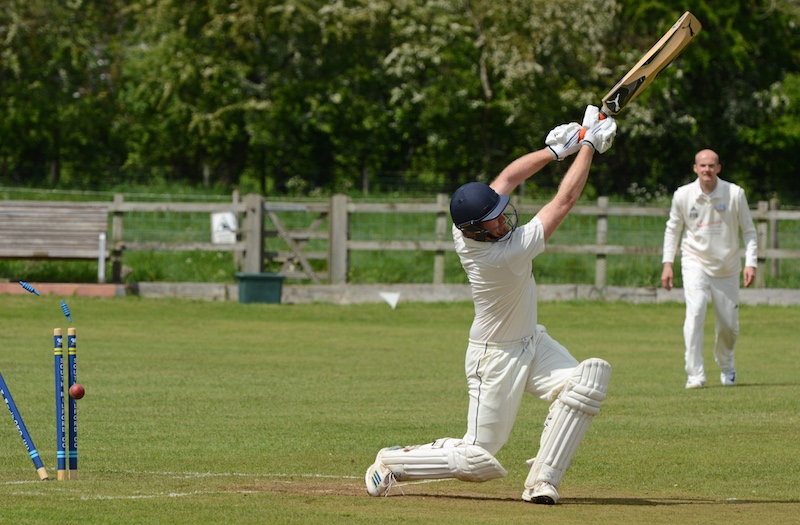 I doubt I was more than 35 yards from the wicket. It made for superb viewing at a ground which, side to side, is extremely narrow. There isn't room for spectators on the drystone wall side. Fielders clearly enjoyed the proximity to onlookers. They chatted amiably between deliveries. Some non-batters even watched from the wall.
The opposite side, also off limits to spectators, is similarly quirky. A wooden fence acts as the boundary. Immediately beyond flows Mill Dike, a stream. A gate permits access, with a bucket provided to assist scooping the ball out of the water.
Potential visitors should be aware there is plenty of space at each end to set up a chair or lay out a rug. Indeed, tip-up seats, positioned between smart, single-storey clubhouse and tidy little scorebox, are available at the west end.
To my astonishment, one of the umpires appeared to live in a house on the opposite side of Mill Lane. Between innings, he was able to pop home for a cuppa.
I found Swan Croft a 'planes, trains and automobiles' ground.
To the north, a high embankment carries the Leeds to Selby railway line. The periodic passage of diesel multiple units, some accelerating hard away from a pause at South Milford station, is a feature of the cricket.
More striking, at least at weekends, is the number of small planes climbing noisily from Leeds East Airport, formerly RAF Church Fenton. It was busier than Heathrow! No soft, Sunday afternoon shifts in that control tower.
Fortunately, Mill Lane is lightly trafficked, although one needs to be aware of the occasional car. It would be easy, lost in the cricket, to step back into the path of an oncoming 4×4. Not pretty.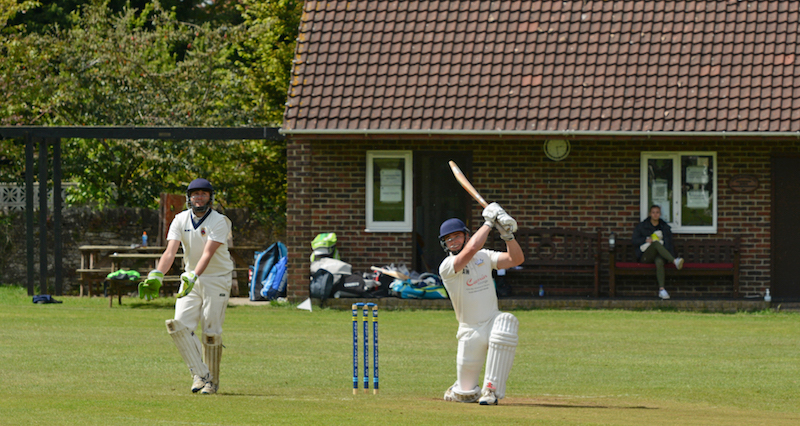 I got chatting to an elderly gentleman, who, doubtless mindful of the unpromising weather forecast, watched the game from the sanctuary of his car.
The grass car park (ploughed up, in parts, after the rain we've endured lately) is the other side of Mill Lane, at the near end of a railed pitch which is the ground of South Milford Football Club, members of the York League.
The gentleman's son and three grandsons play for South Milford, with at least one of the youngsters involved also with school cricket. "I've a job keeping up with them all. I put it all [their achievements] in a notebook."
One of his grandsons, Will Bramley, 14, made headlines recently. Playing in a Second XI match for South Milford against Carlton Towers, Will took 5-6 in four overs. His spell included four wickets in four balls.
They are the best figures by someone Will's age in a senior game for the club. Fellow players applauded him off the field.
"Goes to a good school," observed his granddad. "That's the thing."
Turns out young Will attends St Peter's School, York, a fee-paying establishment.
Sadly, cricket is becoming a sport of education's independent sector. Many state schools have given it up because they cannot afford either a groundsman or the equipment or have seen their playing field sold to a housing (or similar) developer. It's a big concern for cricket. How many talented players is the sport missing out on?
To my disappointment, the unpredictable spring weather had the last word at Swan Croft.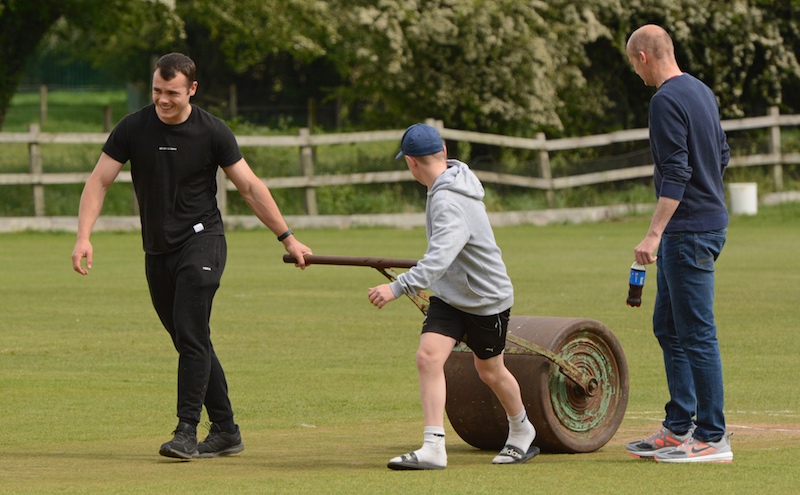 Rolls of thunder were heard, and dark skies seen, during the Church Fenton innings. At a comforting distance, thankfully. Somebody else's problem.
"Is that Beef's tummy rumbling?" enquired a South Milford fielder, nodding in the direction of a team-mate bowler carrying the odd extra pound, as well as the ball.
The visitors got through their 20 overs without meteorological mishap. Indeed, there was a decent amount of sunshine.
When the sun did manage to evade the clouds, it was warm enough for spectators to shed jumpers and jackets, and for the more active fielders to strip down to shirts.
Skipper Simon Wilman (43), Matthew Stupples (36), Tom Dean (25) and Tom Brough (21) led the scoring as Church Fenton made 150-6. The visitors, without half their regulars, fell away somewhat after an assured start. Alex Ward, the South Milford captain, took 2-26.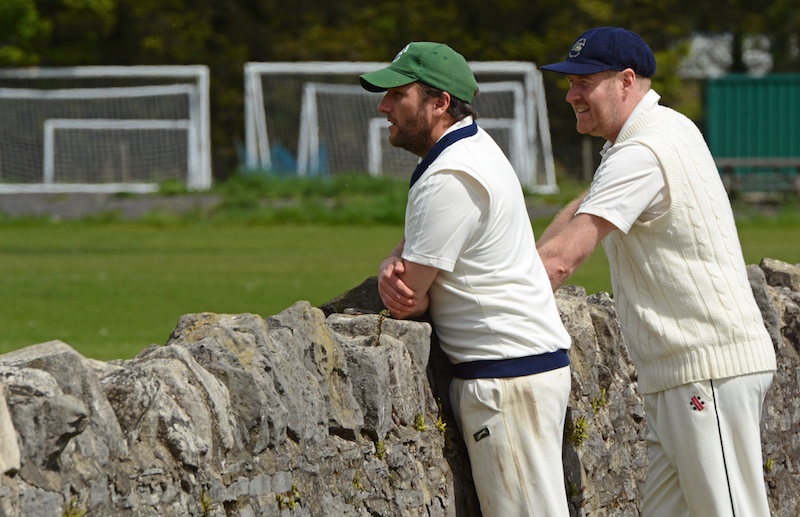 South Milford's reply was measured. Avoiding risk, Ward (38) and Harry Jackson (22 not out) put on 63 for the first wicket. In the ninth over, Ward was stumped off Stupples (1-2).
That was the final action. The rain, soon torrential, then accompanied by thunder and lightning, coincided with Ward's exit. A mad dash to the clubhouse!
Everybody hung about for half-an-hour before the inevitable decision was made.
Church Fenton, aware of the problems they have fielding a team on Sundays, opted to concede. "South Milford seem keen to get through, so we let them have it," one of the visiting players explained, as he walked to his car, once the deluge had ceased. "It's not worth getting struck by lightning for."
With spectators free from this weekend to attend any match, anywhere, I'm hoping for an improvement in the weather. Don't we deserve it?
Many thanks to Andrew whose excellent club cricket series, Miles per Gallon, is on cricketyorkshire.com throughout the summer. Click the link above to explore past club visits!

Do you / your cricket club want to find sponsors, fundraise successfully and grow your membership?
Learn simple, step-by-step methods to create incredible value for members, sponsors and funders.
Our Make Money For Your Cricket Club e-course is an enjoyable way to learn at your own pace.
It covers 4 modules with short video lessons:
Membership
Events & Fundraising
Sponsorship
Grants & Funding