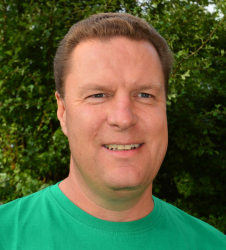 Latest posts by Andrew Gallon
(see all)
In my world, Bank Holidays are synonymous with sporting derby matches. Surely, it's what the damn things were invented for!
From a decent selection of fixtures (and after a careful assessment of the weather forecast for each quarter of the Broad Acres), I opted for a first visit to Fountains Garth, where Guisborough Cricket Club were hosting neighbours Saltburn in a cross-divisional North Yorkshire & South Durham Premier Cricket League Kerridge Cup second round tie.
Having lived four years, during the Nineties, at nearby Great Ayton, whilst working in Middlesbrough, I've always had a soft spot for this special 'far corner' of Yorkshire.
Scenically (and in all other respects), Fountains Garth doesn't disappoint. From the north end clubhouse's first floor bar, one looks out across the square to Guisborough Woods, an east-west block highlighted by the rocky, unmistakable outcrop of Highcliff Nab.
---
The 109-mile Cleveland Way, a stunning National Trail connecting Helmsley with Filey Brigg, climbs through these woods to Highcliff Nab, at 951 feet a renowned viewpoint, encompassing everything from Teesside's sinister chemical works to the glittering coast.
---
At the other end of the ground, the view from the overspill parking area is something else.
One of the few drawbacks of spectating club cricket is lack of elevation at many grounds. Not an issue at Guisborough.
Parking areas – overspill or otherwise – don't come much better. Fountains Garth's is the neatly mown summit of an embankment, dotted with colourful shrubs, plants and flowers.
From it, you're looking north, down on the square, towards 2000-vintage buildings housing dressing rooms, function room, committee room, bar and (out the back) squash courts. The ground's original, 1912 pavilion – which cost £350 to erect – was lost to a 1996 fire.
The embankment was created in 1988, as part of major, £33,000 improvements that saw levelled the so-called Guisborough Slope, which rose from the square to the south end boundary. Sensibly, removed earth was piled up to add parking space for about 50 cars.
Dominating the ground from its northwest corner, immediately beyond a bench-lined shallow bank, is Belmont View Care Home, its windows protected by framed netting.
But for the sign, one might think the ugly, seemingly out of place care home was the Pentagon or something. Nice to imagine, though, its residents enjoy watching the cricket.
Tree growth in the northeast corner obscures from all but one spot, on the west side, the highest point of Gisborough (note the alternative spelling) Priory's ruinous eastern gable, a thing of austere beauty.
A bit of history: the now-skeletal priory was built, in the early twelfth century, by a member of the de Brus (as in, Robert the Bruce, Scotland's King) family, for use by Augustinian monks.
Other than the town's cricket, football and rugby union grounds, the priory is Guisborough's must-see attraction. Tended by Gisborough Priory Project volunteers, its gardens are approaching their most glorious period of the year.
Near three-lane practice nets, an electronic scoreboard (looking a tad dated now) occupies the ground's southwest corner, above which is the raised green of Guisborough Priory Bowls Club, populated by bowlers attired smartly in whites. We chose that corner so, throughout the afternoon, had a pleasing, soporific 'muzak' of wood striking wood.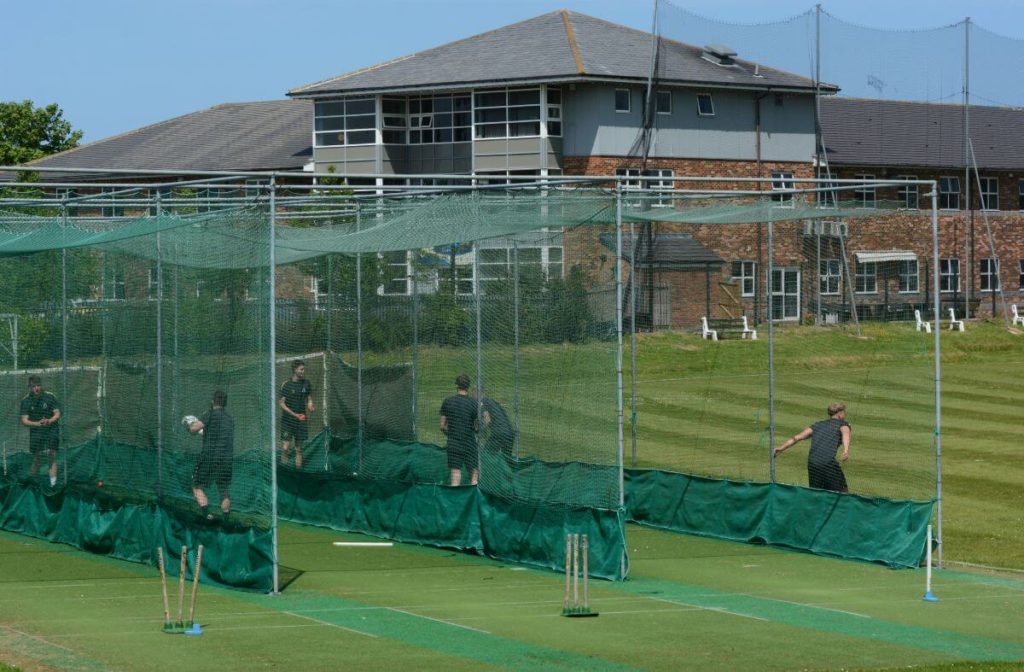 The number of benches – notably at the north end and along the east side – at Fountains Garth is an indicator Guisborough were once a powerful force in the NYSD.
Boosted by the recruitment, as pros, of Test and county cricketers, Guisborough boast a fine record in a competition they joined, in 1895, two years after its formation, when it was known as the North Yorkshire League. I like the sound of that!
Twice, Guisborough have topped the table in four consecutive seasons: 1909-12 and 2001-04. Championship triumphs were recorded also in 1895 (their debut season), 1905, 1907, 1942, 1972, 1976, 1981, 1989 and 1996.
To boot, Guisborough reached the semi-finals of the ECB National Knockout Cup in 1986 and 2002, and the last eight in 2000.
---
At present, Guisborough are in the First Division (i.e. the second tier), although they lie a promising fifth in the table. "We don't get the crowds we used to," remarked a regular, who expressed astonishment that I'd driven from York to spectate. "People have got other things to do now."
---
No hardship. With the sun beating down, and a noticeable easterly keeping the views crisp and clear, I sidestepped the A19 and came the longer, prettier route, via the Howardian Hills AONB, Helmsley, Bilsdale (a.k.a. the 'North Yorkshire TT') and 'Canny Yatton'. Smashing.
Invariably, I find cricket clubs baffled by long distance travellers (neutrals, in general).
I treasure the memory of a 2018 visit to Littleborough Cricket Club during their first season in the Lancashire Cricket League.
Realising we weren't local, the chap manning the pay gate asked where we'd come from. To the reply "York", his brow furrowed. "You've come today? And are you going home tonight?" Jet propelled by 'Skyline Drive', the M62, our Pennine journey had taken just 75 minutes!
Stewart Clarke, club historian and trustee, has delved into Guisborough Cricket Club's eventful past.
He says the club's origins are unclear, although some form of cricket was played in Guisborough back to 1820, when it was banned on Sundays. How times change.
Fountains Garth is leased from Gisborough Estates. Not until the 1960s was a long-term lease agreed. Rent is reviewed every seven years.
As somebody with an interest in railways, I would have enjoyed – even more – a visit to this ground between 1854 and 1964.
Then, a line connecting Guisborough with Middlesbrough was still in use. It passed the ground's entrance, at the north end, effectively separating Fountains Garth from the town centre. But, hey, steam locomotives, cricket and sunshine. What's not to like?
When the railway closed, the club, Stewart reports, were able buy a strip of land and enlarge the pitch, described in 1906, as "too small for cricket", by former England, Gloucestershire and Norton (on Tees) player C.L. Townsend.
Although the section through Pinchinthorpe to the Guisborough terminus was pruned, much of the line survives, as the northernmost section of the delightful Middlesbrough-Whitby trundle down the Esk Valley.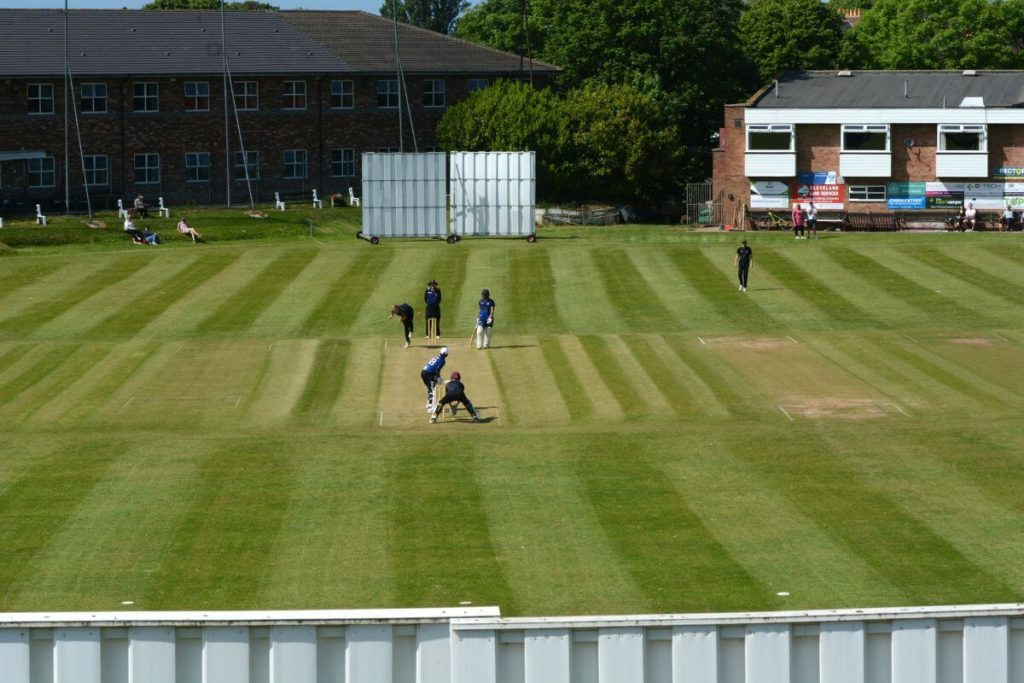 Back to the here and now. With Saltburn lying second in the Premier Division, fresh from the previous day's three-wicket home win over third-placed Darlington Railway Athletic, Guisborough certainly faced a Kerridge Cup challenge.
Spotting a player, in a Saltburn top, parking his car, I asked how strong a team the visitors had brought. "We've everybody out," he smiled, before acknowledging Guisborough's decent start to the First Division season. Far from plain sailing, he intimated.
Electing to bat (unsurprisingly), in a pink ball and pyjamas encounter, royal blue and black clad Saltburn suffered an early blow when finding-his-form opener Ben Ainsley was removed for just eight.
But steady scoring from Indian professional Vishant More (62 off 60), Jason Erskine (30), Sam Parry (28) and Tom Chisholm (22 not out) kept the visitors ticking along nicely.
I thought they'd top 200 but, in the end, Saltburn fell two runs short, posting 198-7 from their 40 overs. Matthew Hood took 3-33 from eight, Reyan Nadeem 2-37 from eight.
A one-handed stop – very much a 'reflex save' – by a boundary fielder drew purrs of admiration from a group of blokes. "You can tell he's a goalkeeper," commented one.
Keen-as-mustard Saltburn were out very early to warm up ahead of the second innings. Setting the tone, they kicked off with two maiden overs.

The slow-to-start hosts, in all black garb, never looked like overhauling that figure but at least went within five deliveries of seeing out of their 40 overs, reaching 141. Useful time at the crease. No 3 Hood (27) and No 4 Nadeem (21) stuck around the longest.
---
Pocket rocket pacer Shahid Khan (3-39 from eight), Lucas Parry (2-23 from eight) and captain Liam Crooks (2-25 from seven) held the upper hand. Saltburn could even afford to drop two slip catch opportunities during the early stages of Guisborough's reply.
---
So, Saltburn smoothly into the last eight.
An interesting wildlife happening, near the end of the game. Right in front of us – my wife joined me at Guisborough – what appeared to be a young peregrine was involved, just above the boundary rope, in a desperate dogfight with another bird which, somehow, managed to escape capture and consumption.
Good to catch up, once again, with Mark Fletcher, of the Stockton-based Shutter Press photographic agency.
Toting a whopper of a 600mm lens, Mark, official photographer for the North Yorkshire & South Durham Premier Cricket League, stayed a while to record the action at Fountains Garth before departing for the Stokesley-Darlington match, also in the Kerridge Cup. Stokesley won by 54 runs. Go, Yorkshire.
Mark used to play in the NYSD, and has a fund of good stories (some of which aren't for public revelation!) from his years in the game.
I enjoyed the one about a nervous tail-ender, who locked himself in the loo rather than face a barrage of hostile deliveries from a Caribbean pro.
Mark isn't impressed that whites are no longer worn in the Kerridge Cup, the NYSD's blue riband knockout competition. "I'm a traditionalist," he said. It's the white pads – pads in matching colours are probably beyond most clubs' budgets – I don't like.
During the cricket off season, Mark keeps busy as the official photographer of both Darlington Mowden Park Rugby Union Club and Hartlepool United Football Club.
This sporting life – you really can't beat it.