Hampsthwaite Firsts vs Ouseburn 2nd XI in Division Four of the Nidderdale Cricket League wouldn't, at first glance, be an obvious fixture to showcase on the Cricket Yorkshire Podcast.
However, this match has one of the most eye-catching scorecards you'll see this season.
It features a sizzling double-hundred, a record-breaking tenth-wicket partnership and a victory that flipped the formbook on its head.
At 6-4, Ouseburn 2nd XI captain John Moorhouse could be forgiven for thinking that he might need to dig in and retrieve some semblance of a credible score to defend later.
Well, he certainly did that. What followed was a brutal display of hitting against the Division favourites to end with 225 not out that included a tenth-wicket stand of 106 with Charlie Raine; a seasoned campaigner himself at twelve and a half years old.
You really couldn't make this stuff up and it's all the richer for hearing the tale, told in John's own words, so I hope you'll find the time to have a listen to the ten-minute audio clip below.
It's a very unassuming account though John happily describes how he peppered a particular row of cottages in this pretty village, North of Harrogate:
"I hit 22 sixes across the three houses behind the bowler's arm. I'm not an arrogant man but I've played cricket since the age of five and I've never experienced so much fun."
We all dream of that single performance where everything falls into place and the cricketing Gods are smiling.
Even for an experienced league cricketer whose previous best was 112, one particular Saturday at the end of May was to be an afternoon he'll never forget.
Have a listen below…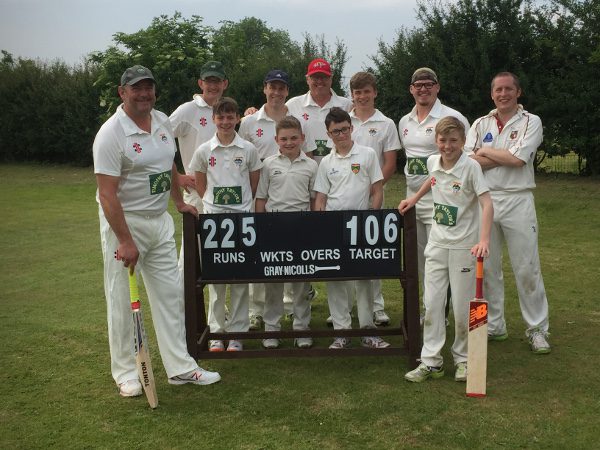 LISTEN: John Moorhouse on his incredible double-hundred

The magic scorecard: https://nidderdaleleague.play-cricket.com/website/results/3591536
Ouseburn Cricket Club: https://www.ouseburncc.co.uk/
Nidderdale Cricket League: https://nidderdaleleague.play-cricket.com/
SHARE: If you enjoyed this article and podcast, please share it with friends using the Twitter and Facebook buttons below. Thanks!
Latest posts by John Fuller
(see all)