Phil Sharples, Chairman of the Bramleys Halifax Junior Cricket League, discusses the ever-shifting sands that have come with trying to run a cricket league during coronavirus.
Up for discussion was the current situation, planning ahead in a greatly shortened summer and the impact for junior cricket that the pandemic could have.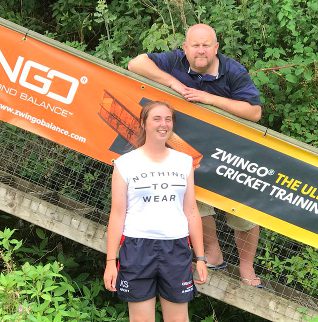 1. What's it been like as a junior cricket league trying to plan, communicate and assess?
This year has been particularly frustrating for us as a cricket league, in part due to the fact we had more team entries than the previous five years.
It's a testament to clubs' resolve and efforts to recruit and retain young players and the efforts of my committee to try to ensure we listen to clubs, are innovative and stay fresh.
We have created a fixture list that can be adapted to start the first week of July but any start date after that makes the structure difficult. It may be if we pass that date, we are asking clubs to sort games locally to just get some form of activity for the kids.
Our T20 competition has already been shelved for the year as we can't get the kit or hire the equipment at this late stage even if some form of cricket is playable.
We are trying to keep people updated through our main league communications to ensure we have one cricket voice and no conflicting messages.
We will be having a Zoom meeting with league reps before the end of June to get the feel from the clubs and discuss ways forwards.
In addition, we have been busy on social media and managed to put a message out, live on YouTube, to all players in the league from some famous faces for the Halifax SOS charity event a few Saturdays ago.
We've used various online platforms for cricket drills and quizzes and are just in the process of launching a competition for some free individual kit and for a full set of junior T20 kit for a club.
2. How do you feel about the delay to recreational cricket to August?
Any delay into August is critical for junior cricket for the season as it will only leave us Saturday and Sunday mornings – the light for an evening start is gone by the third week of August.
We could consider some form of festival cricket during the day where possible (if and when ECB and Govt. advice gives us a green light), but ideally we could run a camp for the day and play more than one game of cricket. This is highly difficult if trying to maintain social distancing.
It's also the case that we need plenty of detail and understanding of HOW a match can be run safely before we even attempt to go out on the field.
Some suggestion has been made that junior cricket could be played at the expense of senior cricket on a Saturday or Sunday.
I think this fundamentally misses one of the key points in that the current crop of players are the ones keeping clubs going, and if we don't protect that, there may not be a club in 2021 for the kids to play at.
It's a fine balance and one that Leagues and Junior Leagues need to work together to manage – in a very short time frame. Some form of indoor cricket as we move into Autumn may be a possibility but indoor sport, I believe, will be the last to be given the go-ahead.
If we do move indoors, we also have to be aware that the cost of doing so increases significantly – this will involve asking clubs or kids to pay more money which is self-defeating as many may not be able to afford it.
3. What are your concerns for junior cricket and how we best address them?
Junior cricket's biggest challenge is participation numbers, be it feet through the door or retention.
Age groups naturally taper off as you hit U13, U15 and U17s due in part to the competition for the sporting pound, exams, an interest in extra-curricular activities or a general malaise for a sport you may have been playing for 10 years.
Engagement with kids at a league level is important to ensure we have the right product that kids WANT to play, but it cannot be emphasised enough the role that clubs and club coaches play in ensuring that club ethic, team morale and a feeling of belonging for both players and parents.
Clubs who have that mentality see Friday nights with their playing field full of life, their clubs full of people spending money and this, in turn, builds an identity that can remain a lifetime.
Funding is also a crucial component in all this and whilst we get some support from the YCB, our local Development Group and the West Yorkshire Leagues Council in terms of advice and some funding grants, its extremely difficult to garner sponsorship, both at a League and Junior Level in an area such as ours.
We have so many clubs in such a small region that all sports are fishing in the same sponsorship pond. The worry, as we move out of the COVID crisis, is that the little funding or sponsorship that is available is likely to be even harder to access.
The big initiatives by the ECB such as All-Stars have borne fruit for lots of our clubs in the short term. The question is around how this is now embedded into the next 15 years to ensure that there still are junior leagues and junior cricket when I hang up my boots.
The Dynamos, as a follow on, is a fine idea but it shouldn't be used as a solution to neglect the All-Stars programme – which must be continued and funded sufficiently. It has proved to be the best solution to clubs starting a section from scratch in the last 20 years.
Finally, we need more young players aged 17-25 to take active roles in learning to be coaches, taking responsibility to support running teams and junior sessions and in learning how to run clubs/League's, including finance, meeting management, development, safety, risk etc.
There is a dearth of coaches in the 25-40 age bracket in my opinion and it's one of the reasons we see coach burnout as people run their time and there is no one to backfill.
A tired coach is a bad coach and people should take time off to recharge their batteries. It's difficult if you are the only one prepared to run a side at your club.
There are loads of opportunities now with the new Level 1 course at only £150 to get young people trained up and it's a transferable life skill. We should ensure we utilise the opportunity to upskill as many people as possible.
Editor's Note: The ENCO Halifax Cricket League have published a roadmap explaining their position concerning league cricket in 2020 across various scenarios.
It's got plenty of praise on social media for its transparency and clarity covering open-age cricket, what might happen for August and junior cricket.
Was this article of interest? Stay in Touch!
Thanks to Phil for explaining the dynamics that go with running a junior cricket league and how this extraordinary situation has impacted now and could in the future.
If you liked this article, sign up for the Cricket Yorkshire Newsletter and get the free download: '6 Ways to Get Your Cricket While The Season's On Pause'.
You'll receive inside news from CYHQ, partner offers and exclusive competitions.
Latest posts by Cricket Yorkshire
(see all)