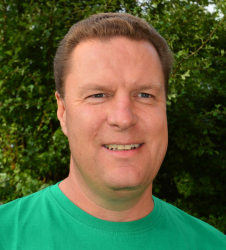 Latest posts by Andrew Gallon
(see all)
Andrew Gallon takes in a Foss Evening Cricket League match at Rufforth where Londesborough Park were the visitors.
Unusually, I've left it very late – the third week of July – in the midweek season to catch a game in the Foss Evening Cricket League.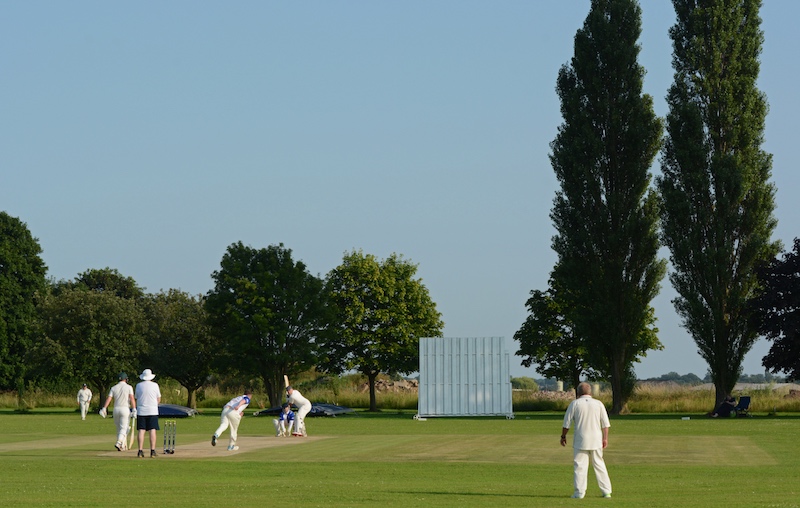 This is partly because of being diverted by other evening competitions and partly because, in the 12 years or so I've lived in York, I've got round most of the Foss grounds.
Rufforth Cricket Club, whose Saturday first team play in the York & District Senior Cricket League's Division Two (Galtres), have long been a glaring omission from my 'ticked' list, even more so when one considers they are less than eight miles from my front door.
---
The club's Foss XI are having a good season. They are top of the Third Division, contested in 2021 by five other teams, namely Heslington, Heworth Colts, Kelfield, Londesborough Park and Stockton & Hopgrove.
---
I should explain the apparently buoyant Foss Evening Cricket League features 26 clubs (Heworth Cricket Club enter two teams) across four divisions.
The Foss, for those who don't know, is York's 'second' river. From a source near Easingwold, it reaches, via Huntington and New Earswick, a confluence with the Ouse just south of the city centre.
The visitors, on a sunny, warm evening, to the grounds of Rufforth Playing Fields Association are third-placed Londesborough Park Cricket Club, whose journey from the Pocklington district must be one of the Foss Evening Cricket League's longest.
Located east of Rufforth, a linear village, just off the B1224 (Wetherby Road), Rufforth Cricket Club is a much more interesting venue than I expected.
The spacious site is shared with the junior and senior teams of Rufforth United Football Club, members of the York League, and with Rufforth Tennis Club.
On such a pleasant evening, blessed with a delicious breeze, sportsmen and women were out in force. In addition to the cricketers, the footballers were getting stuck into pre-season training (which included a warm-up lap of the cricket pitch) and the all-weather tennis courts were fully subscribed.
We even had a few out-of-towners, making use of the camping and caravanning facilities to park and replenish their motorhomes.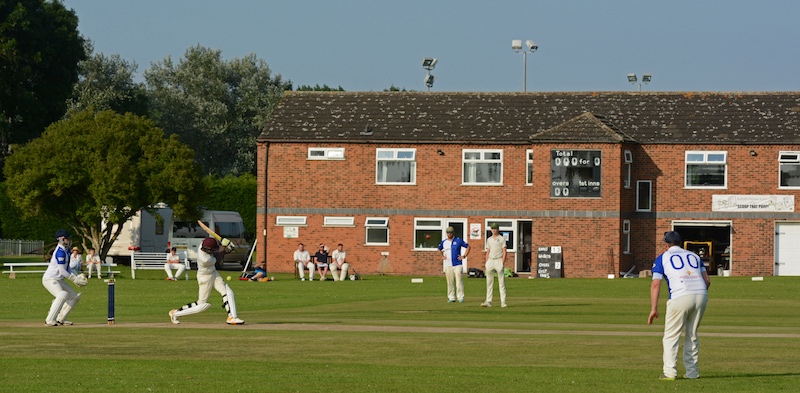 A two-storey, red-brick, west-facing clubhouse dominates the site from a position between the cricket pitch and the tennis courts. A scoreboard is part of its central gable.
The cricket pitch – large, flat and circular (no space issues in the Vale of York!) – spreads out before the clubhouse like a Subbuteo Cricket surface. Anybody ever play that? Not easy! A number of benches, principally on the east side, are provided for spectators. Trees in the southwest corner, including seven mature poplars, ensure plentiful shade.
Immediately to the west is Rufforth United's main football pitch. It has permanent dugouts. Clearly, in high summer, the groundsman is happy to let the grass grow, beneath his and everybody else's feet.
---
Rufforth Cricket Club's badge features an aircraft, for the very good reason an operational airfield, used nowadays by gliders, is laid out beyond the southern boundary.
---
The airfield pre-dates the cricket club – but only just. The airfield, a purpose-built facility for long-range bombers, opened in 1942. The cricketers arrived four years later, shortly after the Second World War had ended. Not a coincidence, I'd hazard.
Amid Britain's so-called pingdemic, I overestimated hugely how busy York's outer ring road was going to be. Normally, around rush hour, it is a congested Hell on Earth. Owing to the number self-isolating (or still furloughed), the route to Rufforth was remarkably quiet.
Which meant I arrived early enough to witness Rufforth Cricket Club's unsung heroes – every club has and needs them – completing preparations for the evening's game. The grass was receiving one last trim. Indeed, the square looked in superb condition.
In the Foss Evening Cricket League, the away team bat first. Londesborough Park capitalised on Rufforth spilling five (I think) catches to rattle up 114-5 from their allotted 18 overs.
I'll give Rufforth a pass on those buttery fingers owing to their eye-catching strip, which bears more than a passing resemblance to a Blackburn Rovers football shirt: blue and white halved front, plain white rear, blue sleeves. Not for traditionalists, I daresay, but I haven't seen a better kit this season.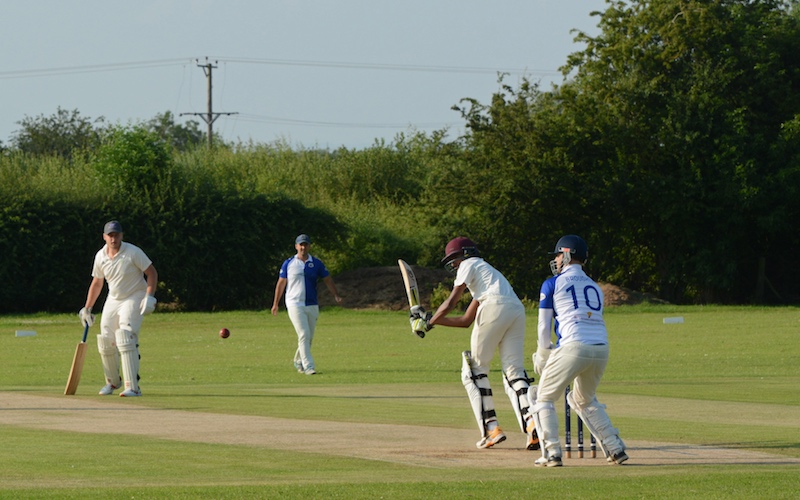 Opener, captain and wicketkeeper Joel Taylor (39) and No 3 James Beevers (28) featured in a useful stand for Londesborough Park's second wicket. No 6 Joseph Franklin hit 21.
Penetrative spinner Rob Hildreth finished with 3-11 from his permitted four overs.
Rufforth's reply was initially hesitant. Two early wickets were lost. But Phil Charlton, in at No 4, hit 62 as the hosts regained poise and confidence.
No 5 Dan Gunnell finished 27 not out. With five balls to spare, a four took Rufforth to 115-4 and victory. Tom Sowerby (1-5) returned Londesborough Park's best bowling figures.
---
Great to see each team clapping off, post-dismissal, the opposition's leading run-makers.
---
I cannot get through a game without falling into conversation with somebody. On this occasion, my 'victim' was the mum of a teenage Londesborough Park player, Ollie Fiddler, who is fortunate enough to play much of his cricket at Sedbergh School.
Mum is a foreign exchange trader in Dubai. Her remarks about the temperature highs on the Persian Gulf coast made our complaints about British heatwaves seem rather ridiculous. Gesturing towards the airfield's vast acreage, she said: "In Dubai, all that would be desert."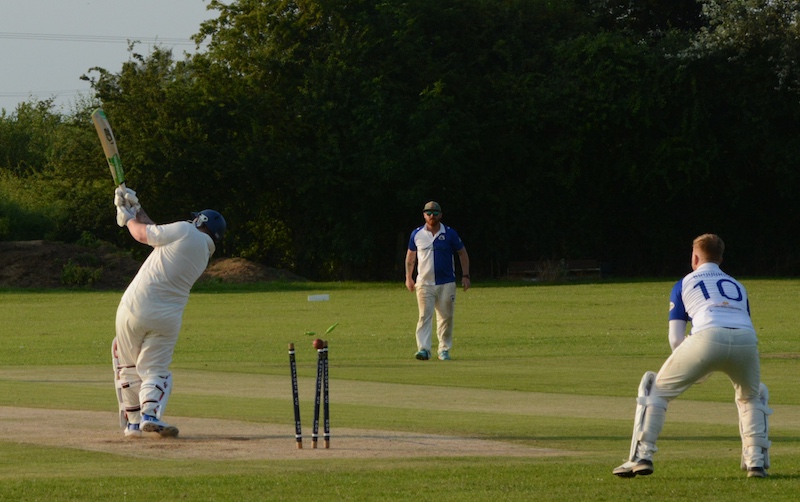 You may have seen recent stories about Dubai using drone technology to create 'fake rain' as it attempts to cope with 122-degree heat. Climate change doing its stuff, I guess.
One thing I didn't miss in the Rufforth district is the pong from the Harewood Whin landfill site. I imagine a lot of my rubbish ended up there. Doubtless to the relief of well-to-do Rufforth residents, it closed in 2019, although it continues to function as a waste transfer station. The pong seems to have gone – or was the breeze merely in the wrong direction?
The Foss Evening Cricket League continues until the end of August. I hope to accommodate at least one more match before it's done for another year.
Many thanks to Andrew and you can read past articles from his club cricket series, Miles per Gallon, on the website.
Enjoyed this read? Join thousands of cricket fans who get the Cricket Yorkshire Newsletter – exclusives, competitions, partner offers and much more straight to your inbox!