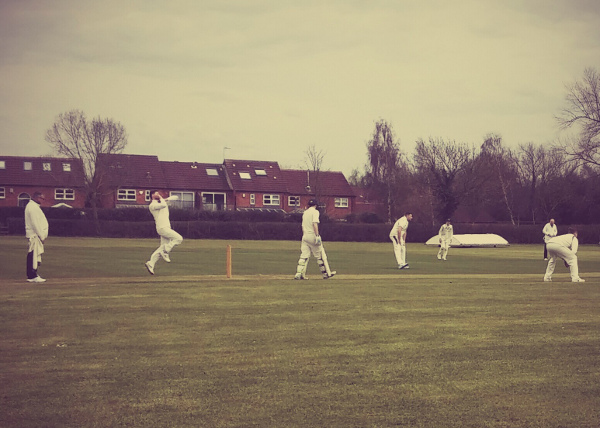 The market town of Knaresborough was the end of the line for my train from Leeds and on this spring morning there could be few better places.
It had been too long – a number of years – since visiting and I won't be making that mistake again.
Do go, if you get the chance. From its castle to its cobbled, winding, secretive alleyways, famous cave and riverside walks, it's pretty special.
Yet sightseeing would have to wait for another time, there was a pre-season friendly at Knaresborough Cricket Club with Woodhouse Grange the visitors.
This was one of the few Saturday matches to escape the weather and so must have been one of the earliest games of cricket going on anywhere in England.
Desperate to watch cricket again, I'd put a call out on Facebook and Twitter and the offers to visit generously rolled in, including from Joe, one of the Knaresborough players, and an hour later, I was legging it for a train.
A steep walk uphill and a zigzag, following the directions from Mr Google, led through the centre and out the other side towards the southern tip of the town boundary where the River Nidd loops round into a goofy smile.
Knaresborough Cricket Club is in a quiet, residential area on Aspin Lane. The blue sign in bold, golden capital letters stands proudly on a brick wall at the entrance with flowers bursting into colour in front.
This is one of the oldest clubs in Yorkshire, if not the country, given it dates back to 1815 and so it celebrated two hundred years as a club last summer.
This fixture against Woodhouse Grange is indicative of the direction Knaresborough CC is headed. The visitors play in the Hunters York & District Senior Cricket League where Knaresborough is joining for 2017.
Whereas the Airedale & Wharfedale Cricket League are currently in isolation outside the new Yorkshire cricket pyramid structure, the York & District Senior Cricket League is a feeder league to the ECB Yorkshire Premier League North.
At an emergency general meeting at Heworth, the York & District Senior Cricket League clubs voted overwhelmingly to accept Knaresborough for next season and that will further add to the appeal of the club.
I arrived halfway through the first innings and overheard a chuckled remark about the scoreline being 120 for 17. It had been decided that both sides would bat through their forty overs, regardless of whether they were bowled out or exceeded the winning total.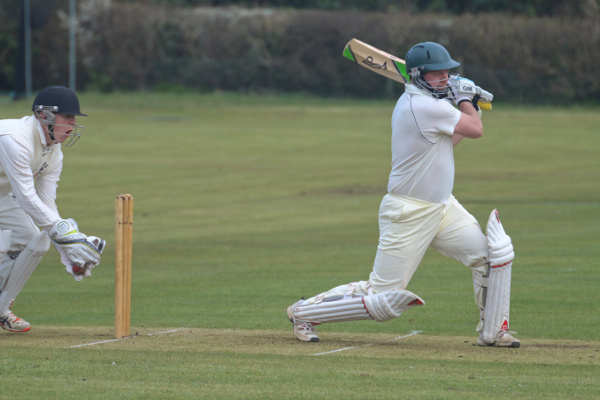 Knaresborough struggled somewhat on a wicket offering plenty of assistance and were dismissed for 60-odd around the time I was passing through Harrogate.
At tea – normally such a highlight before my gluten-free regime removed all the fun and cakes – I greeted the new overseas player for Knaresborough who wore black leggings and had just finished his first match outdoors as a wicketkeeper-batsman.
Me: "This is as warm as Yorkshire gets."
Him: "Aw mate, I am so cold right now…"
Knaresborough have historic links with bringing overseas players over from Melbourne and this year Keifer Peries, who's played for Frankston Peninsula back home in Victorian Premier Cricket, is aiming to make an impact (once he warms up).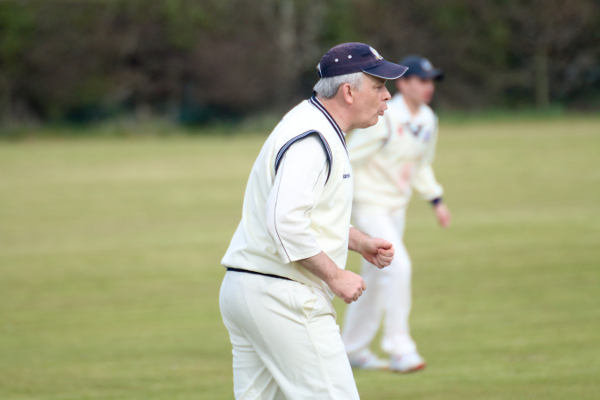 It is a family affair here at Knaresborough with Neil Marshall, the captain (above), generous with his time to talk through his time with the club while his wife was marshalling proceedings in the clubhouse with the cricket teas.
Local lad Jonathan Tattersall, ex-Yorkshire CCC and now prolific batsman at Harrogate, helped lug a roller out to the middle to try to squash some of the demons out of it while the players tucked into the sandwiches.
I'm at Knaresborough long enough to also watch the early exchanges of the second innings where the home side beat the bat often enough.
The ground itself is unremarkable – I hope they'll forgive me for saying that as Knaresborough were very friendly and happy to talk at length answering all manner of questions.
It's a credit to them that this friendly fixture was on at all given the rain but what I mean is it's a flat, green, open space with a neat pavilion but nothing too untoward like a tree inside the boundary or a thoroughbred yak who fields at fine leg.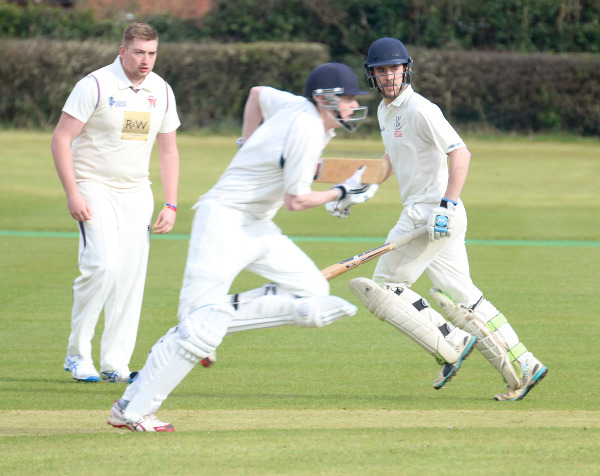 It's a sizable ground, illustrated by virtue of the using a strip from the square closer to the pavilion and thus the chase to the far boundary requires a decent set of lungs, a map and provisions for a week.
Knaresborough has a thriving junior set up with U9, U11, U13, U15 and U17 teams while the club periodically also welcomes former junior players who gravitate back to where they call home.
In the transfer market, Knaresborough picked up new signings – crucial to any club given the inevitable injuries, retirements and transfers.
Ben Cutts (Killinghall), James Keane (Spofforth), Sam Ryan (Follifoot), Waseem Afsar (Skipton) and Sam Davies (Bilton) are the newcomers for the 2016 season.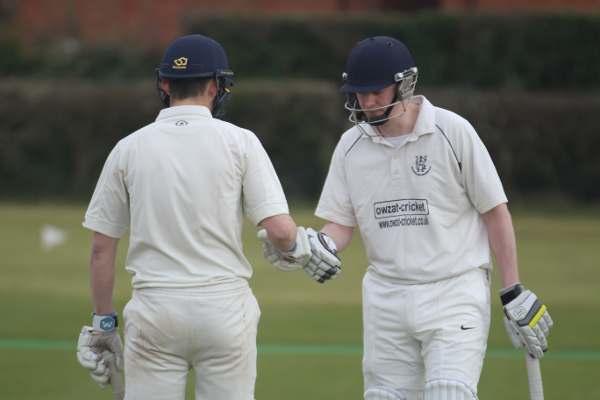 As for the visitors, Woodhouse Grange are a hugely successful success story both by the volume of trophies they've won over the years including the Village Cup Final at Lord's a record four times and numerous York Senior League titles – but also the way they've grown.
They have four Saturday senior sides, several evening XIs and the stoically named Men of Derwent. You could be forgiven for thinking they must have ready access to vast numbers of people – but here's the rub.
Woodhouse Grange is about twelve miles south east of York in an area stuffed with cricket clubs from Dunnington to Stamford Bridge and Londesborough to Pocklington.
Having never visited, I always assumed Woodhouse Grange was a busy, bustling village well populated with cricket-loving dwellers.
No, as it turns out, there is no village and this club in the middle of nowhere has been built up on the earnest endeavours of volunteers over decades. Hats off to you all, lads…
The Woodhouse Grange first eleven now play in the inaugural Yorkshire ECB Premier League North – which disqualifies them from the Village Cup – but hey, you can't have it all.
After I pegged it back through Knaresborough, wheezing and buckling under the auspices of physical exercise before collapsing in a pile on the bone rattler, thoughts gradually assembled themselves as my heart rate ceased going like the clappers.
Ok, so this friendly was a game with the rules somewhat stretched to accommodate the need to practice.
But it was a glimpse into the ambition of Knaresborough against a side who they will hope to emulate one day.
On the one hand, it was a glimpse of a cricket club looking to kick on but in a broader context, their swapping leagues was the first intriguing move as a result of the seismic reshuffle in Yorkshire club cricket.
How many will follow?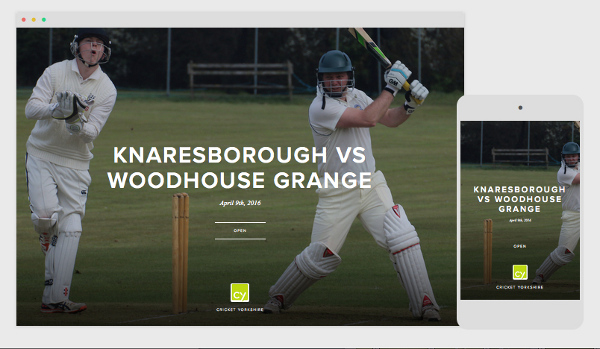 **VIEW MATCH PHOTOS – KNARESBOROUGH VS WOODHOUSE GRANGE**
Ok, so you all know the drill. It was good to shake off the rust from the digital SLR and these are the first match photos by Cricket Yorkshire in 2016.
All you do, just click the link above. Or THIS ONE! You'll need to put in your email address to access them but joining our mailing list is the smallest price for the best club cricket photography anywhere in the whole world. Ever. Have you clicked yet?
Latest posts by John Fuller
(see all)