This year's Yorkshire County Cricket Club Media Day was held on a glorious, warm morning with the birds chirping away in the hedgerows during the walk up from Burley Park station.
It was a chance to catch up with colleagues from the media, talk to the county staff and players and just relish being outdoors in the sunshine watching professional cricketers train.
Getting there early allowed a glimpse at Yorkshire's squad in the familiar football warm up in front of the Headingley Carnegie pavilion.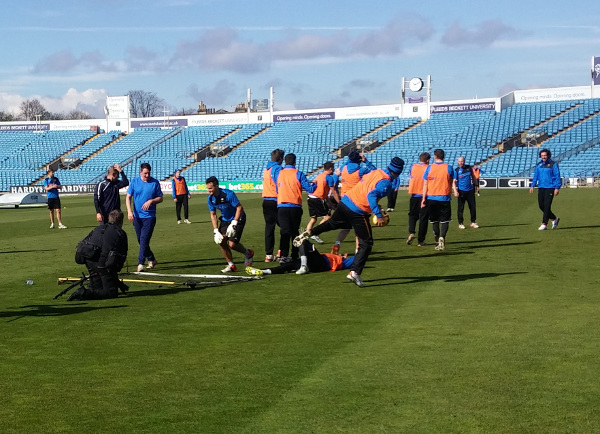 Andrew Gale mopped up possession at right back, Adam Lyth ran all over the place and Jack Brooks was a commanding presence as goalkeeper.
At one point, an attempted shot at goal led to a pile of bodies and the goal itself falling down.
Purists may roll their eyes at cricketers risking injury playing football but it's cardio that works muscle groups, the players seem to relish it and frankly, they could live their lives in a bubble and then accidentally twist an ankle in the shower.
There were some notable absences with internationals involved in the World T20 not present – Root, Plunkett, Rashid and Willey – which was a shame.

I suspect that was more to do with directives from the ECB to get some rest post-tournament.
Next up, groups split off for pockets of fielding drills including what looked like Yorkshire's premier slip cordon with Jack Leaning and Adam Lyth in acrobatic mood.
The plan had been to chat to Ben Coad and Steve Patterson, the players Cricket Yorkshire is sponsoring in 2016, but in their absence there was time to sit in the stands with Ian Dews, Yorkshire CCC's Director of Cricket Development.
Look out for a future feature article with Ian, discussing coaching plans and ambitions with Yorkshire Academy as they embark on life in the newly-formed ECB Yorkshire Premier League North.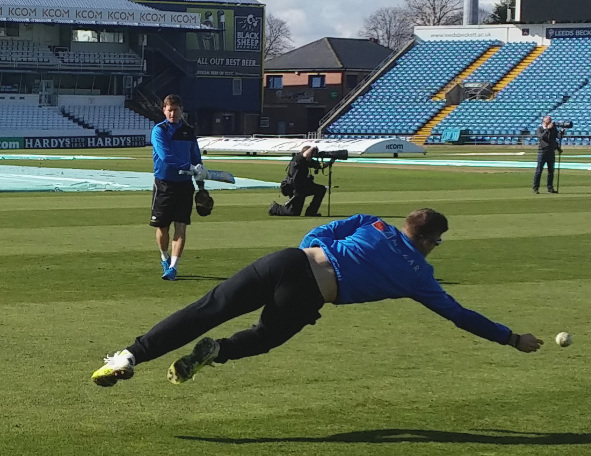 Richard Pyrah took a couple of the younger members of the squad, spinner Karl Carver and fast bowler Matthew Fisher, off for some catching and then the players headed indoors and the media gradually filtered over to the outdoor nets near the rugby club's parking.
The net session allowed a close look at the Yorkshire County Cricket Club squad as they practiced; to listen to the camaraderie and to see how they fared when facing each other rather than county opposition.
The groundstaff had done well to prepare the nets after recent heavy rain but it was squelchy underfoot in places though not at the bowler's crease.
Talking to Tom, learning his trade on the groundstaff at Headingley, the super-slurping Blotter had been pressed into service to remove standing water in the early hours.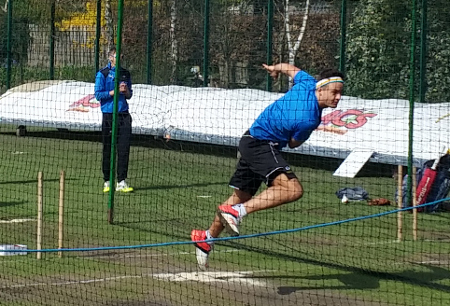 Therefore, the deck offered assistance for the seamers with Alex Lees and Jack Leaning first up to face the music.
Jack Brooks worked up a pace and was lively when he was bowling – and when he wasn't – laughing, joking but cross with himself when he strayed in line or length.
There's much to applaud about Brooks; works hard at his game, consistent wicket-taker but away from the middle, doesn't take life too seriously – if the photo of him (or someone else) that appeared on Twitter later in the day lifting tiny weights in the gym in a monkey mask is anything to go by.
The things that cross your Twitter timeline on a Friday afternoon, eh?
Credit to all the Yorkshire CCC squad and staff who were generous with their time, pulled in different directions to peer into a camera lens or have a microphone shoved under their nose.
The dynamics between players; a blend of serious endeavour, technical queries and sprinkled with lighter moments stuck out. Adam Lyth bowling to Alex Lees:
Lees: You're the best spinner we have, Lythy.
Lyth: You haven't hit a run off me yet.
Lees: You'll only get two overs…
Matthew Fisher, working through an injury, wasn't bowling at full tilt but was plenty quick enough to cause the batsmen problems.
This lad is the real deal and should push in all formats when fully fit and firing on all cylinders.
Ryan Sidebottom shuffled into bowl early on off a short run and was clearly easing body back into the groove.
Yet, the run up lengthened as he got a sweat on and was faithfully metronomic, bowling some absolute peaches.
I hear he bowls within himself at nets and then clicks through the gears on match day.
Whether that's true or not, it would have been a worthwhile lesson for recreational cricketers to see how these bowlers and batsmen, in the professional realm, approach nets.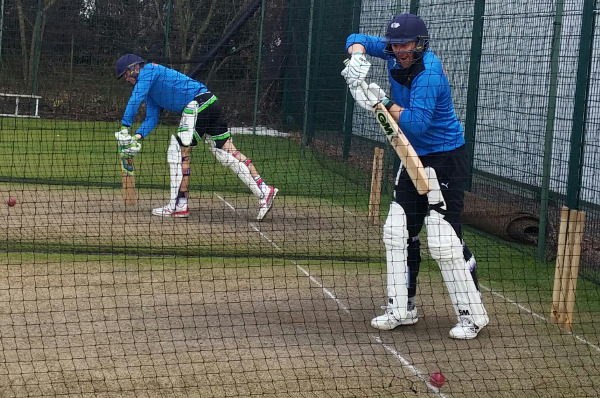 Yorkshire Captain Andrew Gale had a batting stint alongside Ryan Gibson, the ball darted and deviated but the skipper hit the cover off some.
The Headingley wicket for the MCCU game won't be this juicy but this was about assimilating back into English conditions after the beating sun of the UAE.
Yorkshire Head Coach Jason Gillespie was discussing the forthcoming title defence with Dave Callaghan of BBC Radio Leeds and admitted to being mystified – a lot of us are – as to why the Leeds Bradford MCCU game isn't classified as first-class.
It's an odd one given this exact fixture a year ago was a first-class fixture and does fuel the detractors, wrong though they are in my view, that believe the MCCU fixtures the counties play in April are cannon fodder; unnecessary appetisers before the main course.
Common sense would suggest all three annual games each MCCU plays is awarded first-class status – or none at all.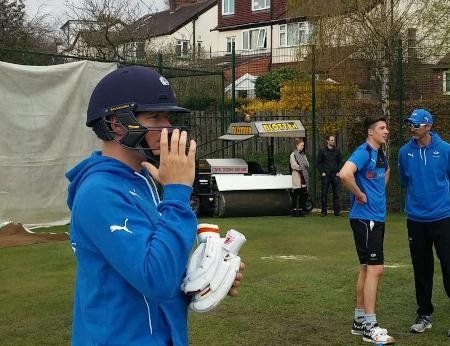 Players drifted over in groups with Jonny Bairstow and Gary Ballance batting together while Tim Bresnan, holding the mic – this time for BBC Look North – quizzed Martyn Moxon on everything from dressing rooms pranks to hopes for Barnsley FC.
The Cricket Yorkshire office beckoned but not before fish and chips in Stumps Restaurant – essential brain fuel for the afternoon's journalism.
While negotiating a mountain of mushy peas, I could ponder what fettle the County Champions find themselves in?
Andrew Gale's squad have set the standard in recent years and their challenge is to reach and exceed those dizzy heights again in first-class cricket.
The time for talking is almost done. I'm predicting Yorkshire to claim the Specsavers County Championship with Warwickshire and Middlesex to push them close.
Latest posts by John Fuller
(see all)