The bone-rattler from Leeds has a smattering of county fans in this final chapter of the 2015 county season.
A few of us weave our way up the back road and over the railway bridge en route to Headingley where Yorkshire lead Sussex by nearly 300 overnight.
Breakfast is a corner of Ugly Mugs cafe – for the princely sum of three quid – which proves a sound investment, admittedly, the toast is limp but definite bonus points for sugar shakers on the tables.
It's a shade before 10am and the Yorkshire squad are doing their routine drills with pickups and rocket throws into a tiny tent under the watchful eye of Anthony McGrath.
Meanwhile, Jason Gillespie has combined a sidearm (not that kind) with an orange Katchet board and hands are being stung in the September sunshine. Liam Plunkett hurls himself about like a goalkeeper.
Richard Pyrah is manning one of the fielding stations, the transition from all rounder to the coach complete, while a cluster of fans hover at the hoardings for signatures.
After a guard of honour for Michael Yardy, the final rites to Yorkshire's innings lasts a couple of lusty blows and just nine balls. Bresnan finishes with a batting average fractionally short of fifty.
Ryan Sidebottom shuffles into bowl; Brooks his new-ball companion, resplendent in orange-soled spikes, strikes first when Joyce edges a full toss onto his timbers.
The press box has an arctic chill to it and a mysterious steady, honking drone like mischevious bagpipes. Either the wind's cocophony or someone's dying laptop…well, it's been a long summer…
Nearby, in the main Headingley auditorium-cum-press-box, the students are gazing at a slideshow in Stygian gloom with the shutters down, blocking out the temptation of the cricket.
Sussex slump to 43-3 a shade over the first hour. Brooks claims his 300th first-class wicket and doffs his cap after tumultuous applause on the boundary.
In one of the more random things to happen at a county venue, pictures of the lunch options across the road at Stumps restaurant are shown on the monitors inside the ground:
A lasagne appears on the big screen; a whacking great slab of salmon then a pale, gelatinous bowl of what might be rice pudding – which, as someone on Twitter notes, gets the most vociferous cheer of the morning.
Bresnan bowls a nagging spell and Sussex teeter; five wickets down by the time the lunch trolley is wheeled into the press box.
The asparagus soup, kept warm by a device somewhere between a Bunsen burner and hot air balloon, wheezes and rattles.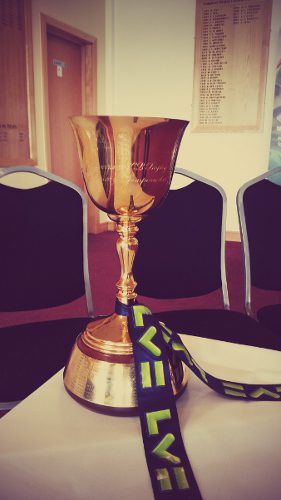 At lunch, the Yorkshire members in the Long Room take it in turns to have their photos taken with the LV=County Championship trophy.
Sussex need the draw but after some early-afternoon stoicism, wickets once more tumble including Michael Yardy, whose dismissal off Rashid with an incredible catch by Jack Leaning at short-leg, brought a career to an end that has yielded 10,693 runs for Sussex.
The Yorkshire crowd, around 2,000 to hazard a guess, give Yardy a generous and sustained burst of applause while the Yorkshire fielders take it in turns to approach and congratulate him.
Yorkshire hustled for those final, delicious wickets of a long, long season with Rashid dusting his palms in the dirt and hurling the ball into the heavens from hand to hand, as if tracing an invisible line in the air.
England's legspinner is replaced by Lyth at the rugby stand end and, to prove that the midas touch is very much with Gale this season, it immediately does the trick with a misjudged sweep adjudged LBW.
Rashid returns to the action at the pavilion end and not long after, the umpire's finger goes up and Sussex are relegated after losing by 100 runs.
After the surprise defeat at Lord's, it is back to business as usual. That the champions recorded their eleventh win of the season and ended a whopping 68pts clear will take some time to digest. Emphatic doesn't even cut it.
This was the third title celebration by Yorkshire, after finding out during the loss at Lord's then victory at Southampton but today was all about the home fans who lapped it up.
Far from feeling flat or contrived, it was a special moment personally to be on the Headingley outfield as Andrew Gale led out his squad to receive the golden goblet while fans chanted and looked immensely happy.
President Dickie Bird (forever now his title surely), in his blazer and looking pleased as punch, lifted the Championship trophy and will probably sleep with it under his pillow.
Head Coach Jason Gillespie was very much in the background during these scenes; the architect of such a rich vein of success since he came to Headingley.
However, in an interview with Cricket Yorkshire soon after, he was careful to spread the credit while acknowledging the achievement by the club:
"Eleven wins is pretty special. It's a hell of a season to top that. It's our record, it's been a collective effort on the field and off the field. In a way, you want to put pressure on yourself to win it again but full credit to these lads."

Jason Gillespie, Yorkshire CCC First XI Coach.
it seems the squad at the end of last season were vocal in wanting to achieve back-to-back titles and create history but backing that up is quite another thing.
The proof was in the pudding and over time, Gillespie recognised that it was more than over-excitable talk:
"For them to back those words up with actions…their preparation through the winter, their desire for improvement, we've seen it as support staff."
So, where do Yorkshire go from here?
It sounds like there might be a post-season trip to Spain to let off some steam but England's trip to the UAE is soon enough for some while winter nets, stints overseas with clubs and graft behind the scenes will be the foundation to come flying out of the blocks in 2016.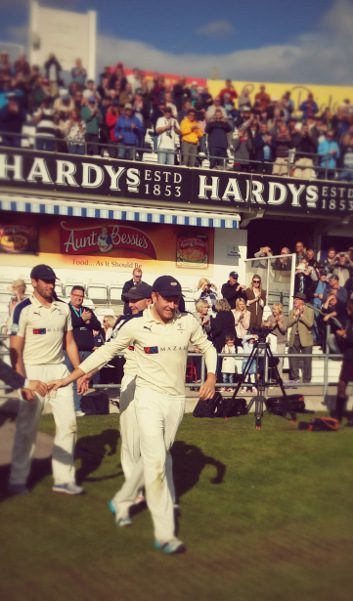 If it hasn't truly sunk in yet, Yorkshire CCC will come to realise that they have achieved something stunning.
They have set a standard in four-day cricket no-one has remotely been close to matching and the LV=County Championship is staying at Headingley.
Latest posts by John Fuller
(see all)