This is the first time I've written for Cricket Yorkshire, and all of sudden, I'm overcome with the urge to be honest…
Maybe it's pressure? Maybe it's guilt? Here goes, my confession is… I'm not good at cricket and neither is my team.
Does that make me a fraud or unwelcome? Does it mean my club isn't worth your attention? You tell me.
When I say 'not good' I mean just that. Depending on who you ask, both myself and the club have style, we have fun, we're familiar and welcoming and many other things besides, but we just don't win a lot.
Last year it was once, this year it's twice (so far). That's the first team. The seconds tasted victory last weekend for the first time in over 18 months.
It might be a while before they do so again, it might not.
Editor's note: Subsequent to Sam writing this, the good news is that Old Town CC have strung a few wins together in the Halifax Cricket League, including the first weekend in a few years where both the firsts and seconds were victorious on the same day.
Every team enjoys winning, and tries to do that, but it's not the be all and end all.
Ours is a club of very much amateur players who like spending any spare Saturday they have standing in the sun and having a beer afterwards.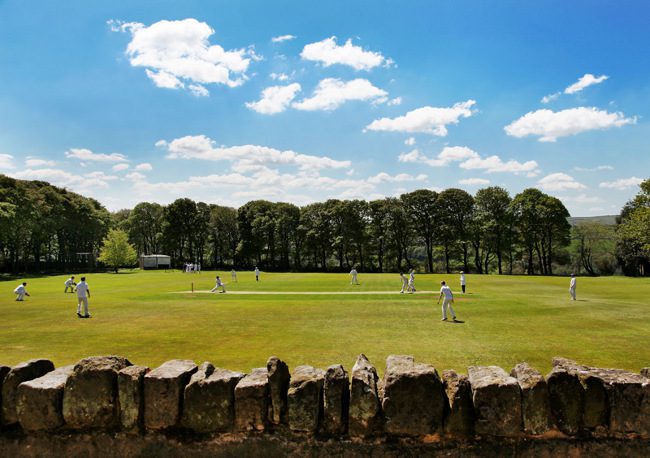 We have a beautiful ground, a few committed volunteers and a great bunch of lads, but sometimes that's not enough.
Clubs battle with real life and players drift out of availability for work or for injury or for babies.
Our pool of players is thin enough, and when a weekend comes up where one of those things comes up, the conversation can very quickly turn to: can the fixture be fulfilled?
And if not, how much will the league fine hit our already tight budget?
We might not be in the habit of winning but the people who are at the club love it. We try in every way to make things easier but how do you attract a player or a sponsor to a losing team?
The club largely pulls in the same direction trying to improve things, but with not a lot of financial clout, a small local populous and even tea ladies few and far between, reality sometimes restrains ambition.
As many other clubs are, it's a special place to spend a Saturday, whatever the weather and whatever the result.
Enjoyment rarely drops even if a few catches are, and there's always more we want to do, and sometimes more we are asked to do.
The latest thing is the league umpires (not necessarily the chap pictured above) are unhappy with the lack of dedicated changing facilities.
We provide them or the ground is re-inspected, I'm told.
Those umpires deserve a decent place to change (at least better than the corner of the scorehut we offer) and I just wish we could give it them.
Only space, funding and planning permission stand in the way but it'll be added to the ever-growing list that includes new nets, sightscreens and a roof.
It's a fair request. The umpires do a great job and if other clubs in the league can provide it then why shouldn't they expect it from us?
Other, newer, bigger teams raise league standards in lots of ways and shouldn't the rest of the league keep up?
Over the last few years in our league, four teams just like ours have folded. Are we next? As the small rural clubs have disappeared, others from central Bradford have joined.
What about clubs with juniors, three adult teams and a thirst for trophies?
They've quickly risen through the divisions and handed out spectacular wallopings to us as they've gone.
Backed up by nearby houses and schools to draw on, our hillside full of sheep and a small village looks remarkably under-equipped.
There was an excellent article on here recently talking about travel distances in cricket, and in our case, driving for an hour to such teams to get beat makes it particularly unappealing, even before the hour back again.
For many of our players, weekends represent a valuable break from work for both cricket and family time – not just losing and driving time.
Let's be clear though, no one is knocking success. Sure, I'm jealous such teams get a celebratory beer instead of just consolation ones!
They train hard and rightfully enjoy their wins. Sometimes though, I'm not sure beating our bunch is quite worthwhile to them.
If our players could commit to regular training or were inclined to hit the gym they might fit in there. For now on though, they can't or don't want to.
So they stay with us and enjoy themselves all the same. But if we go, what then?
With a lot of second teams better than our firsts, and the nearest other club 25 minutes down the valley, maybe it's time we all took up golf?
Is there room for little Yorkshire village clubs in 2015? Does a lack of sponsors, junior set up and pre-match warm up mean that our place in the world has disappeared around us?
With participation a constant battle for the ECB, maybe it's not Sky TV rights that's driven it, but higher standards in our leagues.
Club cricket is much more than just league success, though it certainly helps. This club is a special place to be, and together there's a family of people pulling in one direction.
A few losses doesn't limit ambition or effort, but it puts up hurdles that are difficult to remove.
I don't know if regional cricket is as cut-throat as survival of the fittest, but there are are certainly times when some clubs wonder if they are fit enough to survive?
BY SAM HAMPSON – @SamwiseHampson
**Who did these photos?** Many thanks to Ross McGinnes for permission to use his superb photos that were part of a project on Old Town CC. Check him out on Twitter as @rossmcginnes while his website is: http://www.rossmcginnes.com.
Latest posts by Cricket Yorkshire
(see all)