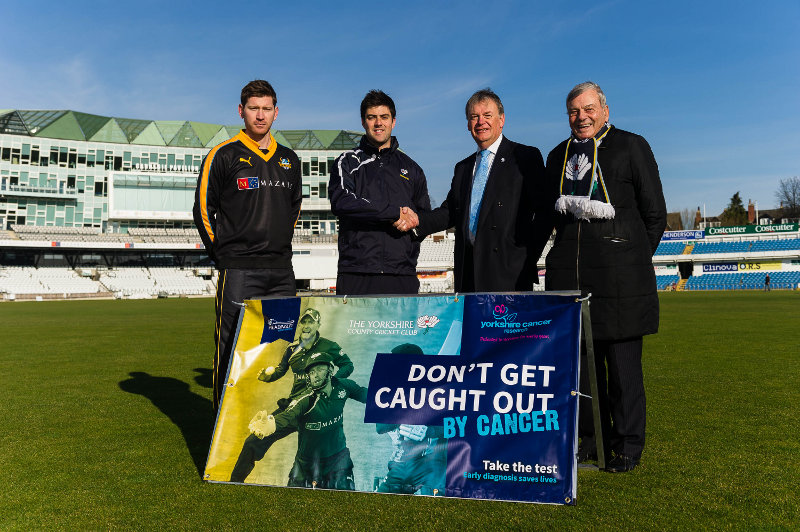 On World Cancer Day (Wednesday 4 February), my focus was on the funeral of a family member who lost his battle with cancer.
It's a terrible group of diseases that has brutally rampaged through my family of late and reminded me both to be thankful for every day and also what is truly important in life.
Given that more than one in three of us in the UK will develop a form of cancer in our lifetime, sadly, a great many of you will be similarly affected.
Cancer claims the lives of 253 people every week in Yorkshire
The news that Yorkshire County Cricket Club had chosen Yorkshire Cancer Research as their charity partner unquestionably brightened what was an already bitterly cold but promising morning.
Why? Because this is a partnership that fits snugly like a cricketer's hand nestling comfortably into a batting glove.
Given the remit and ambition of the charity twinned with the county club's own community outreach work, this represents an opportunity to help a lot of people in the region.
It's a two-year partnership covering until the end of the 2016 season by which time Yorkshire (may have) retained their Championship title for the second year running.
On a serious note, cancer claims the lives of 253 people every week in Yorkshire and the county has survival rates below the national average.
This is all about educating those of all ages about cancer; promoting those lifestyle changes that reduce the risk of developing cancer and encouraging early detection and screening.
Fundraising will inevitably play a part, though the charity insists raising awareness is the fundamental plank of this sporting partnership.
Nonetheless, hopefully vast seas of money will flow to this cancer charity across a county sometimes shamefully stereotyped as miserly and whose generosity of spirit will help fight these despicable diseases.
None of us should be apologetic or shy about the importance that donations will mean in helping to fund the charity's £5m investment annually into prevention, diagnosis and treatment of cancer.
Ahead of the grand unveiling and photocalls in a day or so, I had an amiable chat with the Yorkshire Cancer Research Chief Executive, Charles Rowett.
I'm particularly keen to look at where the charity will make an impact in recreational cricket through its 2015 initiative to raise awareness of skin cancers across the 747 clubs in the county.
More planning and details will doubtless emerge in the fullness of time but it will highlight the importance of wearing the correct headgear, clothes and sunscreen whilst watching cricket from the boundary edge and playing the game at all levels.
Cases of malignant melanoma have rocketed
There is so often scepticism with health-related statistics; they are malleable and open to wild interpretation to suit an argument but in the case of malignant melanoma cases in males, the facts suggest it has increased seven-fold since 1975, according to Charles.
While this partnership will focus effort on skin cancer, there are over 200 forms of cancer; all of which deserve our attention.
Nationally, there appears to be a clear North-South divide when it comes to cancer in England and according to the charity, Yorkshire has higher incidence rates for many of the most common cancers.
This could be down to anything from social deprivation to our lifestyle choices but clear disparities in the availability of healthcare services means inequalities in accessing early diagnostics, clinical trials and the latest treatments.
To return to skin cancer and the danger from the sun, my own anecdotal observations from twenty years of league cricket are that rarely do amateur cricketers slap on suncream before an afternoon on the cricket field.
There is still that misguided notion for many that the sun in England can't do much damage, particularly if it's not very hot or there's cloud cover.
We get talking about the importance of education right from junior level and by way of context, Charles' son comes up in conversation being that he's a league cricketer for Richmond:
Never in those ten years had I ever heard a coach or any official at a game he was playing in, or even at training, say: 'Put your sunscream on, young man.'
Driving home the message about preventative measures throughout Yorkshire cricket – including the Yorkshire Cricket Board (who administer the game) and Yorkshire Cricket Foundation (who offer education and community programmes) will be vital.
As Charles put it: "Where you have young people, particularly, for five, six or seven hours at a time then we need to adopt a much more sensible approach to it."
Alongside this engagement with grassroots cricket will be activity at Headingley during significant match days (like the New Zealand Test match) where supporters will be able to use health and well-being clinics.
Health screenings at Headingley Test
The Sunday of the Test, on May 31, will be branded Yorkshire Cancer Research Day and the intention is to get the cricketing public to take a fresh look at the subject, their own health and also the work of the charity.
Yorkshire County Cricket Club has a major, influential resource at its disposal in this drive to educate and help the people of Yorkshire concerning cancer: the staff and players.
Interest in all things YCCC, a constant hive of opinion even in the winter months, is likely to ramp up considerably once the 2015 season draws near; particularly with the welcome tag of 'Champions' to use in conversation.
Being well informed and taking the plunge with being screened is a proactive step many don't take. Perhaps, in some cases, because if you assume you're fine or if don't actively search for a health concern then you can live in happy ignorance.
According to Yorkshire Cancer Research, there is an issue around access to screening, the necessary facilities and tests in Yorkshire. It is less the case in major cities like Leeds but certainly in rural and coastal regions.
Having these pop-up clinics for cricket fans coming to Headingley (and perhaps at certain amateur clubs) is a positive step and they should definitely make an appearance at North Marine Road for the Scarborough Festival.
But discovering what some of the barriers are that exist which stop people from going to cancer screenings – and trying to make it a positive experience – will be another aim from this wide-reaching partnership.
Click to learn more about Yorkshire Cancer Research and their work and look out for a range of cricket-related initiatives in the coming months.
* Photo credit: Jonathan Pow – [email protected].
Latest posts by John Fuller
(see all)