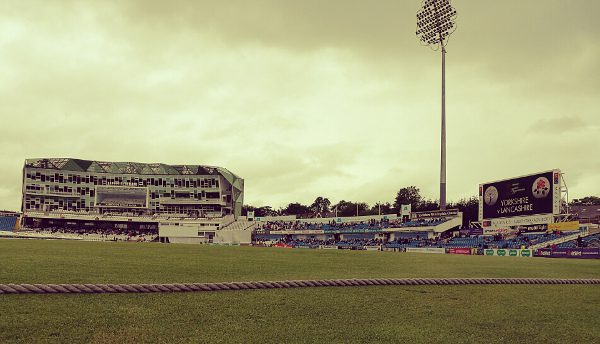 Match day at Headingley. Yorkshire v Lancashire in the County Championship. Serious stuff.
The walk up Beechwood Crescent tried to lighten the mood with an appeal to 'Smile Beautiful' emblazoned in blue (lipstick perhaps?) on a road sign.
It was muggy and threatening clouds confirmed that I ought to have paid closer attention to the forecast.
Falling into step with a Yorkshire fan was to listen to a passionate diatribe on the vagaries of the toss and Gary Ballance's shortcomings.
A thousand runs by the end of May and some people still aren't happy but such is the lot of the Yorkshire captain…
Inside the ground, Yorkshire's and Lancashire's bowlers bowled at one of those rubbery yellow stumps that looks like an inverted, stretched Dairylea cheese slice.
Ryan Sidebottom shuffled in and bowled hooping inswingers tickling the modern equivalent to timbers.
Dickie Bird stood watching proceedings, a Barnsley hawk scrutinising the cricket and scowling at the weather. "Was that a spot of rain?" he asked suspiciously, daring the elements to ruin this historic fixture.
At half ten in the morning, the two county captains were out in the middle doing something most unorthodox: actually tossing a coin.
Yorkshire guessed correctly and chose to have a bowl. Another Jack Brooks hundred would have to wait…
As it transpired, waiting was very much the theme of the morning as the rain swooped in, the lime coloured covers were laid out like giant sticking plasters over the square, as the Blotter patrolled and slurped.
To walk through the Long Room was to witness hundreds of Yorkshire members sheltering from light but persistent rain, the raised hum of conversation evidence that there's always cricket to discuss whatever the state of affairs out in the middle.
William Roberts' book stand was doing a brisk trade; or that is to say heads were stuck in books with titles such as 'How to Play Cricket' and 'Fred Trueman's Most Memorable Matches'.
I got to talking to Paul Dyson, author and Yorkshire County Cricket Club historian, who is working on an updated version of 'Who's Who of Yorkshire Cricket' and whose compilation of Roses stats was pinned up on the archives noticeboard.
Whisper it softly but had, I wondered, the Yorkshire vs Lancashire rivalry in four-day cricket lost some of its bite and mean less than it used to?
Asking that very question on Twitter was to provoke a forthright response. Of course, Lancashire v Yorkshire in the County Championship matters!
Biggest game in world cricket ? Means everything!

— LUFC Supporter (@LUFCSupporter) June 4, 2017
The County Championship still reigns supreme in the eyes of the county club's playing staff and the Yorkshire membership but things are oh so different today for this trans-Pennine rivalry.
Once upon a time, the fixture list was dominated by Yorkshire vs Lancashire; it had pride of place.
This plum fixture was always on a Bank Holiday and thousands would flock to Headingley with winding queues snaking down St Michael's Lane hours before play.
Of course, that was before Tim Berners-Lee invented the internet and fans could get video snippets and live updates on Twitter.
Technology has made it simple to follow a game of cricket without ever having to be there in person.
Progress? I'll let you ponder that but Yorkshire fans can support from phones and screens across the world and are no less credible for it.
One Yorkshire member who has been watching Roses games since the sixties recalls having to set the alarm clock before the cock had crowed to get his seat at Bramall Lane in Sheffield.
Pundits reckoned there would be 2,000 in the crowd for this opening Friday of the four-day encounter which is not to be sniffed at (it looked more later) but speaks of a seismic shift in who actually turns up to watch what should be Yorkshire's most prestigious County Championship home fixture.
Due to austerity cuts, there are only five home Championship matches to choose from now at Headingley but I'm sure that sense of scarcity hasn't swelled the crowds.
How times have changed. The Roses T20 is, for thousands, the one that is automatically booked as soon as fixtures are released and sells out at Headingley and Old Trafford.
Could the focus – and commercial success – of the wham-bang of Roses Twenty20 have diluted the potency of Yorkshire against the old enemy in whites?
A walk outside was a chance to meet the Yorkshire Regiment with the drummers in their red coats straight out of a Sharpe historical novel from Napoleonic times. Did Yorkshire's battalions have a cricket team?
Apparently so though with the regiment set to fly out to Afghanistan, it was a sombre reminder of some of the perilous jobs others do.
When midday ticked round with still no cricket, a sense of impatience permeated.
I wait for the lift up to the press box, a bloke appears alongside and when the elevator doesn't show up, he growls:
"Come on, you bowker…" before adding: "Jigger it…" and deciding to take the stairs.
When the cricket came, it was with a nod to ceremony.
The Second Battalion of the Yorkshire Regiment did a guard of honour as umpires then players took the field at 1.05pm.
Sixteen overs had been lost but we made up for time with two wickets in two balls from Ryan Sidebottom.
There was to be no hat-trick but the only scraps Lancashire batsmen could feed off were those I hadn't hoovered after a trek up the road to the chippie.
Someone somewhere will be able to tell me how many hat-trick attempts punctuate Ryan Sidebottom's illustrious career.
It speaks of his longevity and enviable class that the roar of the Headingley faithful on that landmark third delivery as Siddy ambles in has echoed round and round plenty of times.
Apparently the free health checks from BUPA in the classroom of the East Stand had garnered interest over the morning. Some cricket fans clutching pints admitted to rather not knowing what their cholesterol reading was. Ignorance is bliss and all that.
I could probably hazard a guess at mine after those chips.
Ben Coad's introduction brought immediate reward as Hameed's vigil was ended.
Haseeb has battled form and injury misfortune but if he's open to advice, he might like to change his bat…it sounded like he was using a solid teak wardrobe to defend his stumps.
Shiv Chanderpaul shuffled across his stumps and survived a cacophonous appeal from Coad.
Lancashire's number eleven (if you check his shirt) has that obdurate closed stance with his body facing the East Stand like a grumpy cat snubbing its owner.
It clearly works as his 75th first-class hundred over the hills at Old Trafford against Yorkshire in May will testify but not here as Coad got his man when Handscomb snaffled a chance in the fourth slip/gully region.
Yorkshire's relief was palpable as the barnacle from the West Indies had been plucked off the grass and loam rock he so often calls home for days.
Lancashire's innings had utterly disintegrated but there was time for a second hat-trick attempt in 90 minutes of play when Ben Coad tore in as the crowd stilled completely. It didn't come to pass though a burst of 4-5 had seen the visitors cowed at 48-6.
Lancashire's lowest first-class total of 57 at Headingley in 1966 was overhauled with a sumptuous drive for four by McLaren but these punctuations of comfort could not deny the hosts who ultimately went on to win by ten wickets by Sunday afternoon.
Yorkshire will head to Taunton in buoyant mood.
Ben Coad might pinch himself now he's bagged 31 wickets, at an average of 14, and, at the time of writing, is the second-highest wicket-taker in Division One behind Hampshire's Kyle Abbott.
What stands out is that Coad is dismissing world-class batsmen in the process notably Lancashire's Shiv Chanderpaul twice in the Roses match in Leeds.
Adam Lyth's 100 off 234 balls will puncture the momentum of any critics and puffs his average up to 27 but it's the fact that Yorkshire sit pretty in third, in a cluttered top-four with 8pts between them, that will give fans renewed faith that 2017 will be Yorkshire's year.
As for Roses battles, the next is 14 July in the NatWest T20 Blast at Emirates Old Trafford followed by the return leg on Friday 11 August at Headingley.
Latest posts by John Fuller
(see all)