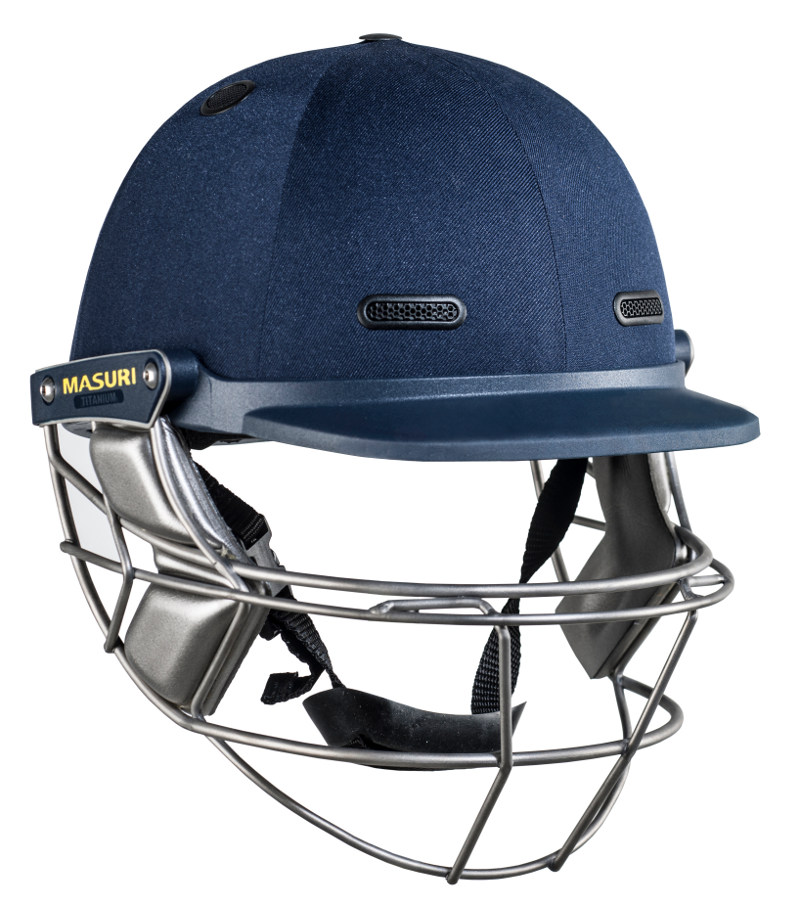 A little like jamming the bat down on a yorker too late or lobbing up a juicy slower ball too early, cricket journalism can be all about the timing.
A product review of the new Masuri Vision Series cricket helmet was about to be published on this website when the news came through about Australian Test batsman Phillip Hughes being hit in the head.
That changed everything.
The subsequent death of the twenty-five-year-old Hughes – who was hit at the top of his neck by a bouncer from Sean Abbott in an Australian state match – sparked an understandable and vital debate about head injuries and protective equipment.
In the case of Hughes, his brain injury was caused by being hit at the base of the skull where it is very difficult to adequately protect without restricting a batsman's head movement.
it seems crass to point out that there are no guarantees to ward off head injuries even whilst wearing a cricket helmet; freak occurrences will continue but advances in technology and manufacturing techniques are making encouraging strides forward.
This latest tragedy should serve to galvanise those select few companies who make cricket helmets around the world to take a fresh look at future innovations to make them even safer.
**EDITOR'S NOTE – In the case of Masuri, they've since announced their concept in development of a stemguard made of foam and a hard honeycomb shell for the back of the head that they believe will protect that vulnerable area but still allow movement.
Why wouldn't you wear a cricket helmet?
Well, they restrict your vision; can feel hot and uncomfortable and the rationale – at club level at least – tends to be along the lines of 'well, I don't need one because I never get hit…'
A piece of logic as flawed as it is remarkable; presumably those same cricketers who never get hit with a cricket ball are also the prophets that can predict the lottery numbers when it's a triple rollover week.
Cricket throws up surprises in the most unlikeliest of places and while not wearing a lid is partially a generational thing (it's rightly not possible to opt out of in junior cricket); protecting your bonce against a hard object feels, well, common sense, doesn't it?
If in doubt, apply this logic, from someone once hit without a helmet by a stray ball fielded by an exuberant bowler: wearing a lid is infinitely preferable to wearing a cricket ball.
Through Cricket Yorkshire's commercial partner, the Cheshire-based retailer Barrington Sports, a chance has arisen to roadtest the very latest in helmet design, the Masuri Vision Series Elite cricket helmet.
The Vision Series includes X-Line, Elite, Test and Club models and Masuri believe they are a range of cricket helmets that set new standards in player safety.
Masuri found themselves at the centre of a media storm as they were the brand of helmet Phillip Hughes was wearing when he was hit, albeit a Masuri Original Test older model.
The evolution and improvement of cricket helmets has come about after the International Cricket Council (ICC) decided to react to a series of nasty injuries in professional cricket.
Much testing and consultation has been going on over a number of years on this and the result is a new British safety standard for cricket helmets that better reflects the speed and damage a cricket ball can do.
In the case of Masuri, there's the hat-trick when it comes to layers of protection that has gone into the creation of the Vision Series.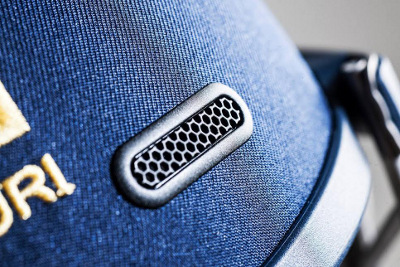 First, the polycarbonate inner shell then an expanded polystyrene crush zone (think rigid and tough, not those paper cups at railway stations) then a very thin polypropylene outer shell.
Not that your average club cricketer – or even Test cricketer for that matter – ponders the inner construction of a helmet too often but there's also something called the Halo Reinforcement System (HRS).
Just so you know, HRS is a reinforced plastic rim; adding piece of mind that the components are in place to protect you from a cricket ball travelling at 90mph.
If the bowler marking out his run while you take your guard has that kind of pace, well, bad luck….
We can all become a bit jaded and cynical around being marketed to, can't we?
When we read, there's a patented this or a turbo-charged, fusion-filtered that, it's easy to scoff.
Except cricket helmets are different. They have to be. Their absolute currency is your safety.
Unfortunately, incidents like Philip Hughes' death show the dangers and lessons are still there.
However, Masuri have been arguably ahead of the curve. They've been developing the Vision Series helmets in conjunction with testing at Loughborough University to conform to the tougher ICC standards.
Let's face it, all being well, a cricket helmet is not likely to be a regular purchase and it's rare for a spate of changes to cricket helmet design to be introduced together.
To ensure each helmet will pass the new safety standard, the test included firing a cricket ball travelling at 69mph at the helmet's peak and grille from 400 millimetres.
The aim is to making absolutely sure that a cricket ball cannot possibly get through and cause serious injury.
At this point, an observation on perhaps the single, best safety improvement.
You cannot now adjust the gap you see through yourself.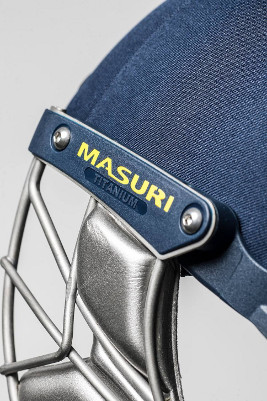 Batsmen everywhere might now be sighing to themselves but it is a hugely significant move.
A cricket helmet can have all the advanced features in the world but ultimately, once it is in the hands of cricketers, there used to be scope for tinkering, adjustment and change.
In decades past, you could adjust the gap on some makes of cricket helmets, even unscrewing the grille if you preferred better peripheral vision.
Thoughtful? No. Quite simply, the worst idea ever.
There's a rather key reason why the gap you peer through at the bowler is set at a specific measurement and it's to relieve, not to cause pain.
Eye-line innovation
But, let's talk about the future. Another clever Masuri innovation I like is the patented Eye-Line Grille system.
It's an additional top bar on the grille. The idea being the greater surface area will force the ball upwards towards the solid peak rather than into your eye-catching facial features.
You'd think the presence of another bar in the grille would restrict a batsman's vision further but it's set back so the reality is the two almost line up.
Unless you've just been castled for a rather humiliating first-ball duck, any time at crease invariably means you'll sweat buckets.
Masuri's helmets incorporate vents in the various protective shells to ensure refreshing airflow circulation around your noggin and in theory, keeping you cooler.
It's time to talk about reputation. Helmet manufacturers are on something of a hiding to nothing.
No-one flags up the numerous times a cricket helmet saves a life or prevents serious injury.
The truth is not nearly enough amateur cricketers wear a cricket helmet, whatever make or model. I really wish they would.
There's a duty of care with cricket clubs that extends beyond those that have junior sections.
Governing bodies like the England & Wales Cricket Board (ECB) are reluctant to intervene with a blanket command to wear helmets.
As long as that's the case, cricket clubs need to demonstrate responsibility that extends beyond a philosophy whereby adults make their own choices.
Is there a liability issue? A grey area legally but clubs ought to show they've made an attempt at educating – or better still, impose your own club policy of everyone wearing a cricket helmet.
Back to Masuri….
Should we read anything meaningful into the fact that many of the England team use Masuri like Robson, Root, Bell and Buttler?
Given the influence on buying habits that professional cricketers have, it's a ringing endorsement of sorts and a great number of internationals and first-class professionals who seem to place their faith with Masuri.
Professionals tend to have free rein over choice of helmets, separate from sponsorship deals, certainly with Masuri who don't sponsor any players.
I've noticed choice of helmet roughly falls into a couple of categories: those who barely give it a moment's thought and pick something up on the day.
Or else, those that are fiercely loyal to a certain brand almost in the same way that Android and Apple divides opinion on mobile phones, tablets and computers.
Masuri is a company who have invested in significant testing to try to bring new technology and thinking to this area of cricket equipment and it shows in this new range.
Keeping the ball out

A final production development change with Masuri relates to what they are terming 'AP-Tech' which stands for active peak technology.
That essentially means the protruding lip or peak on the cricket helmet can move and reacts when a cricket ball strikes between the peak and grille.
The thinking, backed up by the Loughborough testing, is that movement of the peak absorbs the force of the ball protecting the player.
AP-Tech is only available on Masuri's flagship helmet, the Vision Series X-Line, which if it's a warranted safety feature, opens up the question: does it make it more safe than the other models?
My own semi-scientific testing has involved walking around the office wearing the cricket helmet, pausing for thought whilst getting very odd looks from passers-by.
So, here's a few observations for you to mull over about the Masuri Vision Series Elite.
It's heavy. Not tower block heavy but it certainly feels heavier than some other brands.
I can't vouch for how it feels to wear when fending a bouncer off your nose hairs on a perishing April afternoon but it passed the next best test which was making the office tea.
Well, the nets were booked…give me a break.
If how a cricket helmet looks matters in any way (seriously, shame on you but I know you're out there) then this is as traditional but classic as they come.
Masuri will offer customisation with logos and the vital statistics of your loved one embroidered across your bonce. Or something a little more mainstream like a club badge.
Minor gripes would include the plastic wheel at the back for adjusting the back strap for snugness didn't feel like it worked.
It jammed early perhaps because my head was excessively large from all the daydreaming about double hundreds with the office ruler.
The inflation system that works the Ayrtek helmet to cushion the head feels like a better all round fit but the Masuri was still snug and didn't jiggle.
What price on safety?
Next up, let's have a word on price.
What price do you put on safety? It's a weird but true fact that many cricketers seem to be willing to spend far more on their cricket bat than they ever would on their cricket helmet.
Typically, a cricketer replaces his or her cricket bat long before they'd consider changing their cricket helmet. Or even checking if it's still fit for purpose.
When you think about it, that just doesn't make sense. In fact, it's really, really bad logic.
Many of us will spend hundreds of pounds on a cricket bat but baulk at similar for a sophisticated safety device that might one day prevent injury or worse.
No judgement or preaching here, I've done it myself down the years in club cricket.
The Vision Series Elite lid costs £180 and is the second-highest priced product behind the X-Line. It's an investment for sure but you'll get peace of mind and it should last you years of use.
You can pick up a Vision Series Club for £67.50 or Test for £85.50 so there are alternatives should the X-Line or Elite prove beyond your budget.
Of course, spend what you can afford but buy quality. If you're going to scrimp, do it on your whites, jumper or shirt, not your go-to protection.
Your cricket helmet needs to be the right size, fit properly, adjusted to your own shaped head whether that's flat as a pancake or more planet-like.
There's scope for some choice within the Vision Series range concerning a range of colours – navy, maroon, green and black.
Plus, titanium or steel grilles are options for the discerning consumer but in all honesty, who would notice the difference – I'm holding out for customised kryptonite (or graphene perhaps) in a future release.
So, that's the research and reviewing all wrapped up.
I was impressed by Masuri but the ultimate proof, one I hope doesn't come to fruition, is when I get clattered in the head and remain safe and well, thanks to my lid.
Can we trust the safety of cricket helmets? Absolutely, if you buy quality.
There isn't a 'perfect' cricket helmet out there but design and safety considerations have improved a great deal in the last few years and they will only continue to do so.
Be smart. Wear a cricket helmet, whatever brand you opt for and look after yourselves.
* For those interested, here's the link to Masuri cricket helmets at Barrington Sports (who will look after you).
The prices quoted were from the Barrington Sports website and are subject to change.

Latest posts by John Fuller
(see all)