At a time when the men's game is searching for answers in the aftermath of a forgettable World Cup, England Women can look back with some satisfaction on a successful winter.
The T20 series against New Zealand was secured 2-1 and despite starting slowly in the one-day series, that too was ultimately wrapped up with a late surge 3-2.
The fourth ODI in Lincoln saw a first five-wicket haul for Lancashire seamer Kate Cross whose 5-24 helped set up the nine-wicket victory.
An opportunity arises to get the thoughts of the twenty-three year old international from Manchester who plays her club cricket with Heywood CC.
It's a chance to discuss the women's game at international and club level as well as an eye-catching product development for 2015.
Kate is an ambassador for cricket brand, Gunn & Moore, who are ahead of the curve in recognising the demand and potential with their new women's range of cricket equipment.
Developed in conjunction with England's Sarah Taylor, it includes a new bat size, just off a 'Harrow' in their Mogul and Six6 ranges.
In a world where cricket bats sometimes appear to be little more than oversized car doors, sculpting willow for a lighter pickup is a refreshing change.
We applaud innovation at Cricket Yorkshire.
It's perhaps a surprise that it's taken so long but GM are stealing a march on other manufacturers who are now likely to follow suit in tailoring bat sizes and clothing to a specific market where there is clearly support.
As Kate explains, before now, it's been a case of making do:
"I grew up using men's/boys kit which was naturally always ill-fitting and so in terms of comfort it's so much more comfortable to have women's ranges.
She goes on to say: "I know Sarah Taylor and Amy Jones use the women's fit keeping gloves and they have both said how much better they are around the wrist etc, making their jobs a lot easier."
The fact that a major cricket brand is investing in this shows the growth of women's cricket from top to toe, led by some outstanding international performances over a number of years.
While with England playing out in New Zealand, Kate switched to a Six6 F4.5 DXM and I was curious to see how it ultimately compared to previous bats?
"The biggest difference I noticed was the weight. So the ladies range is the same width as the men's but is a harrow length so the pick up feels a lot better. Especially in New Zealand where the wickets are a bit quicker, it's definitely an advantage having a lighter bat to use."
The irrefutable fact is that the growth of women's cricket is snowballing with 60,000 more women found by the England & Wales Cricket Board (ECB) to be playing the game back in 2013.
As investment in facilities reaps rewards and opportunities for girls and women to play at any level continues, it's in contrast to the stagnation or even retraction of participation in men's cricket.
But to what extent does a women's range actually help promote the game?
As Kate pointed out, young girls can grow up using kit that fits properly, (instead of using boy's kit), which lends confidence and an identity:
"It sort of gives a sense of belonging too – it's fast becoming a recognised girls sport which wasn't the case when I was a youngster. I was always a girl playing in a boy's team, whereas now that isn't the case."

We need the best protective and correct fitting kit. Having badly fitting kit might put women off, especially younger girls who are so fashion conscious."
This summer sees the arrival of the Australians and for Cross, for whom it's early days in an England shirt, making the Test squad is a burning ambition.
She can doubtless draw comfort from the 2014 Ashes series when her Test debut yielded match figures of 6-70.
I ask her to picture it's the first ODI at Taunton and what's she's thinking at the start of her run-up?
"I can already feel the nerves at the back of my run-up but like most games I'm just saying to myself – 'get the ball in the right area, make them play first up'. Whether the ball swings or seams I know that if I get that right then I'm in with a chance of taking wickets."
Cross acknowledges Yorkshire and England stalwart Katherine Brunt as a pace role model: "Her work ethic is second to none and her drive and passion to succeed is so motivating.
"Having people like that in your team just makes you work harder and aspire to achieve the things they have achieved."
Women's cricket looks to be in a really good place.
More and more are getting the chance and wanting to play the game while the first crop of eighteen England Women players were handed professional contacts last year.
Corporate land is also sitting up and taking notice.
Back in July 2014, car manufacturer Kia bagged a two-year sponsorship to be the official car of England women's cricket.
So what, I hear you ask? Well, it was the first standalone commercial arrangement for the England women's team showing the value companies are now prepared to invest when previously they didn't.
If they have any sense, many more will follow suit…
Add in the fact that Sky Sports will broadcast every ball of the 2015 Ashes series with a Women's Test match available live for the first time and the sense of momentum is there for all to see.
There was even a piece of domestic county news that for many might have slipped by unnoticed but it speaks volumes.
YORKSHIRE OVER THE MOON-EY…
Yorkshire Women signed twenty-one-year-old Australian international wicketkeeper-batsman Beth Mooney who was part of the T20 World Cup winning squad.
Internationals coming over to play and coach in the county and amateur game can only bolster it and the plan is for Mooney to coach the county age groups and play for Wrenthorpe in the Yorkshire Women's League.
Unsurprisingly, Kate was supportive of these type of signings to make the game stronger and pointed to Lancashire's own overseas player for 2015, Meg Philips from Tasmania, as another example.
So whether it's the welcome news of women's specialist equipment being introduced or the confident way the game has kicked on, there's plenty to applaud.
But is the women's game actually healthier than the men's?
Taking a snapshot of things as they currently stand, that's not such an outrageous idea.
At international level, it's certainly not dogged by the fog of discontent and sense of fracture that permanently seems to sit over the England men's squads.
The women's game in England looks to be on an upward trajectory and something to be proud of. It can be complacently easy to moan about what isn't right in the game so here's to one of its success stories.
All the best to Kate and the England Women for the season ahead and thanks to Gunn & Moore for assisting with the interview.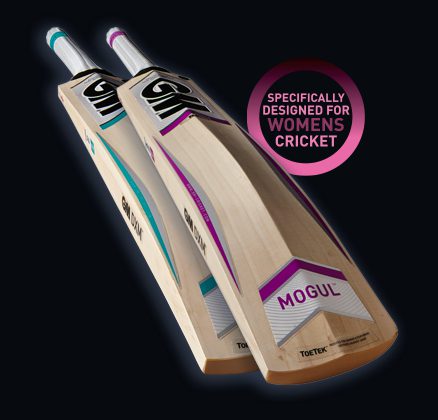 **Cricket Yorkshire's retail partner, Barrington Sports, stocks the 2015 GM range of women's bats plus shirts and trousers.
Take a look, tell your women's and girls sections and spread the word. Here's to a storming summer of cricket…
If you want to see Kate this Saturday 21 March, she'll be at Barrington Sports in Knutsford for their cricket event along with England's Lauren Winfield and James Taylor – come along for a fantastic day and a chance to talk cricket and see the latest cricket ranges for 2015.

Latest posts by John Fuller
(see all)