It's the Thursday afternoon before the visit of Lancashire to Headingley as the return to Roses rivalry in the County Championship looms large.
Yorkshire County Cricket Club seam bowler Steve Patterson is on the phone discussing his form with bat and ball during the first tranche of the four-day action that has seen Yorkshire blow hot and cold.
The defending county Champions (66pts) find themselves looking enviously up at Lancashire, who sit proudly atop the County Championship table (85pts) after recently demolishing Surrey.
For his part, Patterson has been at his miserly and metronomic best this season, comfortable in that invaluable role as the glue around which the lightning strikes of Brooks and Plunkett operate.
So far, the tall seamer, originally from East Yorkshire, has 16 Championship wickets at an average of 25 with an economy rate of 2.6 runs an over. In a nutshell, he's building pressure while the quicks rest but also nipping out batsmen to boot.
His verdict on Yorkshire's underwhelming season so far is typical Patterson. I've interviewed Steve a few times for Cricket Yorkshire and he tells it straight but is thoughtful with it.
As you might expect, there is talk of the need for the squad to regain his watchword, consistency, and he freely admits: "We haven't been at the level we've been at the last couple of years."
There have been mitigating factors on the bowling front with key injuries to Tim Bresnan and Ryan Sidebottom affecting the balance of the attack, while Brooks is yet to emulate the form of 2016 – but such is the ebb and flow of county cricket. Rome, and County Championships, weren't built in a day.
If you're impressed but not surprised with Patterson's work ethic with a tired cricket ball, fair enough, but it's his batting that is also paying dividends in four-day cricket.
He is averaging more (20 this season), batting at nine, than two of Yorkshire's top six in Gale and Leaning and at Edgbaston, Patterson hit 63* off 76 balls to rescue the situation:
"I remember they were trying to hurt me as often as they could! It was just one of those when we'd had a rough hour or so. We'd lost a few wickets and it was important that somebody built a partnership. It was pleasing to get some runs but more importantly, we managed to get 370 and secure the game."
In the development of his own batting, Steve credits the time the coaches devote to all the batsmen for throwdowns and practice with Sidearms – the plastic ball-throwers that the Yorkshire squad affectionately call 'Wangers.'
Long gone are the days where the frontline batsmen hogged all the net time and the tail-enders had a quick five minutes thrash.
Both Brooks and Patterson have dropped anchor and frustrated opposition bowlers this season with cussedness that will have had Yorkshire fans nodding appreciatively.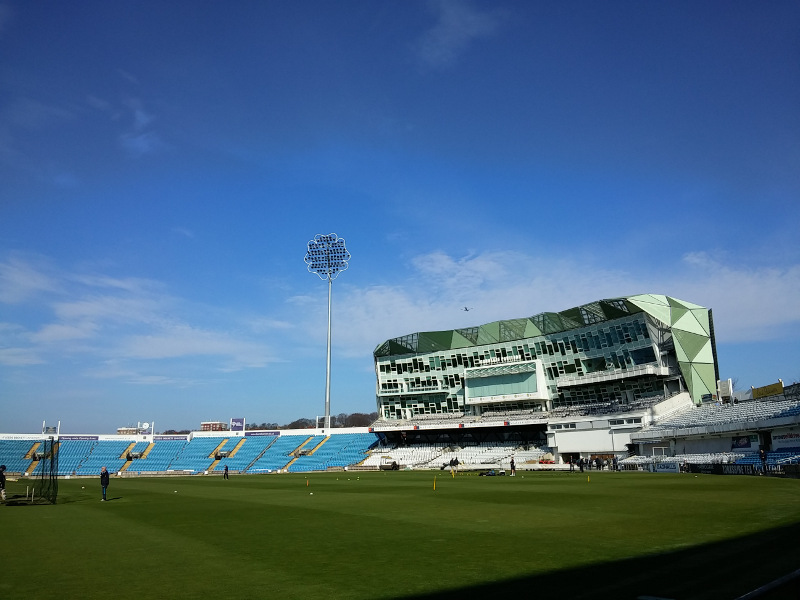 We turn our attention to Sunday and the Roses game – does it have a unique atmosphere to it, given the history of the fixture?
"To me personally, it doesn't mean a great deal" came the honest reply. Now before some of the Yorkshire members go purple with indignation, Patterson went on to qualify that: "I think the emphasis is on playing good cricket and trying to win the match, be it against Lancs or anybody else in Division One. I don't think there's a special emphasis on it being Lancashire."
That's obviously a personal view but one that others I've interviewed in the Yorkshire squad have expressed before. There's usually a few things said in the press to crank it up a notch but many prefer to keep their counsel and are also probably still mindful of the controversy of Old Trafford back in 2014.
That's not to say the Yorkshire squad aren't fully aware of the history and what it means to Yorkshire fans if the county triumphs over Lancashire but Steve references '"real good tussles against Warwickshire, Notts and Durham" in the past few seasons."
Perhaps (for Patterson, at least) the intense competition in domestic cricket's top flight has evened out, if not extinguished, some of that White Rose-Red Rose fervour.
At its most pared back and simplistic, Yorkshire need to beat Lancashire to get in the mix, given there's already a bit of a lead developing from their rivals across the Pennines. Losing really isn't an option:
"It's important for us to show people what we're capable of and not get left behind."
I wanted to address the stereotype of Patterson as the workmanlike cog, depicted unkindly with the parody Twitter account @boringpatto reflecting a reputation for the unexciting and dull.
What does he make of the 'boring' label that seems to rear its head from time to time?
"It genuinely doesn't bother me in the slightest because at the end of the day, a team is made up of eleven players and everybody has a slightly different role. If everyone did the same thing, we wouldn't have any success."
That role for Patterson is the handbrake; to haul back in the run rate, to build pressure or to deflate the batsman's momentum: "I'm quite happy because the role I have got, nobody else really does it. It's quite a nice position to be in. I'd rather have my role in a successful team than have a more 'exciting' role somewhere else and not be competing for trophies."
We discuss and acknowledge how crucial balance is with a bowling attack between wicket-takers and those that can bowl for long spells and offer control.
In Patterson's view, the return of Tim Bresnan should revitalise Yorkshire and add consistency, with those two bowlers acting as foils and Plunkett and Brooks given licence to charge in on full steam, uninhibited.
The subject of the coin toss tumbles out during one conversation and we pivot onto that, as advantage for home sides seems to have been squished out of consideration with all the subtlety of a heavy roller.
For Steve, it's leading to a negative and defensive approach:
"I think it's been quite disappointing in a lot of ways. I'm not convinced it's made for better cricket. What it does do is make teams pick and choose between who they want to try and beat and who they want to try and nullify."
By way of an example, he's not convinced there would have been a result at Edgbaston, even if weather wasn't a factor, other than a draw "because that's what they asked for to try and stop us."
Patterson also predicts scope for a bit of chaos later in the Division One season with one side being relegated and teams desperate to avoid the drop, thus preparing result wickets in a game of catchup after early draws.
But before all that plays out there's a Lancastrian obstacle to overcome at home and for Patterson, it will be business as usual. He expects to be pressed into batting duty first but then look out for that iconic approach to the wicket.
Frozen in time, bolt upright in the bound of his delivery stride with ball almost tucked under his chin. On the money. Time and again. Forget British Summer Time, in the early chunk of the season, we've been in Steve Patterson Time (SPT).
In an age of 90mph rockets delivered with a snarl, there's still a place for a slower, cannier, line and length approach, nagging away in the batsman's head, giving them nothing.
Boring? No chance. Every team needs a Steve Patterson.
Latest posts by John Fuller
(see all)